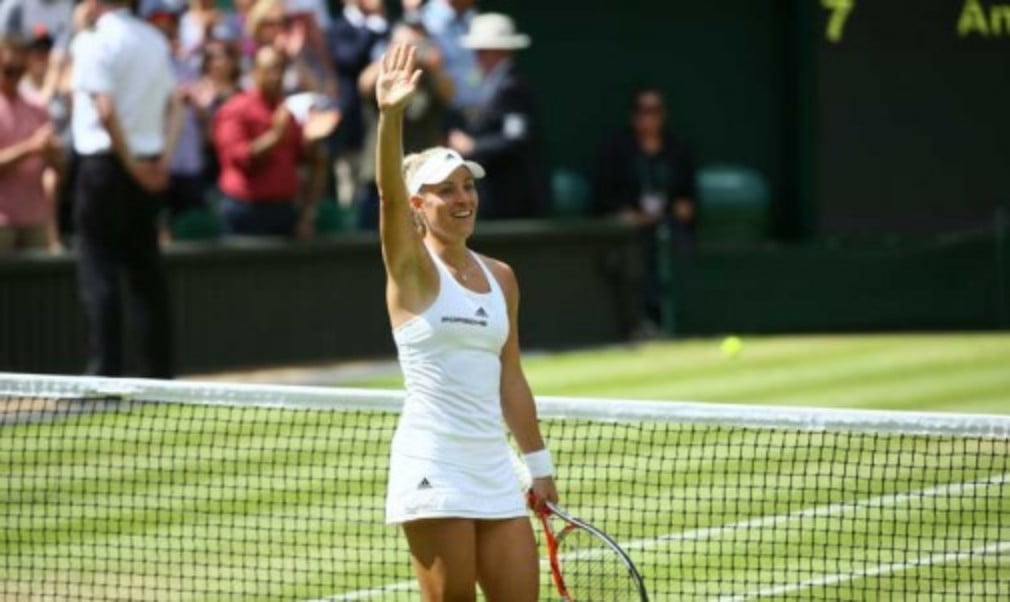 Stepping out of Steffi's Shadow
Originally published on 09/07/16 00:00
It was raining when Steffi Graf last played on Wimbledon's Centre Court, but for the first time rain did not stop play. It was mid-May 2009, the treasured arena was packed, and everyone was marveling at the new retractable roof. Strictly speaking, the afternoon was meant to be a test to see how the conditions would be for players and spectators as well as for the grass under the closed roof. It all worked fine, but emotionally speaking there was much more to this hour than a first look at the state-of-the-art roof.
Ten years after her last Wimbledon final, 13 years after she had won the seventh and her last Wimbledon trophy Graf was in control. "She's still got it," Kim Clijsters raved afterwards. "She's still got those legs!" And the smashing forehand. And that sizzling backhand slice.
This is an extract from "Out of the Shadow" by Doris Henkel in tennishead Volume 7 Issue 3. For more great features, in-depth gear reviews and stunning images subscribe to tennishead today. ´è_´è_´è_
The German tennis reporters in the press box could not help but be a little nostalgic. "Okay," they said with a sigh when the show was over. "Now back to reality." The reality of German women's tennis in Spring 2009 was a little better than in previous years, but not great – one top-40 player (Sabine Lisicki), one top-50 (Anna-Lena Groenefeld), and two in the top 100.
But there was some hope, be it from Lisicki or someone else. Barbara Rittner, a former top-30 player, who had taken over as Fed Cup captain in 2004, was optimistic about the future. She talked about the group of teenagers she regularly assembled for training courses, girls like Andrea Petkovic, born in 1987, Angelique Kerber and Julia Goerges, born in 1988, and Lisicki, born in 1989.
"Just give us some time," she said, "and I think we'll be fine. They all can push each other, and if one of them marches on the rest could follow." Rittner certainly had a vision. Lisicki turned out to be one of the main acts at Wimbledon where she felt more comfortable than on any other tennis court in the world. Between 2011 and 2014 she twice reached the quarter-finals, played a semi-final and the final, having a shot at the title in 2013, but she was too nervous to take her chances against Marion Bartoli. Rittner's predictions became more of a reality in 2011, and it did have a lot to do with players pushing each other.
When Kerber was desperate earlier that year and was close to quitting because she felt she wasn't making any progress, she took Petkovic's advice and signed in at an academy run by former ATP pros Rainer Schuettler and Alexander Waske in Offenbach, near Frankfurt.
Schuettler had a reputation for being extremely fit and a great worker. Within a couple of months Kerber had trimmed herself down. Looking back, she says: "I can't believe how chubby I had been before that." Success came quicker than expected; basically out of nowhere she reached the semi-finals at the US Open that year. It was the same year that Petkovic made it to the quarter-finals at three of the four Slams and reached the top 10. She was the first German woman to do so after Anke Huber in September 2000. The gates, it seemed, stood wide open.
But in a way there was always something missing. Petkovic was fighting severe injuries and sometimes herself, Lisicki seemed not to be as fit as she could have been. Kerber was involved in a lot of great matches and made it to the top 10, but when it really mattered, she doubted herself. The 2014 season was a good period, but German tennis took a step back in 2015; it was the first year in a while without a German in any of the quarter-finals at the Slams. Perhaps Rittner's optimism was unfounded. Petkovic was close to quitting by the end of the year and Kerber was extremely disappointed with a missed opportunity at the WTA Finals in Singapore. But disappointment turned into determination.
During the off-season Kerber worked on her fitness again. She came back in better shape than ever. After she had beaten Victoria Azarenka for the first time she was ready to take the challenge of taking on the strong favourite Serena Williams in the final of the Australian Open. This time she didn't hold back and played to her full potential. Some 17 years after Graf's last win at a Slam in that famous final at Roland Garros against Switzerland's Martina Hingis, she won the trophy and jumped to No.2 in the world.
This is an extract from "Out of the Shadow" by Doris Henkel in tennishead Volume 7 Issue 3. For more great features, in-depth gear reviews and stunning images subscribe to tennishead today. ´è_´è_´è_