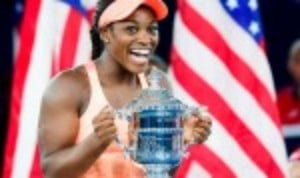 Stephens shines in US final
Originally published on 09/09/17 00:00
The 24-year-old produced a flawless performance to defeat her compatriot and friend, Madison Keys, 6-3 6-0 – and it's unlikely to be the last time she is pictured holding a major trophy aloft.
Stephens used her athletic prowess to successfully defuse her explosive opponent however it was not just her retrieval skills that contributed to her eventual triumph. She struck the perfect blend between defence and attack as she won the biggest match of her life at a canter.
Injuries are an unwelcome aspect of sport, but a spell away from her profession does not appear to have done Stephens too much harm. The 24-year-old has returned to action with renewed enthusiasm and it was a steely resolve which helped her overcome Venus Williams in the last four.
It was a chastening experience for Keys, whose first major final appearance lasted just 61 minutes. Too often, the 22-year-old – who committed 30 unforced-errors – was impatient in the baseline exchanges and her eagerness to pull the trigger early did more harm than good.
There was a warm embrace between the Fed Cup teammates at the net after Stephens converted her third match-point opportunity. It was a heartening moment after a disappointing finale but both players had once again highlighted the strength and depth of American tennis.
"It's incredible," said Stephens with a beaming smile. "I had surgery on January 23rd and if someone had told me then that I'd win the US Open, I would have said it was impossible.
"My journey to get here, coming back and just keeping it all together, has been incredible and I wouldn't have changed it for the world. Maddison is one of my best friends of tour, if not my best friend, and to play her here, I honestly wouldn't have wanted to play anyone else.
"For us both to be here is such a special moment and I told her I wished it could have been a draw. I wish we could have both won, but I think if it was the other way around, she would have done the same for me."
"Sloane is one of my favourite people," said Keys, while holding back tears. "To get to play her was very special, but obviously I didn't play my best tennis today.
"It was disappointing, but Sloane being the great friend that she is was very supportive and if there is someone I had to lose to today, then I'm glad it was her.
"I've had a very interesting year. A rough start followed by surgery in the middle but if you'd told me two months ago that I'd be holding the finalist's trophy at the US Open, I'd be really proud and happy with myself."