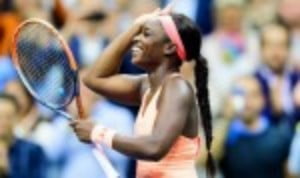 Stephens reaches final
Originally published on 08/09/17 00:00
Sloane Stephens has reached the first Grand Slam final of her career after edging an enthralling third set shootout with Venus Williams to secure a 6-1 0-6 7-5 victory .
The 24-year-old made her comeback at Wimbledon earlier this summer after 12 months on the sidelines with foot trouble and she has returned with renewed vigour.
Prior to the start of the US open hard-court series, Stephens was positioned No.957 in the world and she is almost certain to crack the top 25 when the new rankings are released on Monday – regardless of what happens in the final.
After two instantly forgettable sets, the third set delivered the drama expected. Both players traded blows in a pulsating dash to the finishing line but it was the extraordinary defensive skills of Stephens that proved to the difference.
The 24-year-old, perhaps the quickest player in the women's game, tracked down every ball with unwavering determination as she turned the match into a physical battle.
Serving to stay in the match at 4-5, 30-30, Stephens won a lung-busting rally with a delightful backhand pass that her opponent beaten. It was a gruelling exchange and the normally placid Stephens showed a rare glimpse of emotion as she roared in satisfaction.
Stephens was in the ascendancy and a fine mix of defence and attack enabled her to win nine of the last ten points and score the biggest victory of her life.
''I have no word to describe my feelings right now or what it took to get here," said an overjoyed Stephens. "If someone had told me at the start of my comeback that I would reach two semi-finals and reach a Grand Slam final, I would probably have passed out."
When asked to comment on how she won the third set, Stephens said: "A lot of fight, and a lot of grit. I knew if I hung tough and played my game the best I could, and I didn't get too down on myself, then I would get a few opportunities. I just worked my tail off, ran down every ball and tried to get my racket on every ball."
Despite performing so well in her quarter-final win over Petra Kvitova, Williams was dreadful in the early stages. She was noticeably tense and made a catalogue of uncharacteristic mistakes.
After surviving a scare in the first game of the second set, Williams settled down and the forehands that had been dumped in the net in the opener were now skidding through the court. Stephens failed to react and her passive play was ruthlessly punished by her reinvigorated rival.
The match burst into life in the decider. Both players had chances to seize control but it was Stephens who showed great resistance in the tenth game before pushing for home.