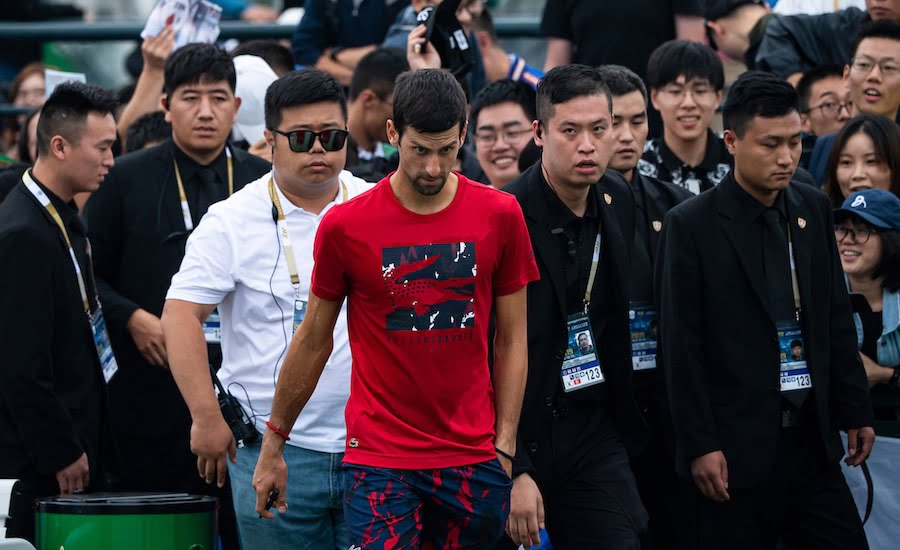 Statistical analysis: Novak Djokovic dominates in Asia
Novak Djokovic has enjoyed remarkable success in Asia whereas Simona Halep, Naomi Osaka, Angelique Kerber, Alexander Zverev and Marin Cilic have won more than 75 tournaments between them, but they also have something else in common.
Not one of them has won a title during the autumn Asia swing, which has become an established part of the tournament calendar on both the men's and the women's tours.
While some players thrive in Asia, there are plenty who struggle. For some it is too big a physical challenge at the tail-end of a demanding season, while others simply have difficulty coping with the jet lag or the change in environment.
In the women's game Serena Williams has the best win percentage ratio during the Asia swing over the last 10 years, but she has played it only twice since 2009. The most consistently successful female player has been Caroline Wozniacki, who has won more main-tour matches (70) and more titles (seven) than any of her rivals in Asia over that period.
Nevertheless, Wozniacki's record cannot match that of Novak Djokovic, who has enjoyed remarkable success in the Far East, having won 10 of the 14 tournaments he has played on the Asia swing since 2008. Andy Murray, Roger Federer and Rafael Nadal have also been consistently successful over the same period.
Unsurprisingly, it can be a particularly profitable time of year for Asian players. China's Qiang Wang played five weeks in a row in Asia after last year's US Open and reached the semi-finals or better of each tournament. Meanwhile Kei Nishikori's win percentage on the Asia swing in the last 10 years has been bettered only by the "Big Four" of Djokovic, Murray, Federer and Nadal.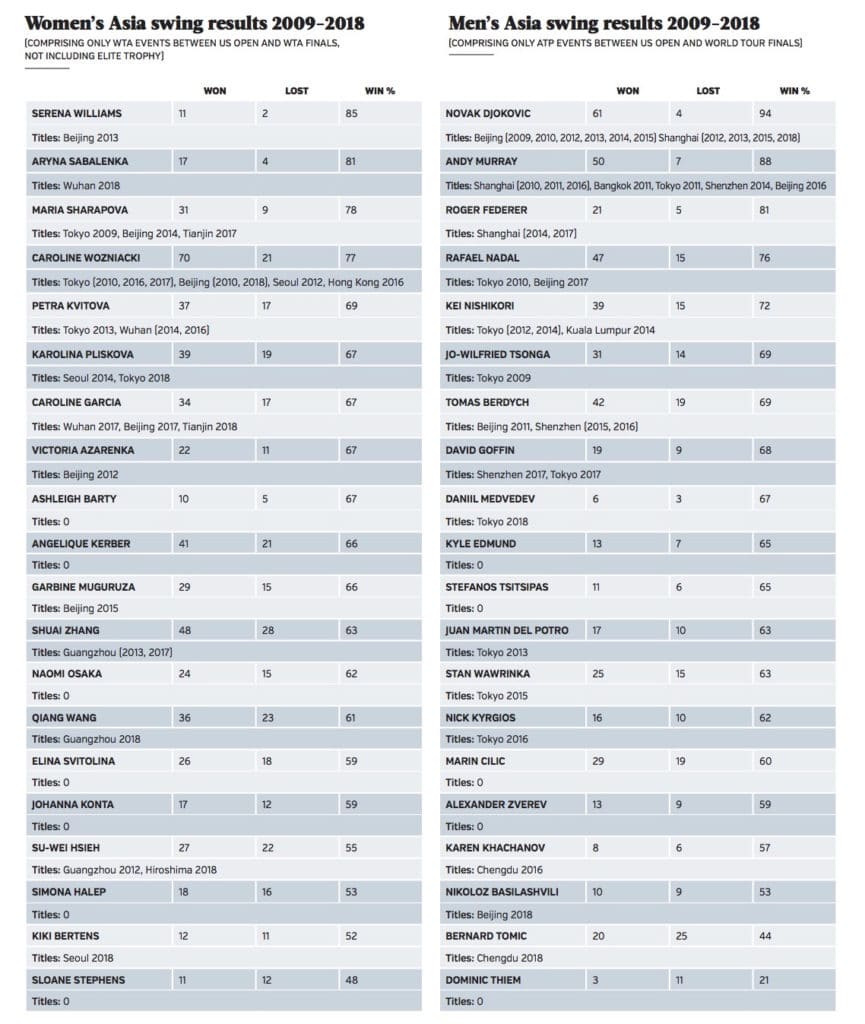 Keep up to date with all the action at our tennis news section. Win amazing tennis prizes by entering our competitions. Learn more about your favourite players including Roger Federer, Rafa Nadal and Novak Djokovic. Check out the latest kit in our tennis gear reviews. Receive regular updates with our legendary newsletter or read in depth features with stunning photography in tennishead magazine. Can't visit the tournaments you love? Check out our guide on how to watch tennis on TV. Don't miss a thing with our Live Scores service. Follow tennishead on social media at Facebook, Twitter, Instagram & YouTube