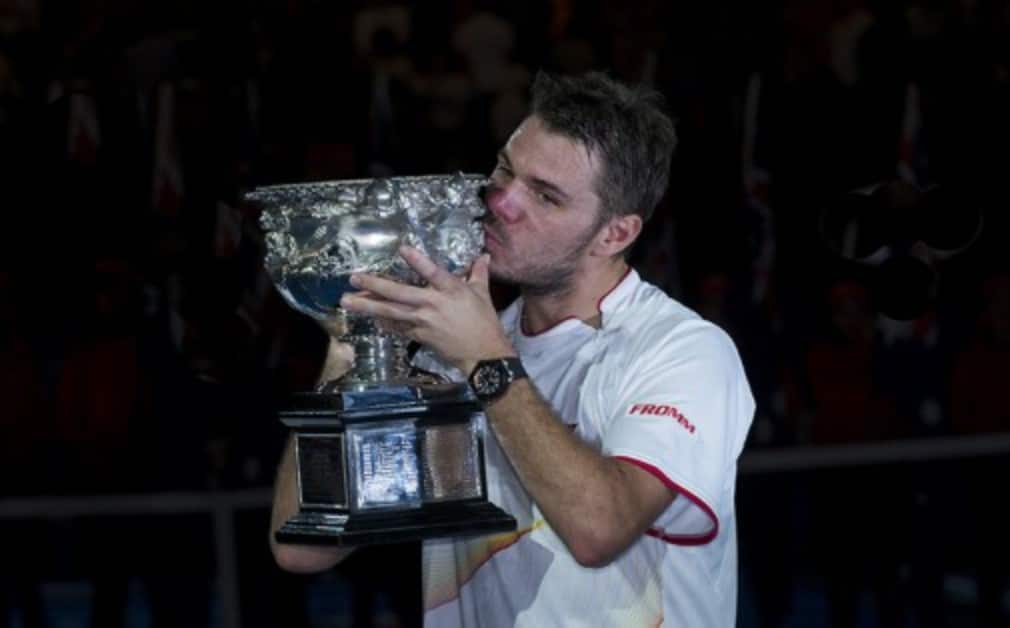 Stan Wawrinka: Australian Open Champion
Originally published on 26/01/14
Winning his first major title, Stanislas Wawrinka also becomes the first man since Sergi Bruguera at Roland Garros in 1993 to win a slam defeating the No1 and No 2 seeds. The Swiss player defeated No 2 seed and defending Champion Novak Djokovic in five sets in the quarter final.
In their 12 previous meetings Wawrinka had never taken a set off Rafael Nadal, although he had come close losing in two tiebreak sets at the ATP World Tour Finals at the end of 2013.
In defeating the World No 1 in a match that lasted 2 hours and 21 minutes, the 28 year-old Swiss hit 19 aces and 53 winners, reflecting the confidence that he has played with all fortnight.
Rafa sustained a back injury and was forced to leave the court with the trainer after the third game of the second set. He also receive on court treatment during the match. Speaking post match the World No1 said that he had felt something in his back during the warm up. "Then at the beginning of the second was the key moment that I felt, during a serve in a bad movement, it is very stiff, very bad," he said.
"The last thing that I wanted to do was retire" Rafa said, "No, I hate to do that, especially in a final. At the same time, it is tough to see yourself are working the whole year for a moment like this, and the moment arrives and you feel that you are not able to play your best."
When asked again the Spaniard would not be drawn further on the nature of his injury and was quick to pay tribute to the victory of his friend Stan. "He was playing amazing," he said, "It is very tough to stop him when he's playing that way. So just congratulate him because he's playing better and better and he's playing with amazing confidence, hitting every ball very, very hard, moving himself great."
Wawrinka's view of winning the Championship: "I will need time to realize what I did in these two weeks. Because at the end, even if Rafa was injured, I think I deserve that Grand Slam because I won against Djokovic, No. 2; I won against Rafa. I had an amazing two weeks, and I was playing my best tennis ever"
Wawrinka was candid in his assessment of the circumstances surrounding the match, commenting , "It's not the way a tennis player wants to win a match, because the opponent is injured. But if that happens, you have to take it. It's maybe once in my life that I will appear in the final of Grand Slam." he said "But I was really sad for him. I really hope that it's not too bad for him."
When the rankings are released on January 27th Stanislas Wawrinka will be World No 3. Rafa remains as World No 1.
Stan's view ": To win a slam, to be No. 3, both for me is a big surprise." In Sunday night's final, as during the entire fortnight, Stanislas Wawrinka confirmed that he is a player at the top of his game.