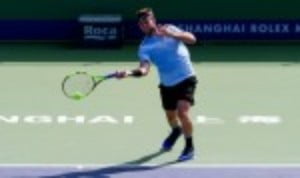 Sock triumphs in Paris
Originally published on 05/11/17 00:00
The 25-year-old will climb to a career-high ranking of No.9 after battling back from a set down to overtake his gutsy rival. His sublime passing-shots proved to be the difference in the decider and he is the first American since Andy Roddick in 2010 to win a second tier event.
Sock, who arrived in Paris with little chance of qualifying for the season-finale in London, will now take his place amongst the top eight. It looked likely to be an-all European affair at the World Tour Finals for the first time ever, however the American has ensured the rest of the world will be represented.
Sock will finish the year as the top ranked American, and he was overjoyed to win the biggest title of his career. "This is an incredible moment for me, especially after how the week started," said the new champion.
"I was down big in my first match but I battled through that one – and to be standing here now with the trophy is indescribable. It's also been an unbelievable week for Filip. He came through qualification and beat so many good players and played some amazing tennis.
"At the French Open I reached the fourth round of a slam for the first time and it's now my first Masters Series win in Paris. This will be my first time in the Top 10 and also my first time making the year-end finals in London. There is a lot going on right now emotionally, but I can't wait to enjoy it all with my team."
Krajinovic, who will reach a career high-ranking of No.33 on Monday, was proud of his remarkable run in the French Capital. "Congratulations to Jack, he had an amazing week," remarked the Serbian
"It's been the best week of my life. I will never forget this moment in my life. To come through qualification and reach the final is a dream come true for me."