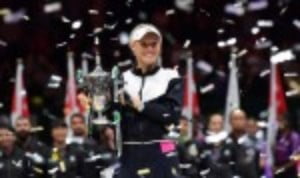 Shenzhen to host WTA FInals
Originally published on 18/01/18 00:00
China's 11th biggest city was picked ahead of other candidates due to the strength of their bid – and they have big plans for the season-finale.
The event will take place at a state-of-the-art venue in the city's downtown area, with seating for 12,000 people, and there will be a record prize-money pot of $14 million for the Top eight singles players and the Top eight doubles players.
"It gives me great pleasure to announce that the dynamic city of Shenzhen has been chosen to host the WTA Finals, the WTA's crown jewel season finale, for the next decade," said Steve Simon, WTA CEO and Chairman.
"This will easily be the largest and most significant WTA Finals deal in the 45 years since the WTA was founded and promises to take the event to a spectacular new level."
"Shenzhen is an exciting, fast-evolving metropolis of 68 million people and staging the WTA Finals there will ensure the WTA's global fan base goes from strength to strength," added Micky Lawler, WTA President.
World No.1 Simona Halep, who was runner-up at the WTA Finals in Singapore in 2014 and won the Shenzhen Open in 2015 and 2018, said: "I have chosen to start my season in Shenzhen for a few years now, and I am thrilled that the city has been selected to stage the WTA Finals."
The WTA Finals is currently held in Singapore.