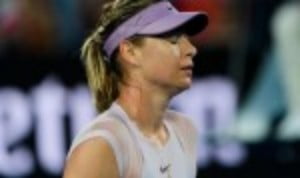 Sharapova vows to improve
Originally published on 20/01/18 00:00
It was billed as a battle between previous champions and former world No.1s, but it was predominantly one-way traffic from the moment the German established an early first set advantage.
Sharapova, as always, battled gamely, however she was someway short of her formidable best. Her game was plagued by unforced-errors and she had no complaints regarding the eventual outcome.
"I think she [Kerber] played extremely well," admitted the Russian. "She was the more aggressive player. She took a lot more risk than I did.
"In the first set, I didn't return well. I gave her the confidence by making a lot of errors in return games. I think with that, she played extremely well.
"She's a confident player at the moment. A lot of things were going her way throughout the match. The one little opportunity I had in the second set, I didn't take, I made an error and sometimes that's all it takes."
Sharapova returned from a 15-month suspension in April and has found it difficult to rediscover the type of form that took her to five Grand Slam titles. Injuries have undoubtedly hindered her progress, but she still believes that with time, positive result will be forthcoming.
"I think there are a lot of things that I need to get better at and improve on," added the Russian. "Looking at the overall picture, the overall beginning of this year, finishing the tournament, first thing is that I'm healthy.
"That, to me, is a big thing because I'll be back on the practice court, I'm not starting from zero. There's a lot to build from. I know maybe that isn't what you want to hear, but personally that's important for me.
"There are a lot of things I need to improve on. As I said, this is a process. It's a lot of things that take time. To be able to get these matches, players that are playing this well, I'm going to face a lot of them this year. I'll have to bring it."
Sharapova has stated she will not partake in the Fed Cup this year, and will return to action in the Middle East next month.