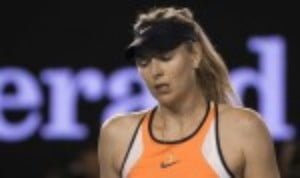 Sharapova suspended after failed drugs test
Originally published on 08/03/16 00:00
In a press conference organised by the former world No.1 on Monday, Sharapova announced that she tested positive for meldonium, a substance that was added to the World Anti-Doping Association's (WADA) list of banned substances at the start of 2016.
The Russian said she had been taking mildronate – which contains meldonium – for ten years for a health issue. She was charged on March 2 with the anti-doping rule violation and the International Tennis Federation said she would be provisionally suspended from March 12.
"I did fail the test and I take full responsibility for it," said Sharapova. "Throughout my long career I have been very open and honest about many things and I take great responsibility and professionalism in my job every single day and I made a huge mistake.
"I let my fans down, I let the sport down, that I have been playing since the age of four that I love so deeply, I know with this I accept the consequences and I don't want to end my career this way, and I really hope that I will be given another chance to play this game."
Sharapova said that she had received an e-mail on December 22 from WADA in connection with rule changes coming into force in 2016, which contained "a link to a button where you can press to see the prohibited items for 2016" and she did not look at the list.
Meldonium helps aid blood flow and is clinically used to treat heart failure and other cardiac and vascular problems. However, it has also been found to increase endurance and aerobic capabilities in athletes.
"For the past 10 years I have been given a medicine called mildronate by my doctor, my family doctor and a few days ago after I received the ITF letter I found out that it also has another name, of meldonium, which I did not know," she said.
"It's very important for you to understand that for 10 years this medicine was not on WADA's banned list and I had legally been taking this medicine for the past 10 years. But on January 1, the rules had changed, and meldonium became a prohibited substance which I had not known."
WTA CEO Steve Simon said: "I am very saddened to hear this news about Maria. Maria is a leader and I have always known her to be a woman of great integrity. Nevertheless, as Maria acknowledged, it is every player's responsibility to know what they put in their body and to know if it is permissible.
"This matter is now in the hands of the Tennis Anti-Doping Program and its standard procedures. The WTA will support the decisions reached through this process."
Sharapova's sponsor Nike has suspended the five-time Grand Slam champion pending the outcome of the investigation, while Swiss watch manufacturer Tag Heuer has announced it will not be renewing the Russian's contract which expired in December.