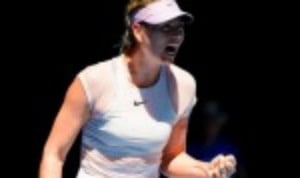 Sharapova makes quick progress
Originally published on 18/01/18 00:00
The former champion, in her first outing on Rod Laver Arena in two years, overcame a late second set wobble to dismiss Anastasija Sevastova 6-1 7-6(4) in 81 minutes at the Australian Open.
It's just the Russian's third Top 20 victory since her return from suspension last April, and she could encounter another previous winner in the third round on Saturday if Angelique Kerber avoids an upset against Donna Vekic.
Prior to her second round match, Sharapova admitted she was wary of the threat posed by the Latvian, an opponent she has struggled against in the past. The pair had met twice before, and they were both unforgiving affairs.
"She is a tough opponent," acknowledged Sharapova. "She has a game that's very tricky on any day – no matter whether the conditions are cold or warm – and I knew I had to get a really good start. Ultimately, I'm just happy to get through on a day like this."
With a possible last 32 encounter with Kerber on the horizon, Sharapova intends to view the German's second round match, scheduled for later today. "I love to watch, and I love to study when I have to," added the Russian.
"I look forward to watching that match, but obviously I want to concentrate on myself. We have played against each other many times and there are no secrets, but it has been a while."
In the opening set of the contest, Sharapova was at her destructive best, skelping forehands and dominating her opponent's tentative second serve. It was all too easy for the 30-year-old, however matters became decidedly more complicated in the second set.
Sevastova, who spent the majority of the early stages scampering and scurrying behind the baseline without success, performed with greater purpose in the second set. Sharapova's level began to fluctuate and a raft of mistakes tended to follow a barrage of winners.
The Russian squandered a break advantage on three occasions, but she regrouped in the tiebreak and her superior firepower helped her avoid the drama of a deciding set.