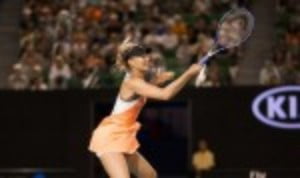 Sharapova breezes into third round
Originally published on 20/01/16 00:00
Sasnovich, ranked 105 in the world and playing in her first Australian Open, was no match for world No.5 and 2008 champion. The pair has never met before and Sharapova admited, "her game was a little bit unpredictable – she came up with a few good shots and a few errors".
The first match up on Rod Laver Arena was played under the roof because of rain on Wednesday morning. "Last year I didn't play an indoor match until the final until they closed the roof, so I guess it's good to play in a different environment," said Sharapova.
The Russian has not had a huge amount of match practice coming into the first slam of the year as she was forced to retire with a left forearm injury from Brisbane and she had not played much since Wimbledon 2015, but she did represent her country in the Fed Cup final when Russia lost 3-2 to Czech Republic in Prague.
"I think, even in the end, as a team, we didn't win, I thought they were very big personal victories for me," said Sharapova, who won both of her singles rubbers against Petra Kvitova and Karolina Pliskova. "Playing Kvitova in front of 15,000 screaming Czech fans, it felt like there was a lot on the line, and I felt I had to face that myself, and someone I had lost to just a couple of weeks before."
As the 28-year-old revealed back in November on her facebook page, she is currently working on her autobiography. Although she does not want to say too much in advance of its planned publication in 2017, she is working with American author and writer Rich Cohen on the content.
"I was in New York working with him for a little bit after Fed Cup. He came up in my off-season to work together a little bit," said Sharapova, who intends to write a lot of the content herself. "I've always loved to write. It's something that's been a passion of mine from a young age. I'll also be sharing some of my journals as a young girl.
"It's amazing how life goes by, and sometimes to be able to recollect those memories is very interesting. I've been speaking to my grandparents, my father and my mother a lot, recording the conversations. I feel like a reporter in a way. That's been really interesting."
The Russian could notch up her 600th career win over the next fortnight – if she reaches the fourth round in Melbourne. On Monday, after she defeated young Japanese player Nao Hibino 6-1 6-3, she said: "I definitely keep an eye on the younger generation. These are the girls that are going to follow us."
If she beats Lauren Davis, her next opponent who reached third round when her Slovakian opponent Magadalena Rybarikova retired, the 28 year-old will have another milestone to capture in that book. If Sharapova beats Davis she would then face either Kateryna Bondarenko, who today upset No. 23 seed Svetlana Kuznetsova, or Belinda Bencic for a place in the quarter-finals.