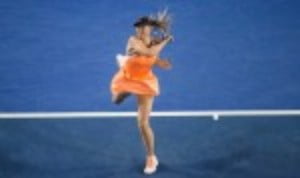 Sharapova and Serena set QF rematch
Originally published on 24/01/16 00:00
Sharapova needed more than two hours to find a way past Belinda Bencic, while Serena Williams was off court in less than an hour to defeat Margarita Gasparyan to set up a rematch of the 2015 final.
With the weather in Melbourne getting off to another rainy start, Maria Sharapova took on 18-year-old Bencic under the roof on Rod Laver Arena. Two hours and 5 minutes later the 28-year-old Russian had booked her place in her eighth Australian Open quarter-final with a 7-5 7-5 victory.
Sharapova, a champion here in 2008, served 21 aces during the tight match in which she converted only four of 16 break points.
"I was definitely hesitant on some of those points," she said after the match. "[But] I served quite well. I got myself out of trouble with the serve and on a few of those break points."
This was the first time Bencic and Sharapova had played one another and the Russian is aware of the emergence of a new generation of players who will eventually rise to the top. Four teenagers (Bencic, Daria Kasatkina, Elizaveta Kulichkova and Naomi Osaka) reached the third round in Melbourne for the first time since 2009, but Sharapova joked that the changing of the guard was not happening "just yet".
Bencic is coached by her father Ivan, but she also works with Martina Hingis and Hingis' mother Melanie Molitor. On Sunday Hingis watched from the player box, arriving courtside after she had played her mixed doubles match. Speaking about her opponent after the match Sharapova said: "She has a good game. You know, a lot of people compared her to Martina Hingis, actually, but I thought from being on the other side that her game was quite different. Maybe the same technical aspects, but the way that she plays is quite different."
Bencic said: "I think she served unbelievable, first of all, so that put a lot of pressure on me in my service games, but I think I defended pretty well. I tried to play smart."
No.12 seed Bencic, who three years ago won junior singles titles at Wimbledon and Roland Garros, was coming off some tremendous results in 2015. She became the first teenager to win an event at Premier 5 level or higher since Victoria Azarenka. In her run to securing that title in Toronto, she defeated six Grand Slam champions or finalists: Eugenie Bouchard, Caroline Wozniacki, Sabine Lisicki, Ana Ivanovic, Serena Williams and Simona Halep.
On Sunday she was able to stay with Sharapova in two tight sets. "I'm just really happy now," she said. "I faced everyone in the top 10 and the top players. I feel like I'm getting closer and closer. So that's the positive part. For sure if I will keep working hard and just improve a little bit here and there and also the head."
She intends to work on all areas of her game: "Small details is what matters," she said.
The reward for Sharapova is a quarter-final repeat of last year's Australian Open final – against defending champion Serena Williams who was in imperious form defeating another up-and-coming player, the Russian Margarita Gasparyan, for the loss of only three games. She was off court in 55 minutes.
"I just feel like I'm really confident in my game right now," Williams said after the match when asked about another match against Sharapova, against whom she holds an 18-2 head-to-head record. Their last meeting was in the semi-finals at Wimbledon last year. Sharapova has not taken a set from the world No.1 since Miami 2013.
"But every match is new," Williams said, "you know, she always brings in something new and something special. She's very consistent, as well. Yeah, she's one player that's always consistently winning and training and working hard and winning matches."