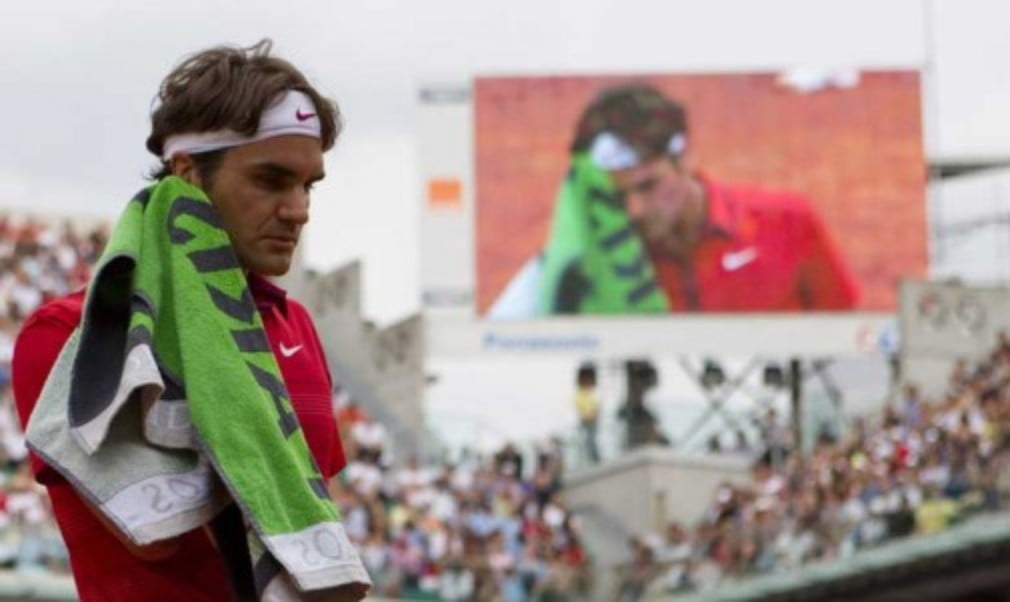 Seven Slams that got away from Roger Federer
Originally published on 10/05/16 00:00
2004 French Open
lost to Gustavo Kuerten 6-4 6-4 6-4 (Third Round)
At the time this one probably wouldn't have hurt Federer so much in the grand scheme of his career. He would have left Roland Garros that year confident in the knowledge he'd have more chances to win multiple French Opens, given that the Swiss had grown up on clay and had already assembled a handy haul of titles on the surface. Then Rafael Nadal came on the scene, and all of a sudden the window of opportunity in Paris narrowed and despite being the only one who could even live with Nadal on clay for a few years, Federer never managed to beat his nemesis in the French capital. Unseeded Argentine Gaston Gaudio went on to lift the Coupe de Mousquetaires in 2004.

2005 Australian Open
lost to Marat Safin 5-7 6-4 5-7 7-6(6) 9-7 (Semi Final)
Federer was on 26-match winning streak and was yet to drop a set in the tournament ahead of his semi-final match against the Russian, whom he had beaten to take the title twelve months previously. With local favourite Lleyton Hewitt awaiting in the final, the Swiss looked on course to win his third major in a row. The match will most be remembered for Federer attempting a hot dog passing shot at match point in the fourth set, only to see the speculative effort end up in the net. Safin did not look back from there, taking the tiebreak before going on to edge out the world No.1 in a gruelling sixteen-game deciding set.

2009 US Open
lost to Juan Martin Del Potro 3-6 7-6(5) 4-6 7-6(4) 6-2 (Final)
The 20-year-old Argentine had run Federer close at the French Open earlier in the year, but still wasn't expected to upset the form book in New York. Federer, who hadn't lost in the Big Apple since 2003, broke in the opening game and seemed well on course for a third straight major when he took the opening set. But the Swiss never looked truly comfortable on a windy night on Arthur Ashe and Del Potro's awesome power combined with an uncharacteristically frustrated Federer saw the match head into a decider. A long summer had clearly taken its toll and Del Potro seized his chance to claim the title and become the first man outside of Nadal, Federer and Djokovic since Marat Safin in Australia in 2005 to lift a major crown.

2010/2011 US Open
lost to Djokovic 5-7 6-1 5-7 6-2 7-5 / 6-7 4-6 6-3 6-2 7-5 (both semi-finals)
After two consecutive quarter-final defeats at Roland Garros and Wimbledon in 2010, Federer looked to have things back on track in New York and was on the brink of a seventh successive US Open final when he reached match point in the fifth set. But Djokovic held his nerve on his own serve and went on to break in the next game before serving out for victory. Fast forward a year and Federer was again on the cusp of the final, this time with two match points on his own serve. Ashe held its breath, convinced that history couldn't repeat itself, only to see Djokovic save both points, break and claim the next two games to seal a most audacious of wins over his Swiss rival.

2011 French Open
lost to Rafael Nadal 7-5 7-6(3) 5-7 6-1 (Final)
Arguably the closest Federer ever came to beating Nadal in Paris was 2011. Having ended Djokovic's unbeaten start to the year in the semi-final, the Swiss picked up where had left off two days earlier in the championship match and attacked Nadal, who had looked rusty at times en route to the final, from the start. Federer forced a set point at 5-2 in the opening set, but missed a risky drop shot by millimetres. Nadal went on to reel off five straight games and when he took the second set on a tiebreak a second French Open had slipped from Federer's grasp. He battled to take the third set but had nothing left thereafter, as the Spaniard sealed a sixth Roland Garros crown seven games later.

2014 US Open
lost to Marin Cilic 6-3 6-4 6-4 (Semi-Final)
Federer's lack of success against Djokovic at major championships prompted most of the tennis world to conclude the Swiss would not add to his major haul unless someone could take care of the Serb in the earlier rounds. When Nishikori stunned the world No.1 in the first semi-final it seemed Federer, who had never lost to Cilic in four previous meetings, had had his prayers answered. But there was something in the New York air that day, and Federer simply had no response to the barrage of heavy serving and precise hitting coming from the other end of the court, as the Croat masterfully made a mockery of the one-sided head-to-head record between the pair, taking apart the five-time champion for the loss of just 11 games.