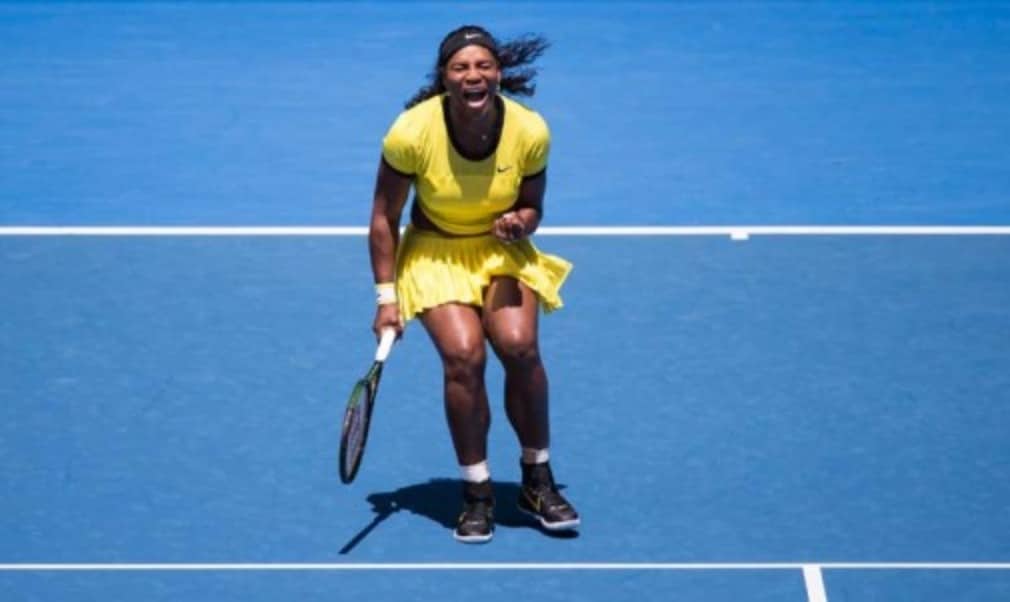 Serena wins, EdmundŠ—'s run ends
Originally published on 02/06/18 00:00
With rain having stopped play on Friday, there were four matches from the bottom half of the draw to complete as well as the scheduled third round matches from the top.
Men
Fabio Fognini beat Kyle Edmund to reach the fourth round at Roland Garros for the first time since 2011, winning 6-3 4-6 3-6 6-4 6-4 in 3 hours and 36 minutes.
The 31 year-old Italian credited experience with his ability to come through the tight match. Both players received medical attention during the match, Fognini on his left ankle and Edmund on his left hip. It turned out to be the final game of the fifth set when Fognini broke Edmund to take the match.
"Kyle has started the year really well, and he's improved his game a lot" Fognini said. " He has the really big first serve and forehand. So I'm happy, because it was really tough match and we are almost the same level in the rankings. So was nice."
Edmund said, "You can't expect to play Mach 10 all the time and hit the highs. Some parts in this match I was pretty good and some parts today I gave away. I'm sure the points were close. I had break points in the fifth, I just couldn't get them."
Fognini joins fellow Italian Marco Cecchinato in the round of 16.
Rafael Nadal defeated Richard Gasquet 6-3 6-2 6-2
Gasquet talked after the match about the challenges he faces against Rafa. He has not been able to beat the Spaniard in any of their 16 matches. "The public was behind me. Today it was fabulous," he said. "I tried to do my best on each point and to fight till the end, but he was simply stronger than I was.
"You see the quality of his ball. He strikes strongly," Gasquet said. "When he plays on his backhand, he has an intensity which is monstrous. You know it; you have to hold on for all points. But I really have trouble with his forehand that comes to my shoulder every time."
Rafa plays the young German Maximilian Marterer next. "He has power, so he's a dangerous opponent," Nadal said "He's playing well."
"I hope to be ready to play a good match. I think I'm improving, too, every day, playing better and better. And that's my goal and my way."
David Goffin beat Gael Monfils
Two matches from the bottom half of the draw resumed today. David Goffin and Gael Monfils were back to face one another on Court Suzanne Lenglen. The Belgian saved four match points in the fourth set and eventually snatched victory in 3 hours and 58 minutes, winning 7-6(8) 6-3 4-6 7-5 6-3.
Goffin said: "I managed to turn things around and impose my game, and I'm very proud to have won today."
"It was a match in two stages with a very different public, and today it was much more supportive."
"To play against Gael in his country, facing a public that is 100% against you, and that kind of an atmosphere where it's physically tough, where it's tough on your nerves, and trying to remain in the match when you're 5 -1. It's really good to win a match like that."
Goffin plays Marco Cecchinato next.
Also in the bottom half of the draw Karen Kachanov beat Lucas Pouille and he plays Sascha Zverev on Sunday in the fourth round. "It was not easy to come back again and to win this set," the Russian said.
There were also wins on Saturday for Kevin Anderson, Diego Schwartzman, Maximilian Marterer, Juan Martin del Potroand Marin Cilic.
Round of 16 (top half of draw)
Rafael Nadal vs. Maximilian Marterer
Diego Schwartzman vs. Kevin Anderson
Marin Cilic vs. Fabio Fognini
John Isner/Pierre-Hugues Herbert vs. Juan Martin del Potro
Women
Garbine Muguruza beat 2010 finalist Sam Stosur 6-0 6-2 in two minutes over the hour. Muguruza dropped only 10 points in the opening set. The Australian broke to get to 2-2 in second set, but the Spaniard was not for waiting.
"I'm pleased with my performance today," she said.
Another woman in a hurry was Maria Sharapova who beat Karolina Pliskova 6-2 6-1 The two time Roland Garros champion is in the fourth round for twelfth time and faces Serena Williams next.
"I was solid. I played smart," Sharapova said. "I think I did the right things, I was aggressive on the break points, I went for it. I took the match rather than her giving it to me."
Simona Halep beat Andrea Petkovic 7-5 6-0 on Court 18. The first set lasted an hour with Halep taking the set on her third match point. In the second set Petkovic called for the trainer, had her right knee bandaged but was unable to keep up the pressure. Halep faces Elise Mertens in the fourth round.
In the bottom half of the draw Petra Kvitova was beaten by 22 year-old Anett Kontaveit 7-6(8) 7-6(4)
"It's a lot of credit to her. Anett played great tennis today," Kvitova said. "She didn't really give me anything."
Kvitova who enjoyed a 13 match winning streak said," I'm pretty sad that the clay season is finishing, but, I'm pretty happy about my clay season."
Sloane Stephens who today beat Camila Giorgi plays Kontaveit next.
There were also wins for Lesia Tsurenko, Elise Mertens, Caroline Garcia, Angelique Kerber and Serena Williams.
Round of 16 (top half of draw)
Simona Halep vs. Elise Mertens
Angelique Kerber vs. Caroline Garcia
Garbine Muguruza vs. Lesia Tsurenko
Serena Williams vs. Maria Sharapova