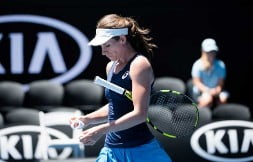 Serena too strong for Konta
Originally published on 25/01/17 00:00
Konta was beaten by Serena Williams 6-2 6-3 in an hour and 15 minutes on Rod Laver Arena.
Konta's serve speed to start was only 159 kph compared to Serena who served a 198 kph ace in the first game, and although the Briton gradually increased the speed and Serena's level dropped Konta faced a barrage of serves, returns and rallies from the 22-time Grand Slam champion. She failed to convert a break point that she had in the third game, and under pressure from the world No.2, Konta managed to save one of the break points she had against her in the fourth game, but conceded the second.
With a 3-1 lead, Williams upped her serve speed to 192kph and established a 4-1 lead. She also showed she is one of the best returners in the game, sending a 129kph return back in the sixth game, and although Konta held her own serve at 2-5, the American served out the set 6-2 in 35 minutes.
"I think, credit to her, she played an almost perfect first set," said Konta. "I felt she really did incredibly well."
Konta showed great strength to hold serve in the second game of the second set, when she saved three break points and then broke her opponent in the third game to lead 3-1. Williams' first serve percentage dropped to 37% but with strong groundstrokes she held her serve and broke Konta back in the sixth game.
Konta, who came into the match unbeaten in her last nine matches, showed some of the attacking play she had shown in her previous rounds, moving the six-time Australian Open around the court to win a point that Williams applauded with her racket, but the No.2 seed was too strong and as she boomed down her ninth and tenth aces and returned with ferocity she got a second break of serve in the eighth game and served for the match at 5-3.
"She makes you feel that pressure," said Konta, who had never previously stepped on court against Williams, "I think that's what she's able to do very well.
"I don't think there's one player on tour that goes up against her and feels like they've got much of a say in the matches. That's what she's very good at, the way she's able to dictate and the way she's able to really make sure that the matches and the points are on her terms."
Having got herself three match points Williams only needed one and with a first serve that Konta could not return, and the 35-year-old reached her 34th Grand Slam semi-final with a 6-2 6-3 victory over the No.9 seed.
"She's able to really hit her spots incredibly well," Konta said. "So the way she's able to open up the court, it really makes the court very big. And also she obviously has tremendous power, force, and speed."
Konta has made herself many more friends at this year's Australian Open, as she left Rod Laver Arena she received a great cheer.
"I definitely would have liked to have served better today," she said. "I don't think I was able to fully maximise things on my end there. But I felt I actually did a decent job at neutralising her serve. Given there's only so much you can do against a serve like that, I thought I did reasonably well. Still lots to improve on there, as well.
"Also I felt physically I didn't feel that I got pushed too far back, which I was quite happy about. But, again, lots of things. Hopefully I'll get the chance to play her again and do better."
Serena said on court after the match that Konta was "a future champion here for sure."
When Konta was told of the comment she said smiling, "That's nice. Well, I will do my best. I will try."
Throughout the tournament Konta has spoken about how she likes learning from both victories and defeats, although she admitted to having cried after the match.
"I cried because I'm generally quite an emotional person," she said. "I think I've never hid that away. I've worked incredibly hard to direct that emotion into a positive way and into a constructive way on court. But off court I'm still very emotional."
But she added with composure: "I definitely would have liked to have done a bit better. But I'm also really grateful and feel very good that I had this opportunity. I think there's a lot that I will be able to learn from it and take away from it, look to apply."