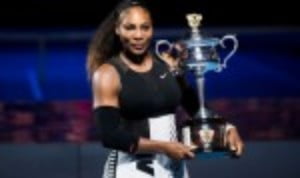 Serena to miss Australian Open
Originally published on 05/01/18 00:00
The 23-time major winner was due to make her long-awaited comeback in Melbourne, five months after giving birth to her daughter, however she has decided against defending the title she won nearly a year ago.
"My coach and team always said 'only go to tournaments when you are prepared to go all the way,' said Williams in a statement.
"I can compete, but I don't want to just compete, I want to do far better than that and to do so, I will need a little more time. With that being said, and even though I am disappointed about it, I've decided not to compete in the Australian Open this year.
"The memory of last year's Open is one that I will carry with me, and Olympia (her daughter) and I look forward to coming back again. I appreciate the support and understanding of my fans and everyone at the Australian Open."
The American made her first appearance in nearly 12 months in an exhibition match against Jelena Ostapenko in Abu Dhabi on Saturday.
Williams is the latest big name to pull out of the first Grand Slam of the year. Andy Murray and Kei Nishikori both stated earlier this week that they will not be involved.