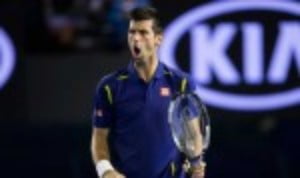 Serena to face Kerber in final
Originally published on 28/01/16 00:00
Williams defeated Agnieszka Radwanska 6-0 6-4 in the first match on Rod Laver Arena, played under the roof as a storm hit Melbourne.
The top seed raced through the first set in 20 minutes, hitting 18 winners and committing only four unforced errors. She hit 42 winners in total, compared to Radwanska's four in a commanding win.
"I think she started unbelievable, with such a power and speed," said Radwanska. "I was just standing there kind of watching her playing. I'm not even angry because I know she was just playing too good today."
The roof was open for the second semi-final between Kerber and Britain's Johanna Konta, whose brave run in Melbourne came to an end with a 7-5 6-2 defeat. The German raced into a 3-0 lead. Konta clawed it back to 3-3, then won her serve to take 3-4 lead. But at 5-5 the Brit dropped her serve again and after a slight delay as a few drops of rain were cleared from the lines, Kerber served out the first set in 49 minutes.
In the second set Konta was broken in her first and third service games. She could not find the form that had taken her to her first Grand Slam semi-final. She served only two aces and made 36 unforced errors. The world No.6 served for the match at 5-2 before wrapping up victory after an hour and 22 minutes.
"She's an incredibly tough player," Konta said of her opponent. "I think she's one of the, if not the most consistent player on the tour. And that's no secret. She really makes every single ball possible and makes you work for every single point. She definitely played with that little bit more experience than I did."
If Kerber, who saved a match point in the first round against Misaki Doi, is to beat the in-form Serena she knows she will need to play her best tennis to beat her.
"I saw the match today against Aga," said Kerber, "She was playing unbelievably good. I think she is going out there to try to win again another Grand Slam, making history. This is her goal. My goal is to maybe win my first Grand Slam.
"I think she will have respect. I think she will go out there and she knows that she must also play good tennis to beat me. I'm feeling good. I'm healthy. I'm fit. I will try to win against her. That's for sure."
The pair have played six times before and Williams has won on five occasions. The last time they met was in 2014 at Stanford, when the American won 7-6(1) 6-3. Williams said: "She took out a really tough opponent in Victoria [Azarenka]. You can't underestimate Kerber. She's beaten me before, too, and pretty good. I know that she brings a lot to the game. Her being a lefty definitely helps out as well."