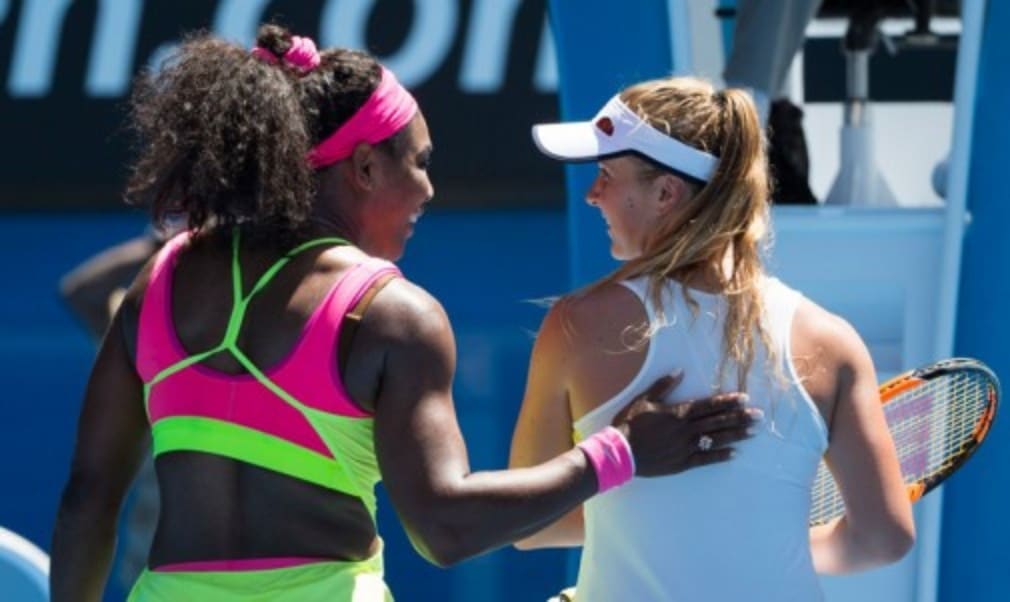 Serena tips Svitolina for bright future
Originally published on 24/01/15
Thirteen years separate Serena Williams and Elina Svitolina, but for much of their third-round match here at the Australian Open there was little to choose between the two women. Williams eventually won 4-6 6-2 6-0 after a match of wildly fluctuating fortunes. "She's one to watch," Williams said of her opponent after their match.
When 20-year-old Svitolina dominated the first set it seemed that youth might overcome experience. However, Williams is no ordinary 33-year- old. With 18 Grand Slam singles titles to her name, five of which have been won in Melbourne, she remains a tough opponent for new as well as seasoned campaigners.
The pair had met before in a Fed Cup tie in 2012. Williams said she remembered the young player and her game from that meeting.
"Even back then she was really young, but she had this fire in her eyes and she had this desire," Williams said. "I could see it then. Even today she still has so much growth to do, which she's going to do. She's improving so much."
For Svitolina that match in 2012 was a defining moment. "I played against her in Ukraine, that moment was special for me, it was against the No.1 in the world," she said. "But this time I believed more in myself. I felt I could do something, which is probably why I won the first set. I was closer to winning than last time."
She added: "When I had won the first set and at the start of the second that was a key moment in the match. I needed to start strong to show that you are there, to give her some pressure. I lost a bit of rhythm in the game, so that is what I need to learn. When you are playing Serena it is tough to show even your best. In the second and third sets she outplayed me."
Svitolina has a brother nine years older than herself who is a tennis coach. She admits that when she was growing up she felt she was in competition with him. "I was trying to work hard and get better and get some attention," she said.
The competitive upbringing has paid dividends. "I think it's great to have this kind of family that pushed me to be competitive for the future," she added.
The world No.26 now lives in France, where she met her current coach, British-born Iain Hughes, who has travelled with her since last summer's Wimbledon.
"Iain has helped me a lot mentally," Svitolina said. "I am glad to work with him and it is always great to change the coach and to have good results straight away. I am just happy with the work we are doing now. I think we are moving in the right direction."
Svitolina progressed to the third round of the Australian Open in 2014, at the start of what turned into a stellar year. She successfully defended her title at Baku and reached the semi-finals at Wuhan, Nuremberg and Osaka.
She also achieved her first seven wins against top 20 players, including three against players ranked in the top 10. This year she was seeded at the Australian Open for the first time.
On hearing that Williams had made some positive comments about her, Svitolina said: "It gives me more confidence. But still now I need to work hard to achieve half of what she did. To give 100 per cent to get more motivated. It's great to hear this."
After her singles match Svitolina played mixed doubles with South Africa's Raven Klaasen, but they lost 6-1 6-3 to Michaella Krajicek and Florin Mergea.
"Men's power is completely different," Svitolina said. "I like to learn something from doing different things. In mixed doubles you can really work on your volley and your reaction. The guys play at a different speed. Each day I try to learn something new."
Williams now faces Garbine Muguruza, who beat her in last year's French Open, as the American focuses on reaching the quarter-finals. "Nowadays, if I get past the fourth round, it's like party time," Williams said.
Muguruza is 21, just one year older than Svitolina. Williams is by no means infallible – as Muguruza herself proved last year – but the world No.1 remains a player who can work her way around young opponents.
"It's something I've always done on the court," Williams said. "I've always done it. I always have to do it. I always have to be ready for that."
This story is bought to you by Wilson, official sponsor of Tennis Australia and the Australian Open