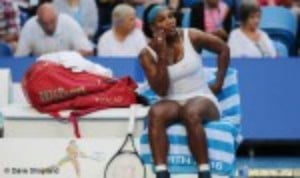 Serena nursing knee injury
Originally published on 05/01/16 00:00
Having pulled out of her first scheduled match against Ukraine on Monday, when Vicky Duval replaced her, Williams took to court as scheduled on Tuesday for her match against Jarmila Wolfe (formerly Gajdosova), representing the Australia Gold team.
After a slow start, where she was struggling physically she dropped the first set 7-5 and then trailing 2-1 in the second the world No.1 formally retired. Talking later Williams confirmed that it was inflammation in her left knee that was troubling her.
"I just have some inflammation that's been going away very slowly. It's still there. It's going away, but just needs a little more time," she said.
The 34-year-old would not be drawn further on the specifics of the injury but admitted that she had struggled a little bit at the end of the 2015 season.
"Yeah a little bit with my knee, but mostly my whole body," she said. "Just the whole year was great, but it was also physically very difficult. Usually I'm super fast and I wasn't moving the way I wanted to tonight I was afraid to move and so I need to get in that space where I am not afraid and that way I will be able to move better."
With the Australian Open less than two weeks away it is not yet apparent if this injury will affect her ability to play there. "I'm not making any decisions now, I will take it a day at a time, see how I feel tomorrow. Literally take it a day at a time," Williams said.
"I've been training really hard during the off-season. Really pushing myself beyond the limits. I just think a day off or two will make a world of difference".

Hopman Cup

Group A
Australia Gold v USA
Jarmila Wolfe d. Serena Williams 7-5 2-1 (RET)
Lleyton Hewitt d. Jack Sock 7-5 6-4
USA play Czech Republic on Thursday in their final tie in Group A, while Australia Gold take on Ukraine