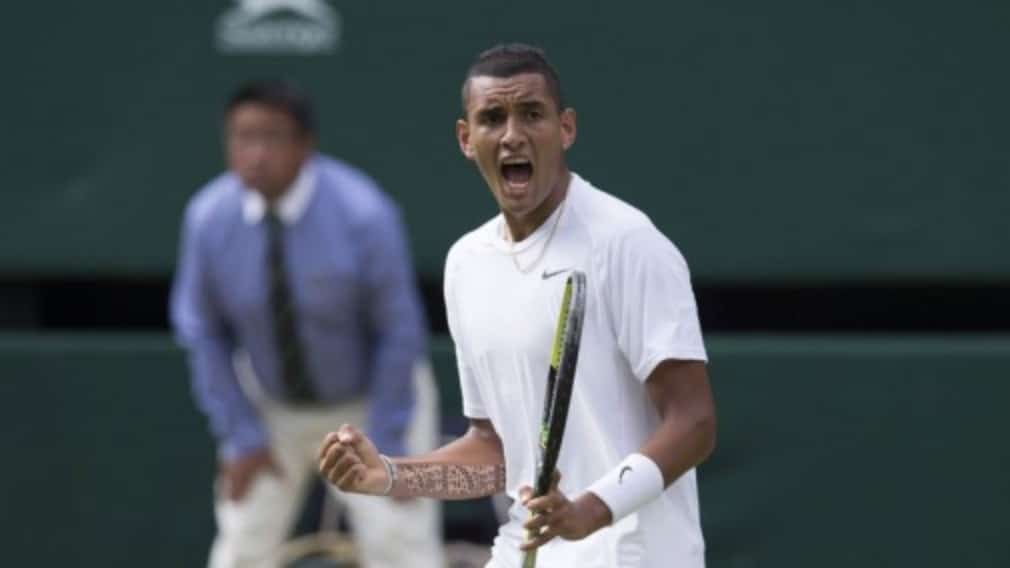 Sensational Kyrgios stuns Nadal to reach quarter-finals
Originally published on 01/07/14
Playing in the main draw at Wimbledon for the first time, the 19-year-old wildcard dominated on serve to beat Nadal 7-6(5) 5-7 7-6(5) 6-3 and reach the quarter-finals. He is the first player outside the top 100 to beat a world No.1 since 1992 and the first teenager to beat a world No.1 since Nadal beat Roger Federer in 2005.
"I think I was in the zone out there – I didn't notice the crowd that much, it hasn't sunk in at all," said Kyrgios, who saved nine match points to make it through his second-round match with Richard Gasquet. "I served a really good level throughout the whole match. You've got to believe you can win the match from the start, and I believed."
The signs were certainly there from the start as the Australian didn't drop a point behind his powerful first serve in the opening set as he took it on a tie-breaker. It was the fourth match in a row that Nadal had dropped the first set but he fought back to take the second and level the encounter. Kyrgios, though, continued to stick to his guns and outhit Nadal to take the crucial third set tie-breaker and then eventually seal a stunning victory.
"The thing is this surface, when you have an opponent that he decides to serve and to hit every ball very strong, you are in trouble," Nadal said. "I think that I didn't play really bad. But that's the game [on grass]. I think in the second and the third set I was better than him, but I was not able to convert my opportunities. And for the rest, I think he play better than me. So, in general, talking about what you need to win in this surface, he did the things better than me."
Meanwhile, Roger Federer will meet Stan Wawrinka in an all-Swiss quarter-final after both players won their fourth-round matches in straight sets. Seven-time champion Federer continued his fine form with a 6-1 6-4 6-4 win against Tommy Robredo and is the only player yet to drop his serve at the tournament.
"Tommy was playing better as the match went on and I'm clearly happy to win in straight sets," said Federer, who lost only three points on his serve in the first two sets. "I'm very pleased with the first week. Here we go into the quarter-finals. It's really exciting being so deep in the tournament, closer to the finish line. It's really nice how I'm playing. I'm serving well, moving well, returning all right. Everything I need to happen is happening to go deep in the tournament."
Federer holds a 13-2 head-to-head record against Wawrinka but it was the latter who won their most recent meeting in the final of the Monte Carlo Masters. Fifth seed Wawrinka didn't face a break point as he came through 7-6(5) 7-6(7) 6-3 against an in-form Feliciano Lopez. The Spaniard had won 12 of his previous 13 matches, including reaching the final at Queen's and winning at Eastbourne, but could not continue his impressive run against Wawrinka. The pair appeared to exchange words at the end of the match but the Swiss said there was no issue.
"It was nothing special, not a big deal," he said. "We just talked about the exchange during the court, but it was nothing, that's it. The crowd was still talking next to me, I stopped before he was serving, then he asked the umpire what, and then I got involved.
"It was nothing important. At the end of the day, it's an important match for both of us. There was a lot of tension out there, especially with the first two tie-breaks. We both wanted to win, trying everything to win it, and that's it. We were just explaining what was wrong during the match, not a big deal."
Federer has won all three of the previous meetings against Wawrinka at Grand Slams and the world No.3, who will be playing his third match in as many days, is ready for a tough test.
"When you play Roger at Wimbledon, when he's fit and confident and feeling well, it's one of the biggest challenge in tennis. It's like playing Rafa at the French Open," said Wawrinka. "Those guys are playing their best tennis for a few years. When you go on court, you need to trust yourself, you need to go for it. We have played so many times. Last time I won but lost a lot before, so it's going to be an interesting match."
Milos Raonic enjoyed a happy Canada Day as he reached his second successive Grand Slam quarter-final with a 4-6 6-1 7-6(4) 6-3 win over Kei Nishikori. The 23-year-old recovered from losing his serve for the first time in the tournament in the opening game to fire down 35 aces and face just one more break point in the match.
"It was only in the first game I felt I could hit returns," said Nishikori. "After that he was hitting good serves and too many aces. Maybe in the last game I had some chances. But he served really well the entire match.
"I tried to concentrate on my service game, because I know, especially on grass, I don't have any much chance on my return game. But he played really aggressive tennis, especially when he was returning. He hit some good returns after my second serve especially. That put a little more pressure on me."