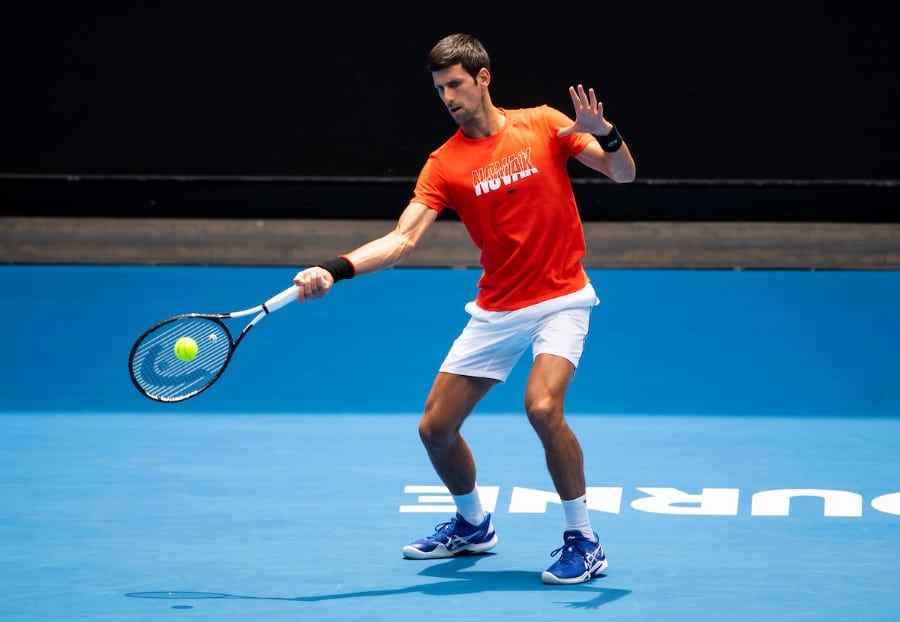 Seeds survive on tough day 2 at the Australian Open 2019: Men's singles results & news
Day two of the Australian Open men's singles saw a combination of quality, fighting spirit and sheer determination win through as just one seed is knocked out of the first round.
Djokovic, Zverev, Nishikori, Thiem, Raonic, Coric, Fognini, Medvedev and Shapavalov were just some of the big names to fire themselves into round 2 of the men's singles at the 2019 Australian Open.
A day of high drama and high temperatures also saw a number of retirements which can be mainly attributed to the intense heat that the players faced. So early in the season it's a shame to see so many players pulling out and we have to be worried that the 'off season' just isn't long enough any more in the professional game. Matches are getting tougher and tougher, there is no easy opponent in a Grand Slam singles and players are playing more and more tournaments. Something has to give and unfortunately it's usually the body!
Of the seeds playing today, Dominic Thiem, Kei Nishiori and Hyeon Chung all had to go to a fifth set which probably means the odds on them winning the tournament are now low. The Australian Open, more than any of the 4 Slams, requires the eventual winner to have some easy matches early on as the conditions are brutal and no-one can withstand endless 5 set battles.
The great Australian hope, Mr Nick Kyrgios, has left the building! Yes he had an incredibly tough draw in facing Milos Raonic in the first round, but Kyrgios' inconsistency has become so consistent that we have come to expect it. It seems he either wins the tournament or loses in the first round and it must be hugely frustrating for those who support him, especially the Australian tennis fans.
Unfortunately Thanasi Kokkinakis also retired with a pectoral injury after battling his way through qualifying and sounding extremely upbeat. He must be hurting now in more ways than one.
Also worth mentioning is the two great statesmen of the game, Jo-Wilfred Tsonga and Stan Wawrinka. Whilst unseeded this year, both comfortably won their first round matches. Could they go deep? Quite possibly.
And finally, today's special mentions go to Ivo Karlovic and Ryan Harrison. Karlovic is defying all known preconceptions within sport and still winning at the grand old age of 39 (some say he's actually getting better). Harrison has had a tough time recently so to see him winning in a Grand Slam again is good news.
Here is the full list of results from the matches played in the first round of the Australian Open men's singles on Day 2 of the 2019 Grand Slam:
1st Round – Rod Laver Arena
2:03 hrs
N. Djokovic (1)
6 6 6
3 2 2
M. Krueger (Q)
1st Round – Rod Laver Arena
1:55 hrs
A. Zverev (4)
6 6 6
4 1 4
A. Bedene
1st Round – Margaret Court Arena
2:48 hrs
K. Majchrzak (Q) RET
6 7 (8) 0 2 0
3 6 (6) 6 6 3
K. Nishikori (8)
1st Round – Margaret Court Arena
3:42 hrs
B. Paire
4 3 7 6 3
6 6 5 1 6
D. Thiem (7)
1st Round – Melbourne Arena
2:01 hrs
B. Coric (11)
6 6 6
1 4 4
S. Darcis
1st Round – Melbourne Arena
1:56 hrs
N. Kyrgios
4 6 (5) 4
6 7 (7) 6
M. Raonic (16)
1st Round – 1573 Arena
2:24 hrs
F. Fognini (12)
7 (7) 7 (9) 3
6 (3) 6 (7) 1
J. Munar RET
1st Round – 1573 Arena
1:55 hrs
P. Andujar
2 3 6 (3)
6 6 7 (7)
D. Shapovalov (25)
1st Round – 1573 Arena
1:39 hrs
M. Marterer
6 6 6
3 1 3
G. Sakharov (Q)
1st Round – Court 3
1:32 hrs
T. Daniel
5 4
7 2
T. Kokkinakis (Q) RET
1st Round – Court 3
1:00 hrs
S. Wawrinka
3 3
6 1
E. Gulbis RET
1st Round – Court 5
3:15 hrs
I. Ivashka
4 7 (8) 6 4
6 6 (6) 1 0
M. Jaziri RET
1st Round – Court 5
2:44 hrs
F. Krajinovic
4 0 6 7 (10) 6
6 6 1 6 (8) 4
M. Cecchinato (17)
1st Round – Court 7
2:13 hrs
A. Bolt (WC)
4 6 6 6
6 3 2 2
J. Sock (WC)
1st Round – Court 7
2:26 hrs
J. Tsonga (WC)
6 6 7 (7)
4 4 6 (5)
M. Klizan
1st Round – Court 8
3:37 hrs
H. Chung (24)
6 (5) 6 (5) 6 6 6
7 (7) 7 (7) 3 2 4
B. Klahn
1st Round – Court 8
2:00 hrs
P. Kohlschreiber (32)
6 6 6
2 2 4
Z. Li (WC)
1st Round – Court 10
3:47 hrs
L. Vanni (Q)
7 (7) 6 3 5 4
6 (5) 2 6 7 6
P. Carreno Busta (23)
1st Round – Court 10
4:04 hrs
J. Chardy
3 7 (8) 6 6 (4) 7 (10)
6 6 (6) 4 7 (7) 6 (6)
U. Humbert
1st Round – Court 12
2:57
L. Djere hrs
7 (7) 4 1 (6) 5
6 (5) 6 6 (7) 7
E. Donskoy
1st Round – Court 12
1:45 hrs
M. Granollers
3 4 4
6 6 6
M. Copil
1st Round – Court 13
3:13 hrs
A. Ramos-Vinolas
3 4 7 (7) 3
6 6 6 (5) 6
M. Fucsovics
1st Round – Court 13
1:59 hrs
A. Popyrin (WC)
7 7 (9) 6
5 6 (7) 4
M. Zverev
1st Round – Court 14
1:47 hrs
L. Harris (Q)
1 2 1
6 6 6
D. Medvedev (15)
1st Round – Court 14
2:07 hrs
B. Fratangelo (Q)
6 (2) 4 2
7 (7) 6 6
G. Simon (29)
1st Round – Court 15
3:12 hrs
N. Jarry
6 (4) 6 (3) 6 3
7 (7) 7 (7) 4 6
L. Mayer
1st Round – Court 19
3:06 hrs
I. Karlovic
6 (5) 7 (7) 7 (7) 7 (7)
7 (7) 6 (5) 6 (3) 6 (5)
H. Hurkacz
1st Round – Court 19
1:45 hrs
L. Pouille (28)
6 7 6
1 5 4
M. Kukushkin
1st Round – Court 20
2:38 hrs
S. Querrey
7 6 (6) 3 1
5 7 (8) 6 6
P. Herbert
1st Round – Court 20
1:28 hrs
D. Goffin (21)
6 6 6
0 2 2
C. Garin
1st Round – Court 22
1:39 hrs
J. Vesely
0 5 3
6 7 6
R. Harrison
1st Round – Court 22
4:01 hrs
G. Pella
6 (2) 6 (6) 5 6 2
7 (7) 4 (7) 7 4 6
J. Sousa
Look ahead to the tennis year with our guide to every tournament on the ATP Tour, the WTA Tour and the ITF Tour
If you can't visit the tournaments you love then do the next best thing and read our guide on how to watch all the ATP Tour matches on television in 2019
To read more amazing articles like this you can explore Tennishead magazine here or you can subscribe for free to our email newsletter here