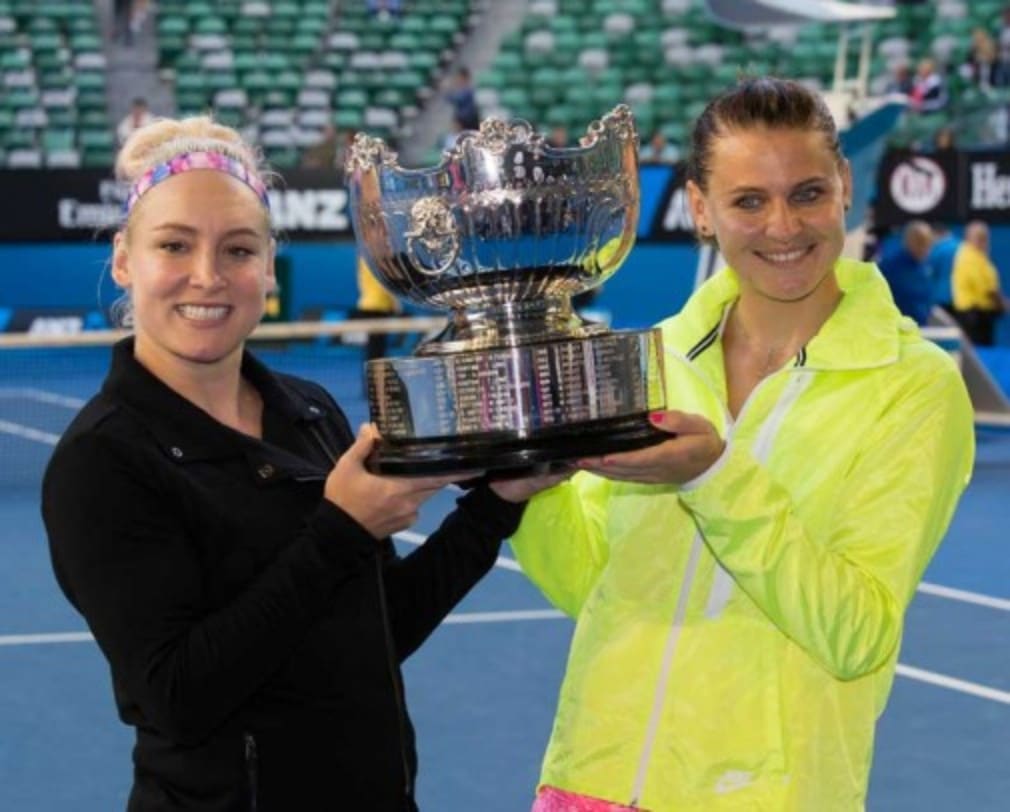 Safarova wins maiden Grand Slam title
Originally published on 30/01/15
It was the first time a new pairing have won a Grand Slam title since Natalie Dechy and Dinara Safina lifted the 2007 US Open trophy. The names of Lucie Safarova and Bethanie Mattek-Sands are now etched on the Australian Open women's doubles trophy.
The two women had never played doubles together before this tournament. "My coach [Rob Steckley] is a good friend of [Mattek-Sands' husband] Justin," explained Safarova on how the pair got together. "They messaged in off-season. We were like, yeah, of course. Because, I mean, it's a pleasure to play with Bethanie. She's a great doubles player. Always fun".
Safarova has won five WTA singles titles and four doubles titles, and was seeded No. 16 seed in the singles here at Melbourne Park. Defeated in the first round of the singles by Yaroslava Shvedova, her journey through to Grand Slam glory was all the more pleasing.
"It's just so special," she said. "I mean it's hard to describe these feelings. It is such huge happiness because to be a Grand Slam champion, it's just the best feeling you can have."
She is the first Czech woman to win the Australian Open doubles title since Jana Novotna with Arantxa Sanchez Vicario in 1995. Last year in Australia, Safarova reached the third round in the singles where she held a match point against the eventual winner Li Na. The memories of that are still with her, but she thinks she will gain confidence from her victory here.
"It's a boost of confidence for future doubles and singles," she said. "I think we played amazing matches here."
Considering the pair had never played together before the warm-up for their first match against Tatjana Maria and Raluca Olaru, they quickly found their rhythm together.
"I mean, I had some partners where it took really a long time to find a good combination and to play well," said Safarova. "But I think pretty much right away we played well."
The pair defeated the No. 3 seeds Ekaterina Makarova and Elena Vesnina in the quarterfinals. They attribute some of their success to their personal chemistry.
"It's been fun, which is the most important, to have fun. Then the tennis comes with it and the success, so that's great," said Safarova. Although the pair hope to play together again, they have not yet made any plans. Mattek-Sands, who has 13 career doubles titles and was the mixed doubles champion here with Horia Tecau in 2012, said they initially only planned to play the one tournament.
"It literally was one tournament initially," said the American. "Obviously we'll be playing some more."
"It's just extreme happiness. It's tough to describe. It's like you practise so many hours and then you practise for this, to be out there to hold the trophy", said Safarova. "So it's just such a satisfaction".
This story is bought to you by Wilson, official sponsor of Tennis Australia and the Australian Open