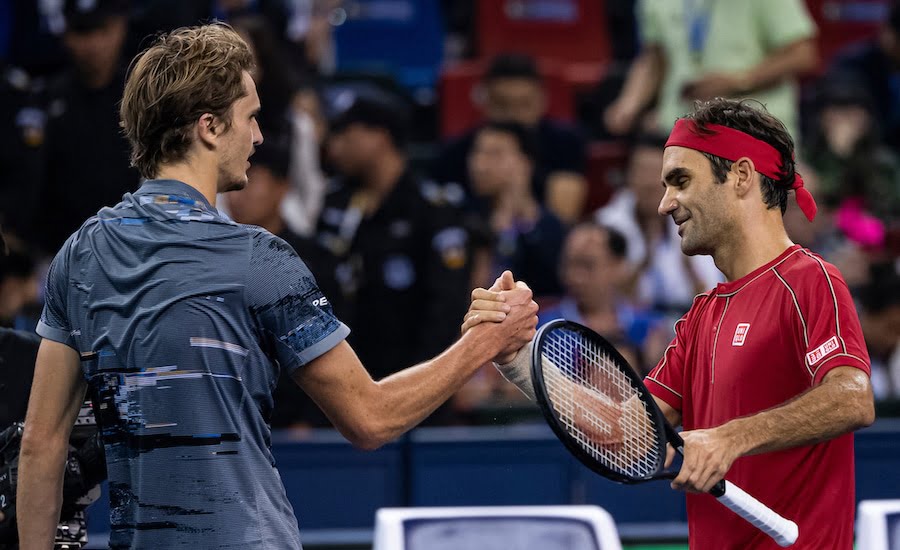 Roger Federer reveals impressive improvement in Alexander Zverev even though "he hasn't been playing so well"
Roger Federer is renowned for being respectful in defeat and that mature characteristic was never more in evidence than when he explained why he was so impressed by Alexander Zverev during their match in Shanghai
Roger Federer had to endure a particularly tough loss to rising German star Alexnader Zverev but as ever with Federer he was man enough to pay credit to the World No. 6.
Federer was asked in his press conference if it had crossed his mind that during the Laver Cup he had very publicly given Zverev the advice to not get down on himself which, at the time, seemed to have the desired effect as Zverev went on to win the crucial deciding match at the Laver Cup
Federer replied, "No, that was impressive, because he has tendencies to get a bit down on himself, especially this season he hasn't been playing maybe so well, so that impressed me the most.
"Well, I mean, sometimes, you know. I told him at the net that he showed great character, you know, that he was strong and he didn't — I thought he didn't show any frustrations or too much negativity.
"I don't know. I don't see much of my opponent, to be honest. I turn my back very quickly, so I see maybe 10, 20%, but I didn't see him very often being extremely frustrated except the one time when he hit three let cords in a row, the last game I think it was."
Zverev is among a group of young players that are all aiming to take the the world No.3 spot away from Federer with Daniil Medvedev probably the most likely to achieve the feat this year. Federer might only play one more ranking tournament this year at the ATP Finals whereas Medvedev and others like Zverev and Thiem will undoubtedly play more tournaments before the ATP Finals.
To read every issue ever published of the world's best tennis magazine, tennishead, visit our 'Magazine Archive' and you can buy a copy of the latest issue here.To win incredible tennis prizes for free, enter our latest 'Competitions'. For all the breaking tennis news and exclusive player interviews, visit our 'News' section. For the latest racket, ball, shoe and clothing buyers guides plus video play tests, visit our 'Gear' section