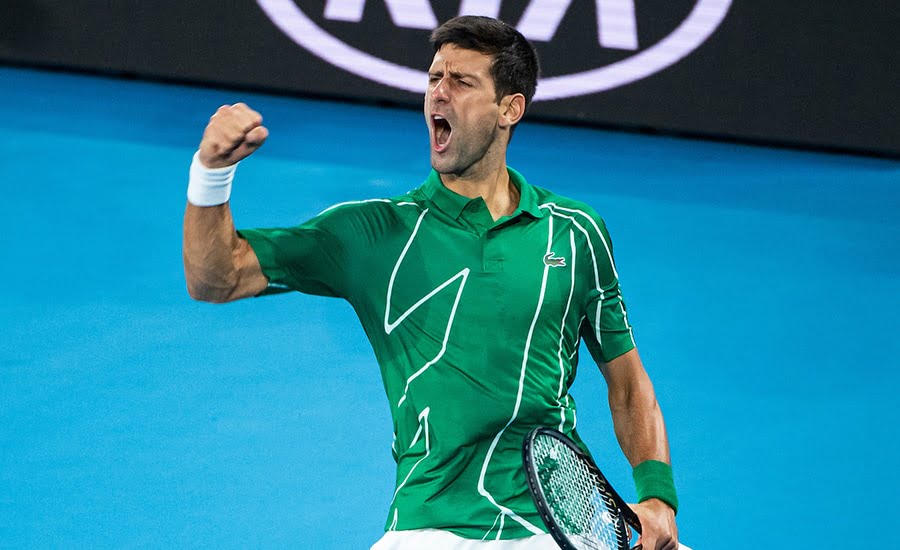 'Roger Federer and Rafael Nadal have made me the player I am today,' says Novak Djokovic
Novak Djokovic says his matches against Roger Federer and Rafael Nadal have made him the player he is today as he prepares to renew old rivalries once again.
Djokovic beat Milos Raonic in his Australian Open quarter-final on Tuesday to line-up another match against Federer.
And, speaking afterwards, he was clearly relishing another chance to lock horns with the Swiss star again.
"I have tremendous respect for Roger for everything he has achieved," Djokovic said. "He is definitely one of my two biggest rivals.
"The match ups against Roger and Rafael have made me the player I am today. I am grateful to have had so many great matches against those guys."
Federer defied both age and medical science on Tuesday to fight off a groin injury and seven match points against Tennys Sandgren to earn the shot at Djokovic.
However, Djokovic says he has long since stop being surprised by Federer, and he's expecting a very tough match again in Melbourne despite his recent good record against the 38-year-old.
"Not particularly, to be honest," the Serbian said, when asked if Federer's comeback surprised him.
"But I know that whenever we get a chance to play each other, we understand it takes a big effort and it's required from us to come up with the best game in order to win against each other.
"Wimbledon last year, he had two match points, he was one shot away from winning that match. It's not like I've been dominating the match ups. I've had success against him, as you said, in Grand Slams in particular.
"But Roger is Roger. You know that he's always going to play on such a high level, regardless of the surface. He loves to play these kind of matches, big rivalries, semis, finals of Grand Slams.
"I mean, he's probably going to confirm that that's probably the biggest reason why he's still competing, to be able to compete at the Grand Slams against the best players in the world.
"What he did today was really amazing. I mean, to come back and save seven match points at his age, I mean, he's still playing such a great tennis and proving that he deserves to be up there.
"He's a great fighter. Obviously I have lots of respect for him."
Keep up to date with all the action at our tennis news section. Win amazing tennis prizes by entering our competitions. Learn more about your favourite players including Roger Federer, Rafa Nadal and Novak Djokovic. Check out the latest kit in our tennis gear reviews. Receive regular updates with our legendary newsletter or read in depth features with stunning photography in tennishead magazine. Can't visit the tournaments you love? Check out our guide on how to watch tennis on TV. Don't miss a thing with our Live Scores service. Follow tennishead on social media at Facebook, Twitter, Instagram & YouTube