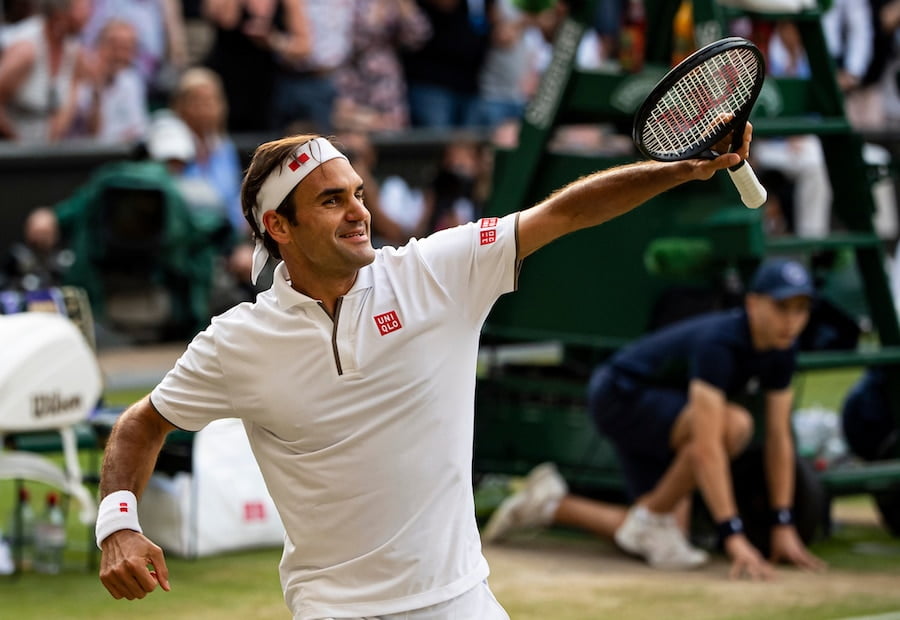 Roger Federer and his 101 Wimbledon wins
The Roger Federer semi final victory against Rafa Nadal not only set up an exciting final against old foe Novak Djokovic, but gave him his 101st win at Wimbledon.
Winning his 100th title earlier this year in Dubai, Roger Federer has now become the only man to reach triple figures for match wins at a single Grand Slam. Before his 6-1 6-2 6-2 smashing of Berrettini in the fourth round earlier this week, Jimmy Connors had held this record, with his 98 wins at the US Open from 1970-1992.
Winning the Wimbledon title a record eight times, Federer has only lost 12 matches at SW19, including his first two. He lost to Jiri Novak in five sets in 1999, aged just 17, and then 5th seed Yevgeny Kafelnikov in straight sets the year after. However since then Federer has only lost one in ten Wimbledon matches, and has now passed the golden figure of 10o singles match wins at the All England Club.
Roger's Wimbledon 101:
2001
1. Round of 128  Christophe Rochus  62 63 62
2. Round of 64  Xavier Malisse  63 75 36 46 63
3. Round of 32  Jonas Bjorkman  76(4) 63 76(2)
4. Round of 16  Pete Sampras  76(7) 57 64 (2)67 75
2003
5. Round of 128  Hyung-Taik Lee  63 63 76(2)
6. Round of 64  Stefan Koubek  75 61 61
7. Round of 32  Mardy Fish  63 61 46 61
8. Round of 16  Feliciano Lopez  76(5) 64 64
9. Quarter-Finals  Sjeng Schalken  63 64 64
10. Semi-Finals  Andy Roddick  76(6) 63 63
11. Final  Mark Philippoussis  76(5) 62 76(3)
2004
12. Round of 128  Alex Bogdanovic  63 63 60
13. Round of 64  Alejandro Falla  61 62 60
14. Round of 32  Thomas Johansson  63 64 63
15. Round of 16  Ivo Karlovic  63 76(3) 76(5)
16. Quarter-Finals  Lleyton Hewitt  61(1)67 60 64
17. Semi-Finals  Sebastien Grosjean  62 63 76(6)
18. Final  Andy Roddick  46 75 76(3) 64
2005
19. Round of 128  Paul-Henri Mathieu  64 62 64
20. Round of 64  Ivo Minar  64 64 61
21. Round of 32  Nicolas Kiefer  62 (5)67 61 75
22. Round of 16  Juan Carlos Ferrero  63 64 76(6)
23. Quarter-Finals  Fernando Gonzalez  75 62 76(2)
24. Semi-Finals  Lleyton Hewitt  63 64 76(4)
25. Final  Andy Roddick  63 76(2) 64
2006
26. Round of 128  Richard Gasquet  63 62 62
27. Round of 64  Tim Henman  64 60 62
28. Round of 32  Nicolas Mahut  63 76(2) 64
29. Round of 16  Thomas Berdych  63 63 64
30. Quarter-Finals  Mario Ancic  64 64 64
31. Semi-Finals  Jonas Bjorkman  62 60 62
32. Final  Rafael Nadal  60 76(5) (2)67 63
2007
33. Round of 128  Teymuraz Gabashvili  63 62 64
34. Round of 64  Juan Martin del Potro  62 75 61
35. Round of 32  Marat Safin  61 64 76(4)
Round of 16  Tommy Haas  W/O
36. Quarter-Finals  Juan Carlos Ferrero  76(2) 36 61 63
37. Semi-Finals  Richard Gasquet  75 63 64
38. Final  Rafael Nadal 76(7) 46 76(3) 26 62
2008
39. Round of 128  Dominik Hrbaty  63 62 62
40. Round of 64  Robin Soderling  63 64 76(3)
41. Round of 32  Marc Gicquel  63 63 61
42. Round of 16  Lleyton Hewitt 76(7) 62 64
43. Quarter-Finals  Mario Ancic  61 75 64
44. Semi-Finals  Marat Safin  63 76(3) 64
2009
45. Round of 128  Yen-Hsun Lu  75 63 62
46. Round of 64  Guillermo Garcia-Lopez  62 62 64
47. Round of 32  Philipp Kohlschreiber  63 62 (5)67 61
48. Round of 16  Robin Soderling  64 76(5) 76(5)
49. Quarter-Finals  Ivo Karlovic  63 75 76(3)
50. Semi-Finals  Tommy Haas  76 75 63
51. Final  Andy Roddick  57 76(6) 76(5) 36 1614
2010
52. Round of 128  Alejandro Falla  57 46 64 76(1) 60
53. Round of 64  Ilija Bozoljac  63 (4)67 64 76(5)
54. Round of 32  Arnaud Clement  62 64 62
55. Round of 16  Jurgen Melzer  63 62 63
2011
56. Round of 128  Mikhail Kukushkin  76(2) 64 62
57. Round of 64  Adrian Mannarino  62 63 62
58. Round of 32  David Nalbandian  64 62 64
59. Round of 16  Mikhail Youzhny  (5)67 63 63 63
2012
60. Round of 128  Albert Ramos-Vinolas  61 61 61
61. Round of 64  Fabio Fognini  61 63 61
62. Round of 32  Julien Benneteau  46 (3)67 62 76(6) 61
63. Round 16  Xavier Malisse  76(1) 61 46 63
64. Quarter-Finals  Mikhail Youzhny  61 62 62
65. Semi-Finals  Novak Djokovic  63 36 64 63
66. Final  Andy Murray  46 75 63 64
2013
67. Round of 128  Victor Hanescu  63 62 60
2014
68. Round of 128  Paolo Lorenzi   61 61 63
69. Round of 64  Gilles Muller  63 75 63
70. Round of 32  Santiago Giraldo  63 61 63
71. Round of 16  Tommy Robredo  61 64 64
72. Quarter-Finals  Stanislas Wawrinka  36 76(5) 64 64
73. Semi-Finals  Milos Raonic  64 64 64
2015
75. Round of 128  Damir Dzumhur  61 63 63
76. Round of 64  Sam Querrey  64 62 62
77. Round of 32  Sam Groth 64 64 (5)67 62
78. Round of 16  Roberto Bautista Agut  62 62 63
79. Quarter Finals  Gilles Simon  63 75 62
80. Semi Finals  Andy Murray  75 75 64
2016
81. Round of 128  Guido Pella  76(5) 76(3) 63
82. Round of 64  Marcus Willis  60 63 64
83. Round of 32  Daniel Evans  64 62 62
84. Round of 16  Steve Johnson  62 63 75
85. Quarter Finals  Marin Cilic  (4)67 46 63 76(9) 63
2017
Round of 128  Alexandr Dolgopolov  63 30 rtd
86. Round of 64  Dusan Lajovic  76(0) 63 62
87. Round of 32  Mischa Zverev  76(3) 64 64
88. Round of 16  Grigor Dimitrov  64 62 64
89. Quarter-Finals  Milos Raonic  64 62 76(4)
90. Semi-Finals  Tomas Berdych  76(4) 76(4) 64
91. Final  Marin Cilic  63 61 64
2018
92. Round of 128  Dusan Lajovic  61 63 64
93. Round of 64  Lukas Lacko  64 64 61
94. Round of 32  Jan Lennard Struff 63 75 62
95. Round of 16  Adrian Mannarino 60 75 64
2019
96. Round of 128  Lloyd George Harris 36 61 62 62
97. Round of 64  Jay Clarke  61 76(3) 62
98. Round of 32  Lucas Pouille  75 62 76(4)
99. Round of 16  Matteo Berrettini  61 62 62
100. Quarter-Finals  Kei Nishikori  46 61 64 64
101. Semi final Rafa Nadal 7-6, 1-6, 6-3, 6-4
Enjoy Wimbledon even more with our exclusive, 164 page, 'Guide to Wimbledon 2019'
To find out how to get tickets for Wimbledon this year read our 9 point guide here
For all the latest Wimbledon news before, during and after the tournament make sure you bookmark our 'Wimbledon News' section here
If you can't visit the tournament then do the next best thing and read our guide on how to watch Wimbledon on television
To read more amazing articles like this you can explore Tennishead magazine here or you can subscribe for free to our email newsletter