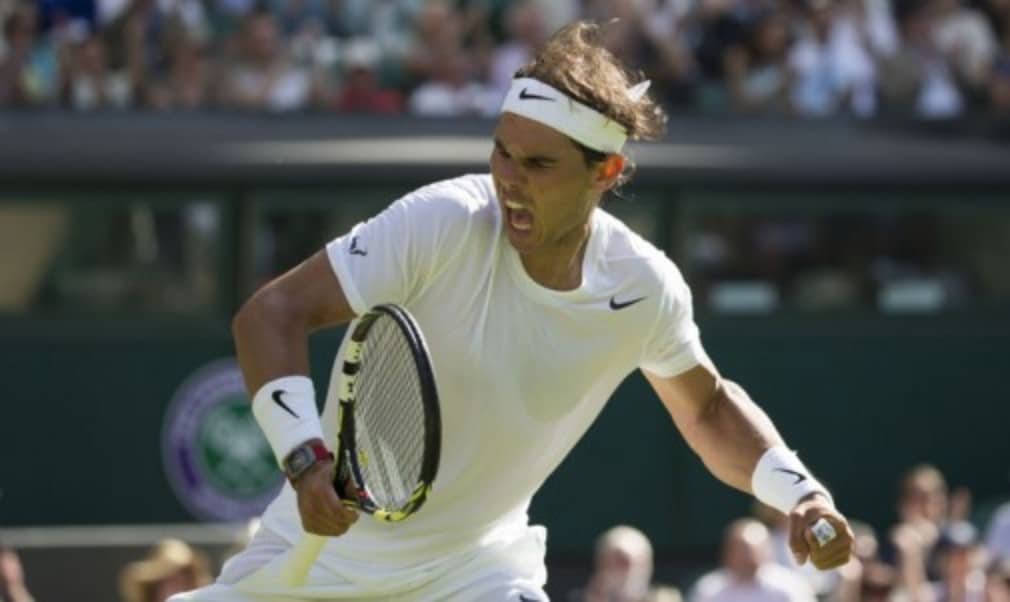 Resilient Nadal puts past behind him to beat Klizan
Originally published on 24/06/14
The world No.1 was stunned in straight sets in his opening match by Steve Darcis last year and in 2012 was beaten in the second round by Lukas Rosol. It was clear from the outset that he was in for another tricky contest on Centre Court as he dropped the opening set in 50 minutes against hard-hitting Slovakian Klizan.
That was the seventh set in a row the Spaniard had lost on grass and he had to stave off five break points to prevent Klizan taking the upper hand in the second. But Nadal slowly started to take control of the match and after breaking three times in the third set he eventually secured the fourth to seal victory and become the 11th player in the Open era to reach 700 match wins.
"When you go on court and you lost last year in the first round, the year before in the second round, I'm not going to lie, it stays in your mind," said Nadal, who will face his 2012 conqueror Rosol next. "But in the end it is a tennis match. Winning at Roland Garros means I am able to go on court with a little bit less pressure than if I don't win there, and that helps.
"When you are in the match, you are not thinking about what happened last year, two years ago, five years ago. When you are in the match, you're thinking about the next point, you're thinking about finding a solution for that match. What is past is past. What happened, happened. We don't want to change that. The only way to try something is try to change what's happening right now.
"I lost the first set having had some chances but I played a bad game at 4-4, then I made two mistakes in the next game because I had 0-30 again and I lost the set. The second set was very important because he had some chances at the beginning. I was able to save them, so that was very, very important for me."
Nadal did not have the ideal preparation for Wimbledon as he was beaten in his opening match at the Gerry Weber Open in Halle in just under an hour by Dustin Brown. But his fightback against Klizan showed that he is still a force to be reckoned with on grass, especially if he can make it into the second week and start to hit top gear.
"When I am playing on clay I don't have to think a lot about what I have to do because all the things come together and are automatic, I just think about how I want to play that match," he said. "Here you need to adjust the movement. You need to adjust the rhythm. You need to find the right feeling on the speed of the ball. You need to find the right places to serve because the serve is so important. So all the things that you need to keep doing, and at the beginning the things are not going that easy, after a few matches you are able to win and play with the right tactic.
"I think I can play better than what I did today, but at the same time I knew I would not play today at 100%. I will not play perfect today after not playing on grass for a while. So you need to find the routines again. You need to find the confidence on some shots. The only way to find that things that comes automatic, the only way is play matches."
Asked about his rematch with Rosol and whether he would take any lessons from his defeat two years ago, Nadal said: "No, I lost. I lost because he's a good player. He's a player that can play very well on this surface. He's an aggressive player. It will be a tough match again. I know if I want to have chances to win, I need to play very well. That's what I am going to try. If not, I don't have the chance to be in the third round. But I am going to fight for it."