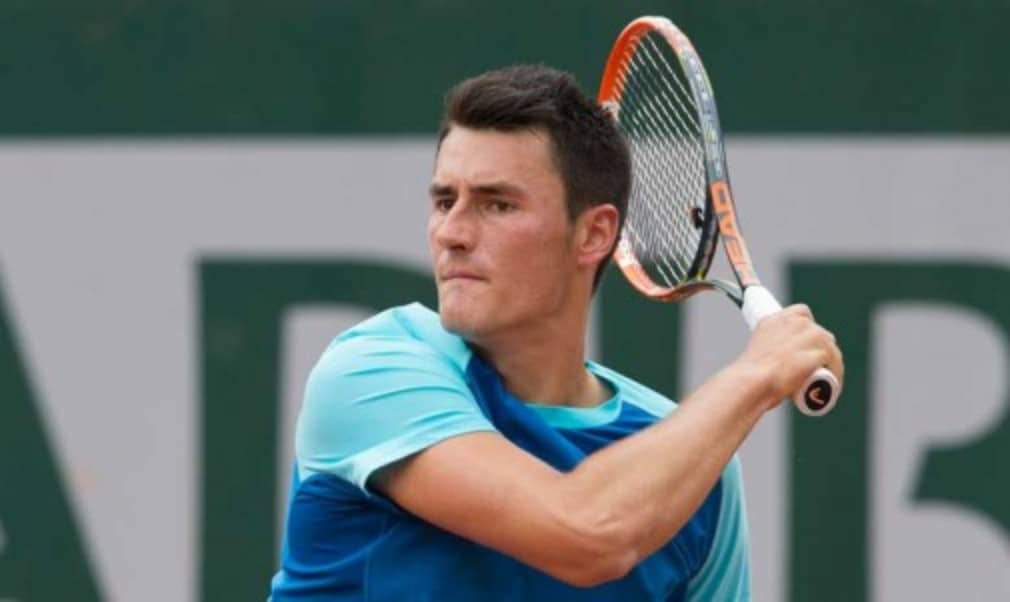 Relaxed Tomic back in the groove
Originally published on 29/07/14
Healthy, happy, clear-headed, Tomic enjoying his tennis again
It's been a funny old year for Bernard Tomic – twin hip surgeries, an abortive return in Miami, a tough European season and then, just days after parting ways with IMG, the second title of his career in Bogota.
As surprising as his victory in Colombia was the Australian 21-year-old's emotional displays on court against Ivo Karlovic, a fist-pump-strewn performance that won over the crowd.
The reason is simple: after six months spent nursing himself back to full health, Tomic feels fully fit and is enjoying his tennis again.
"I started way too early in Miami," admitted Tomic, who set up a second-round showdown with Denis Istomin after beating Alejandro Gonzalez 6-3 6-2 at the Citi Open in Washington. "After two surgeries it was stupid to play, but I wanted a match. I knew I was going to lose.
"It's very important to enjoy what you're doing, enjoy the matches. It's very difficult for us to play our best because tennis is a very tough, very pressured sport. You're on your own and no-one can help you out there. You've got to relax and enjoy it, and that's what I've been doing the last two weeks."
Tiafoe latest star of emerging US cluster
Francis Tiafoe: remember the name. He's 16 years old, he's American, and at the Citi Open on Monday night he made an impressive ATP World Tour debut.
Yes, it ended in defeat – a 6-4 6-4 loss to Russia's Evgeny Donskoy – but there was enough pyrotechnic tennis over the course of the 78-minute contest to justify the wildcard set aside for the local lad who visited the tournament as a kid.
Whisper it, but a bright future beckons for the junior world No.7 – something he puts down to his fellow American '98s', Stefan Kozlov and Michael Mmoh.
"I'm one of many," said Tiafoe, who had to fight back the tears when he heard the crowd reaction as he stepped out onto the stadium court. "We have a good group, and I'm happy to be part of that – me, Stefan, Mmoh, [junior Wimbledon champion Noah] Rubin, so many of us. Hopefully we can all move on together.
"We always want to one-up each other – if Mmoh has a great week, I tell myself I have to have a good week now. We push each other a lot, I hope we just keep doing it to the pro level. Someone's going to want to one-up me after tonight!"
Townsend happy to go it alone on court
Thankfully for the sometime one-woman Washington Kastles doubles team, we're not talking about World Team Tennis this week. Instead, it's her conscious decision to give up her right to on-court coaching at WTA events.
"I don't need it," insists the 18-year-old, who has former world No.4 Zina Garrison and Kamau Murray in her corner.
"My thing – and we all agree on it – is, you can't bring a court on coach at the Grand Slams. They're biggest tournaments where everyone comes and wants to win. It's you and the other person, who can tough it out that day. Just because that is available here at these tournaments, I approach it as though it's a Grand Slam. Every single match, it's me out there.
"I just focus on my game. If [my opponent] calls their coach on court and they tell them something and their gameplan changes, I have to adapt."
Garrison and Murray could only watch as the qualifier toiled against world No.92 Julia Goerges for a place in the second round. Townsend, who trains locally for part of the year, rode the wave of support from the home crowd to prevail 3-6 6-2 6-3.