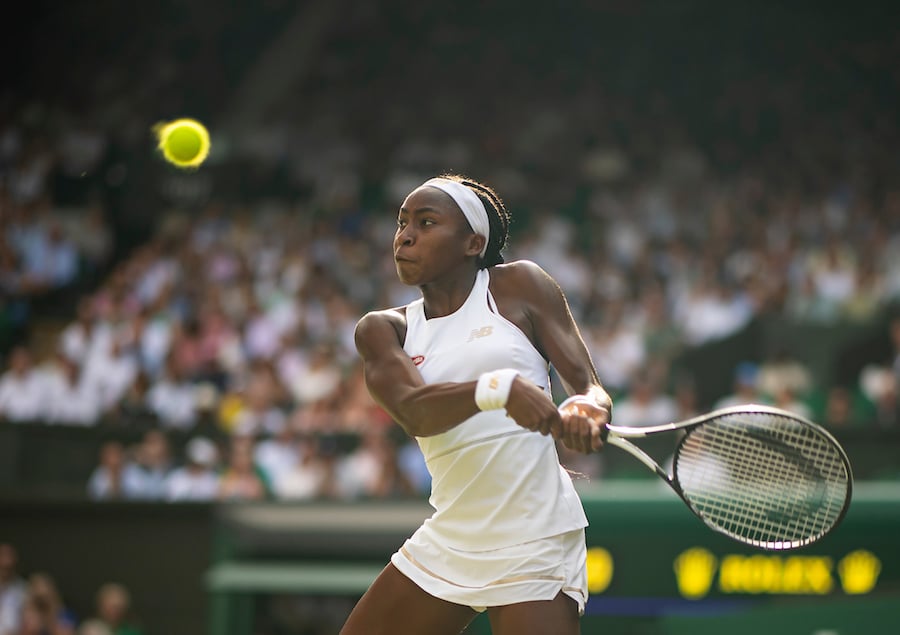 Record breaking teen Cori Gauff set for toughest Wimbledon test yet
15 year old Cori Gauff is to play Simona Halep on Court One today, in what will be seen as her hardest match yet.
Stealing headlines last week, the teenage sensation Cori Gauff has made it to the second week of her first ever Grand Slam tournament. Ranked at 313th in the world, Gauff was given a wildcard into qualifying. After becoming the youngest player to ever qualify for a Grand Slam, she has not stopped writing history there. She quickly became the youngest winner at a Grand Slam, after she defeated idol Venus Williams 6-4 6-4 in round one.
Gauff has never faced a player ranked as high as Halep before. Having lost in the mixed doubles on Saturday alongside British youngster Jay Clarke, she would have had more time on the rest day yesterday to focus on the test ahead.
Along with fellow fourth rounder Dayana Yastremska today, Gauff is bidding to become the first teenager to reach a Wimbledon quarter final since Victoria Azarenka and Sabine Lisicki did in 2009.
Romanian Halep has not lost to anyone ranked lower than 313th since 2009, when she was beaten by 766th Mary Zanevska in Prerov. However two of her last three loses have been to teenagers, losing to 19 year old Marketa Vondrousova in Rome, and 17 year old Amanda Anisimova at the French Open.
Ranked number 7 in the world, Halep is a former Grand Slam champion, winning the French Open in 2018. She is also ranked 37 places higher than Gauff's first triumph this week, Venus Williams. She is looking to make her seventh Grand Slam quarter final today.
At 27 years of age Halep has only made the Wimbledon semi-final once in 2014, when she lost to Canada's Eugenie Bouchard who went on to lose in the final to Petra Kvitova. Halep had a decent run to the Eastbourne quarter finals in preparation for Wimbledon, where she lost to 2018 Wimbledon champion Angelique Kerber.
Halep looked convincing in her last match, as she crushed Victoria Azarenka 6-3 6-1. Gauff on the other hand had a great battle against Polona Hercog, saving two match points to win in a third set.
Cori Gauff (USA)
Age: 15
WTA ranking: 313
Career Wimbledon record: 3-0
Career Grand Slam record: 3-0
Career grass court record: 3-0
Time spent on court so far: 5hr 15
Simona Halep (Romania)
Age: 27
WTA ranking: 7
Career Wimbledon record: 23-8
Career Grand Slam record: 83-35
Career grass court record: 35-15
Time spent on court so far: 4hr 39
Enjoy Wimbledon even more with our exclusive, 164 page, 'Guide to Wimbledon 2019'
To find out how to get tickets for Wimbledon this year read our 9 point guide here
For all the latest Wimbledon news before, during and after the tournament make sure you bookmark our 'Wimbledon News' section here
If you can't visit the tournament then do the next best thing and read our guide on how to watch Wimbledon on television
To read more amazing articles like this you can explore Tennishead magazine here or you can subscribe for free to our email newsletter