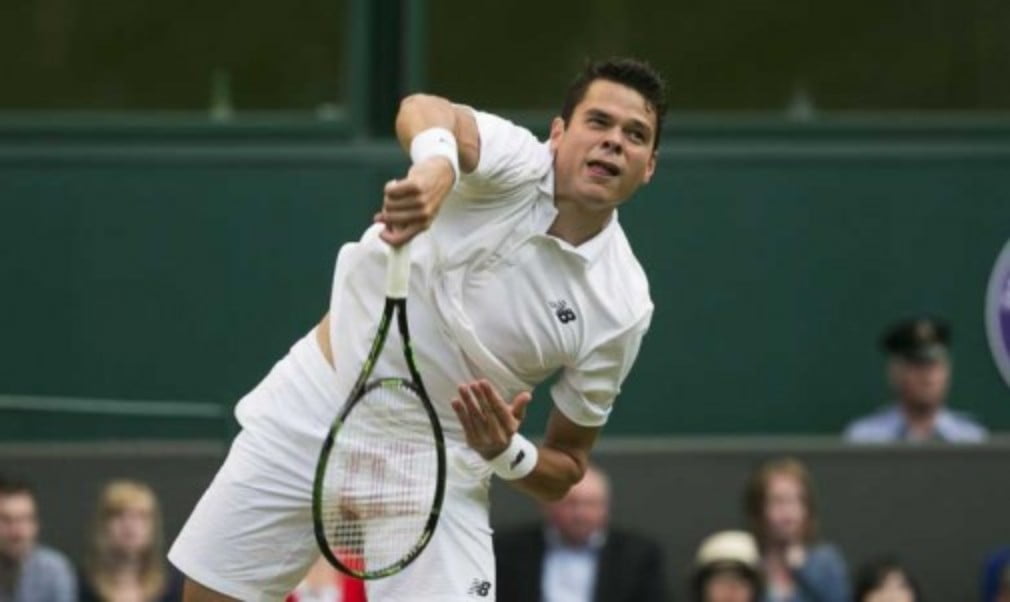 Raonic ready to rewrite result
Originally published on 08/07/16 00:00
Three weeks ago, after Raonic lost in the Aegon Championships final to Andy Murray, the Canadian immediately targeted a rematch in the final at Wimbledon.
That rematch is only one match away from materialising, but first Raonic must find a way past Federer in the semi-finals. It will be the third Grand Slam semi-final of Raonic's career. The first was at Wimbledon in 2014, where he lost to the seven-time champion in straight sets.
"I'm happy that I have another shot at him," Raonic said after his 6-4 7-5 5-7 6-4 victory over Sam Querrey in the quarter-finals.
Anyone who has been monitoring the progress of the 25-year-old will have seen him grow in confidence this season and the addition of John McEnroe to his coaching team for the grass court season is evidence of his conviction to winning on grass.
With a big serve (he has averaged 124mph on his first serve during this year's tournament) he has a weapon that is great for the green stuff, but what he also demonstrated over the past few weeks is that he is also happy to follow that up with a volley, something that McEnroe has been working with him on. He has won 99 serve and volley points in his first five matches and a total of 145 points at the net.
"That was a part of the motivation to bring him along to help, was to improve that aspect of how much I can implement it in my game and how to use it and what the right moments are," explained Raonic.
The last time the pair met in January this year, Raonic beat Federer in the final of the Brisbane International, and he is a better player than the 23-year-old who lost to Federer here two years ago.
"I think from every aspect, I've improved," Raonic said. "I know what I need to do on court better. I know how to sort of turn things around to get them on my terms. I know what I'm looking for. I know how to go about it, to try to get to that position as much as I can. And then when things aren't going well, I know what things to look for to change."
In the quarter-finals against Querrey, Raonic reduced the intensity of his own booming serve to take the opportunity to move forward to the net. He averaged 121mph compared to his tournament average of 124mph.
"I saw he was standing pretty far back on the return. If I take something off my serve, it allows me to get closer," explained Raonic.
Commentators have compared the 6'5" Canadian's game to that of seven-time Wimbledon champion Pete Sampras.
"I've always looked up to Pete," said Raonic. "I think he did a lot of great things. I think I'm trying to implement things in a different way, like he did. He was definitely the best guy at keeping guys off balance."
Alongside Carlos Moya and Riccardo Piatti, McEnroe, who Moya described as one of the greatest volleyers of all time, has helped Raonic with his strategy, but Raonic is refusing to get too bogged down in it all.
"At the end of the day, you got to step out there and find a way to win, try to win that last point," he said.
And with a place in the Wimbledon final at stake, a more mature Raonic seems ready to rewrite the result of his 6-4 6-4 6-4 semi-final defeat to Federer on Centre Court two years ago.

This story is brought to you by Wilson, the global leader in performance tennis