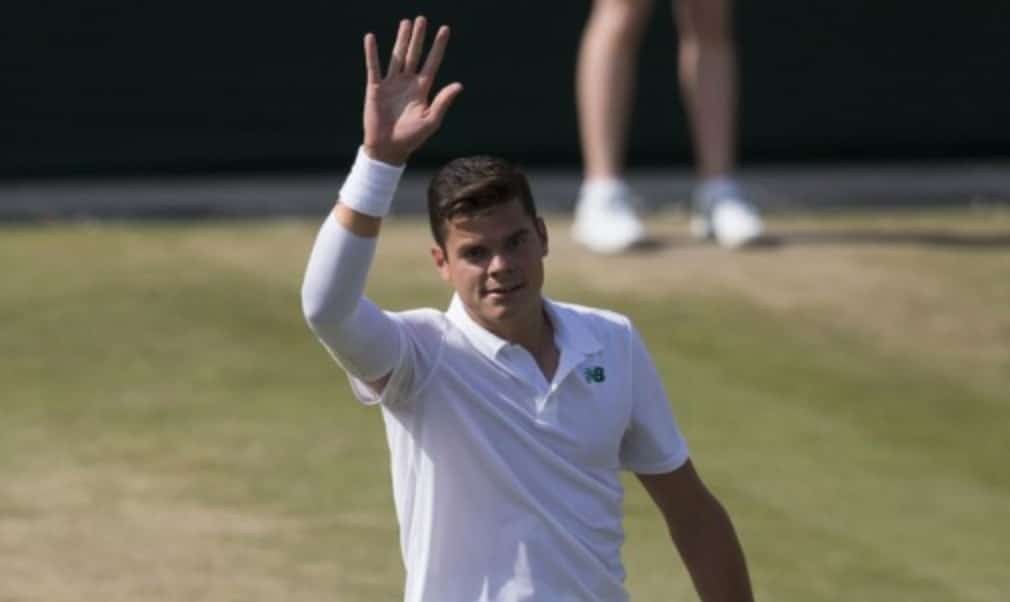 Raonic not daunted by facing Federer
Originally published on 04/07/14
The 23-year-old powered into the final four of a major for the first time with victory over wildcard Nick Kyrgios on Wednesday. The odds are stacked against him making it further as Federer has not lost any of his previous eight semi-finals at SW19.
But Raonic, who has climbed to a career-high No.9 in the world this year, insists he is not going to be overawed by the occasion or his opponent.
"When I step out there I'm not playing the seven-time Wimbledon champion," he said. "I'm not playing a 32-year-old man. I'm not playing the father of two sets of twins. I'm not playing the guy that's won whatever he's won, which I could probably list quite vividly. I'm playing a guy that is standing in my way of what I want to achieve, and I've got to focus on everything that's there, on the situation, how best to deal with it to give myself the best possibilities to achieve what I want."
One of the keys to the match is likely to be Raonic's powerful serve. He is currently leading the way at Wimbledon with 147 aces has also won a higher percentage of points behind his first serve than any other player.
"I think very highly of my serve and I think very highly of his," said the Canadian. "But I have to hope that my serve's better than his in that situation. I have to hope that my serve can get me through a lot of difficult situations in whatever rises up.
"Obviously Roger has so many titles to his name, probably more than he has trophies. Magician, whatever you may call him, he's capable of doing so many things. He's quick, he can hurt you, he can do pretty much anything he wants with the ball. I'm a little bit more predictable, but I go about my job and I get the job done. It's about trying to make him play on my terms rather than me playing on his. If I can do that, I can create the possibilities for myself."
Like a handful of other players around his age, Raonic has enjoyed a breakthrough year in 2014. He has reached at least the quarter-finals of four Masters events, the last eight at the French Open and climbed into the top 10 in the world. The challenge now for the 23-year-old is to defeat the likes of Federer, Rafael Nadal and Novak Djokovic at the majors, as Stan Wawrinka did in Melbourne.
"I think the one result that stands out the most this year has to be, at least in my eyes and maybe other guys as well, is what Stan did at the beginning of the year," said Raonic. "It doesn't have to be from a young guy. I think it has to be from this group that's considered contenders but sort of haven't been able to break through. I think that one, beating Novak and Rafa in that same time, because you have to do it, that one was the biggest sigh of relief and belief for a lot of guys.
"I felt it when I was watching it in Tokyo during Davis Cup. You sort of felt like, 'okay, he did it'. I feel like I compete well with this guy. Why can't I do it?"