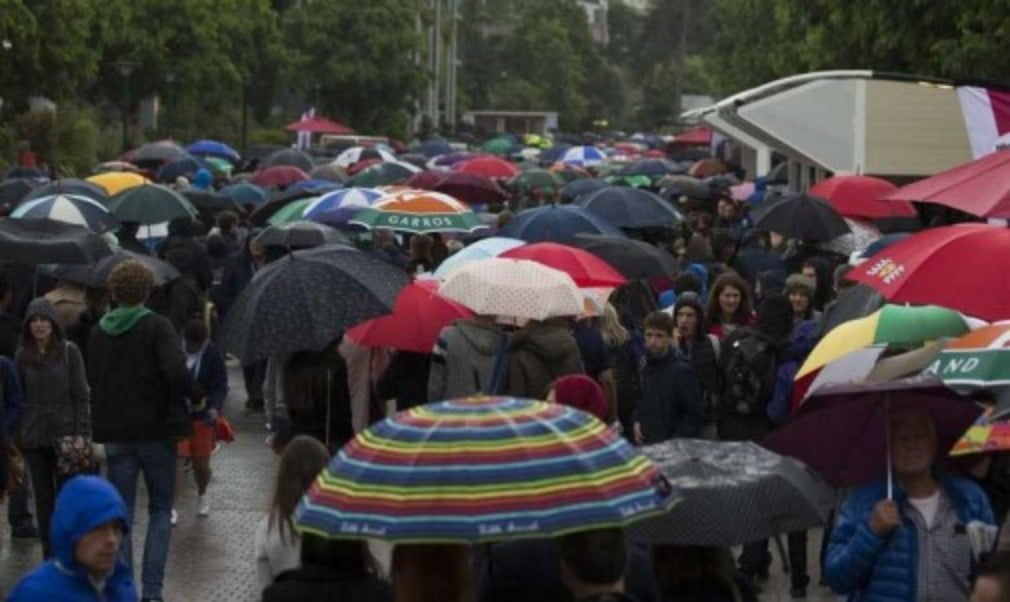 Rain, rain, go away
Originally published on 19/06/16 00:00
Angelique Kerber likes to get into a good book, but only in her native language
"I like to read books or just listen to music because when there are rain delays you must be ready. It's really hard and you must have a lot of patience when the weather is like this. I read in German, it is easier for me. I can read faster."
Petra Kvitova, meanwhile, prefers some retail therapy
This morning we went into the city and had a coffee, had a little walk around the city with umbrellas of course. Of course we have to expect that [it will rain] in England. But I like to watch some series or movies. If I have time, we go for coffee to the city under the umbrella. And it's a beautiful shopping centre here, as well, so we're going to spend some time there. Nothing really special."
Touring Birmingham with an umbrella! Where am I?! #wherespetra Š…" #aegonclassic pic.twitter.com/Pq3MaPx1ga

— Petra Kvitova (@Petra_Kvitova) June 14, 2016
Belinda Bencic doesn't like leaving TV shows on a cliffhanger…
"I'm addicted to Grey's Anatomy so I just watch that and the episodes go very fast! I'm very thankful for the Internet at times like that. The worst thing is if I am called back on to court halfway through an episode and I go start playing thinking, 'Oh my god what's going to happen!' I also like reading. It can sometimes be hard but it's the same for everyone and you just have to try and deal with it better than your opponent."
Coco Vandeweghe likes to hedge her bets
"I won some money gambling against my coach in Backgammon. So I'm up, I think £9.50, which is nice motivation because the mall here is good so I might be hitting up that a little bit later. I mean, I'm sitting there, like, what am I going to do? I couldn't stream either of series I'm watching because the internet at the hotel was just so poor. It was unbelievable. But besides that the first world problem moment, I went into town and had a cheeky Nandos that I've heard about on Twitter."
And Madison Keys isn't competitive at cards at all.
"We play President mostly and Speed. I'm not competitive at all *sarcasm* sometimes fingers come close to getting broken. I play a lot with the American guys. I could be better at President, my fitness trainer Rocket usually wins that. Sometimes I get really crazy and aggressive. The hardest thing is timing when to eat and when not to, in Paris a few weeks back I ended up having about three lunches.
And what about the Brits?
Heather Watson is busy playing paparazzi
"Today I was doing a lot of taking pictures of people sleeping, so I can use them later on when I need them. I won't show you. They'll get so mad. A bit of eating and sleeping a few Snapchat filters."
Naomi Broady revealed her love for reality TV
I've been watching Love Island; it's my guilty pleasure. Everyone is reading a book or doing something intellectual. I just watch Love Island. Most intellectual answer ever. I think it's the new version of Big Brother, isn't it?"
Tara Moore just can't seem to sit still…
"I just bought my iPad Pro because my computer broke. I've been watching a lot of movies and trying to keep occupied in that way. But it's about trying to keep active and not to get to lethargic. Keep moving around. I think it's the same for every player. Sometimes a nap is alright too."