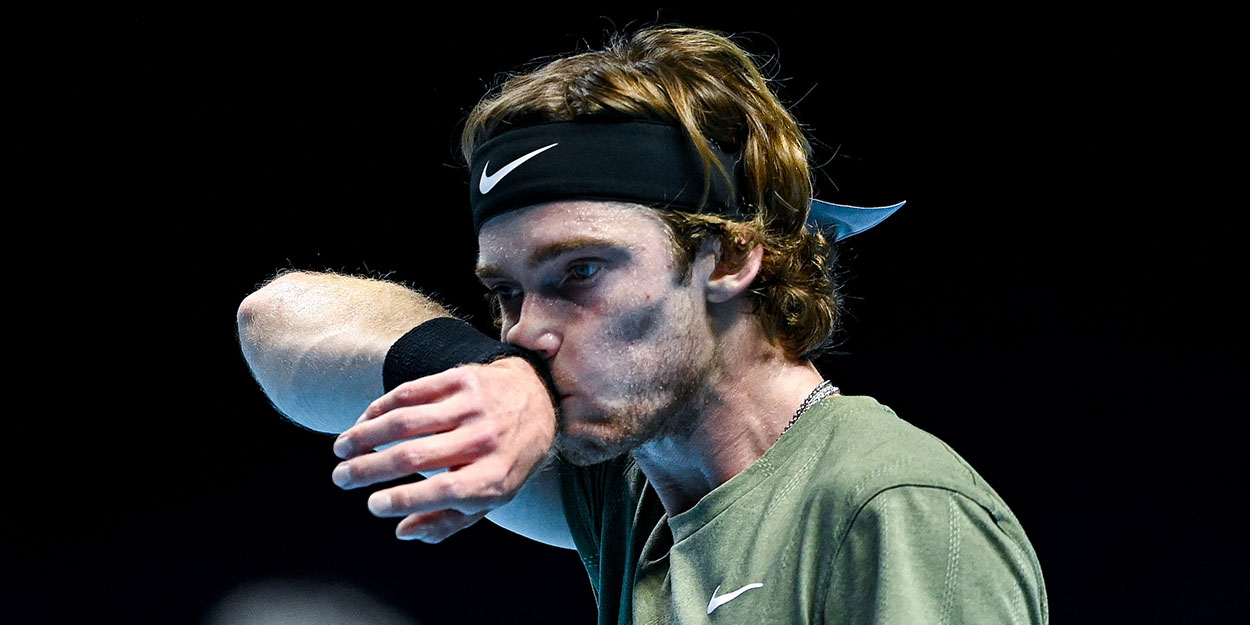 'Rafa Nadal wins Grand Slams,' says Andrey Rublev as he explains ATP Finals defeat
Andrey Rublev says a lack of experience against the top players in the world cost him in his ATP Finals defeat to Rafa Nadal.
Rublev was easily dismissed in straight sets by Nadal at the O2, with the Russian generally looking a little overwhelmed by the occasion in his first ATP Finals match.
He came into the tournament in brilliant form having won a tour-leading five titles this year, although none were any higher than ATP500 level.
The top players don't often play in those competitions, meaning Rublev is still relatively inexperienced against them.
"I don't really play with top players, so all the other players, they play much more with [the] top players, and me… it's [only] my second time against Rafa Nadal," Rublev said.
"I only played three times against [the] top three players [Nadal, Djokovic and Federer].
"I don't really have much experience, so [the] more I will play against them, [the] better I think I will perform every time.
"Here I came fresh. I rested a couple of days. Then I practised just [a] few days," Rublev said.
""It's more about experience. Rafa is one of the top players, so he wins a Grand Slam, he wins one [ATP] Masters [1000], and he basically doesn't need to play [as] many tournaments [as me].
"In my case it's different. I need to fight for my spot, so I needed to play those weeks."
Rublev did admit to contributing to his own downfall, though, and he says nerves played a big part in that.
"I was serving not good at all, because I was a little bit nervous, which is normal," Rublev said.
"When he broke me in the second set, I relaxed and I started to serve much better. Then [it] was [a] different game, but it was too late."