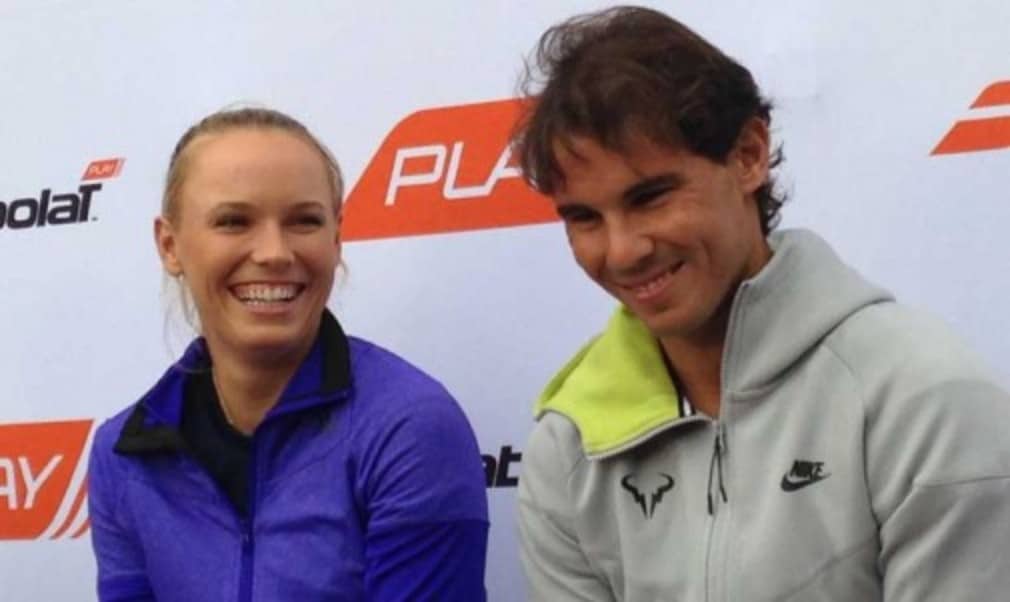 Rafa and Wozniacki get connected
Originally published on 17/01/15
Since 2014 when Babolat launched the Play racket, more than 33 million shots have been recorded and 20,000 people belong to the Babolat Play community according to Thomas Otton, Babolat's Communications Director and the two latest players to embrace this technology are none other than 14 times Grand Slam champion and 2009 Australian Open champion, Nadal and former world No.1 Wozniacki.
Talking at an exclusive media event in Melbourne prior to the 2015 Australian Open the players, as well as Uncle Toni, Rafa's coach, endorsed the product that was formally allowed to be taken on court in early 2014, by an amendment to Rule 31 of the ITF regulations.
Player Analysis Technology (PAT) has taken many steps forward since that day.
"At Babolat we really think we are entering a new era in tennis, it's not just a new chapter of a tennis book, it's a new book, simply because now you are able to have concrete information about your game," said Otton, "The secret of what happens when the ball hits the string bed, the 4 milli-seconds when the ball hits the string bed is revealed," he said, "You know exactly the number of shots, the type of shots, forehands/backhands, the power of the spin".
"I got introduced to the Babolat Play in New York, I was told about it and I tried it out for the first time. I started using the Play racket this off-season. I really liked it," said Caroline Wozniacki. "I think it can definitely help us, knowing what to practise on, what to work on, and for amateurs who maybe do not have as good feel as we have, also to tell them what they can do to improve their game. I think it's amazing."
But can a player like Wozniacki who has a team around her to help her develop her game really learn from a piece of technology embedded in the racket which sends statistics to a player's smartphone?
"Often I work with my dad and I say one things and he says the other so it's actually nice to prove him wrong," she said.
"I just found out that I hit way more forehands in practice than I do backhands. I kind of knew that but it was much more than I thought, that was kind of interesting to me to see how much of a difference between the two shots I was doing at a normal training session."
And what about Rafa, can this technology ever replace Uncle Toni, who has coached him since he was a tot?
"Toni has always told me that with the serve I need to hit the ball more in the middle, in the centre of the racket, so it's good to know if I am able to do that," said the world No.3.
And Uncle Toni's view? "When I correct Rafa on the way he hits the ball he does not always agree with me so now he's got the data," said Toni, who can see how this technology can help players of all levels. "This is going to be the future and most of the brands are going to develop this, because it's really going to help people play tennis."
Rafa takes a broad view of its application in the game: "In general I think it is something very special, it can help the professionals and for me it makes great sense for amateurs for people…. for the kids who are starting to know a bit more about how they are doing and then after practice sessions, after the lessons they can really know what they are doing well, what they are doing worse, what they have to practise," he said. "Thanks to Babolat for all the things they are doing for the sport, to try and make the game better and better all the time."
Wozniacki joked: "The next step should be to make a chip that actually plays by itself. That would make our lives much easier."
Click here to enter our competition for your chance to win a Babolat Pure Drive Play