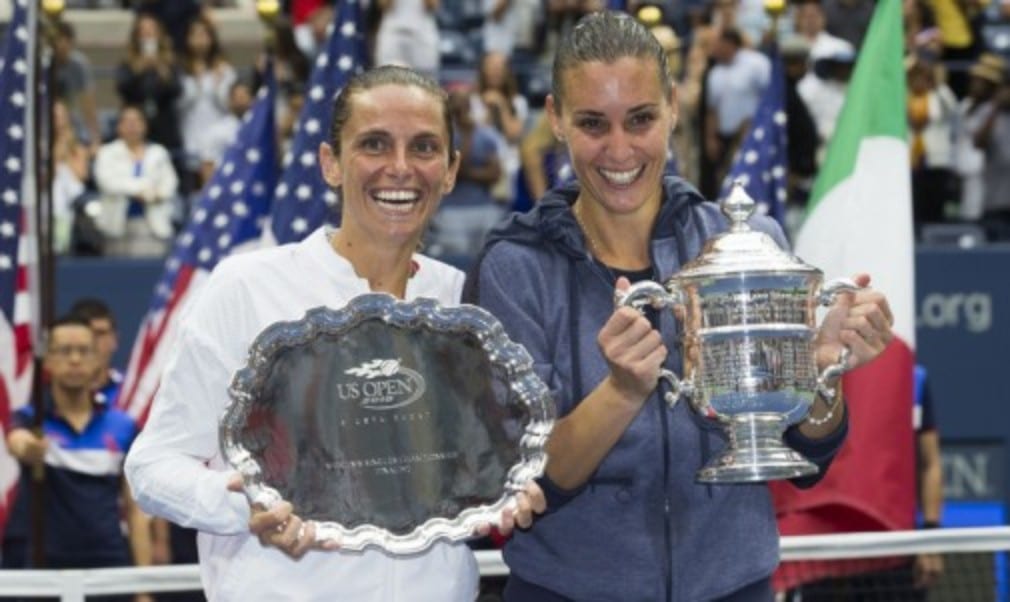 Queen of Queens Pennetta calls time on career
Originally published on 13/09/15
He set up shop on the wooden bridge that leads tennis fans from the Mets-Willets Point subway station, catching the crowd milling over the Long Island Railroad and onward to the East Gate of the Billie Jean King National Tennis Center.
"Italy wins!" he hollered, a pile of t-shirts stacked nearly three feet high. "Take a piece of the US Open home with you today! All sizes, only $25! The drinks inside are $20 – and you can keep this for ever!"
The white shirts featured an Italian Tricolore, ITALY WINS splashed large and loud as its hawker. Above, in boxy letters, was the name Flavia Pennetta; below, Roberta Vinci.
The industry was admirable, but the margins were a little ambitious. After Vinci's staggering win over Serena Williams, tickets for the final, which had peaked on resale markets for north of $1,600 Friday morning, were trading hands for less than $40 Friday night. The pile was nearly three feet high.
This was not the US Open final most had come to see. The ghost of Serena Williams' Calendar Slam quest hung over Arthur Ashe Stadium amid the greying clouds. Two thirtysomething debutant finalists, one unseeded, neither in the top 25. Brad Gilbert was – is, in all likelihood – doling out his neolithic nickname for Pennetta on Twitter. Vinci played with a hidden HEAD frame, scuffs in the black paint giving way to flashes of yellow beneath. At this altar of sporting excellence, reverence and marketeering, two friends who first played together aged nine in Brindisi, on the heel of the Italian boot, had crashed the ceremony.
First, the men's doubles final – one American short of being a true Grand Slam affair as Great Britain's Jamie Murray and John Peers of Australia took on French duo Pierre-Hugues Herbert and Nicolas Mahut. It was a tight, high-strung affair after first-game jitters for both teams on serve – 0-40s were rescued by both before Herbert, nine years his partner's junior but playing with verve and invention, anchored breakthroughs in the 10th game of both sets for a 6-4 6-4 win.
For Murray there is Davis Cup to rechannel his focus. Peers, Australia's No.1 doubles player – "by a distance," in his words – will not be in Glasgow. Had France selected Herbert to face GB in July, Jamie might not have much reason to rush back to Scotland by Monday.
The fans, most of whom had foregone the doubles, filed in for Pennetta-Vinci. There were few signs that our entrepreneur had covered his costs. Rain was due, less than two hours away; it seemed fitting that the match began under a cloud.
"I didn't play my best tennis today, I have to say," Pennetta admitted. "I have to say I was scared and tight from the beginning. Was not easy for me to hit the ball in the same way that I did yesterday."
Both players were tight. Vinci, having played chess with Serena on Friday, began playing checkers. In a bid to shake off the nerves of the final and tiredness of the semi-final, she slipped into repetitive rallies, sticking with slices into the corners and waiting for the error. Early on Pennetta obliged but she became bolder, and where Williams had been driven to distraction by Vinci's low, wafted ball, her compatriot steadied, set herself and drove clean winners to the other corner.
Pennetta, the elder of the two at 33, broke for a 4-2 lead, sparking some fight in Vinci, 32, who broke back two games later. Suddenly Robi was playing with Flavia, teasing her into corners of the court she did not care to visit, but Pennetta hared after balls and came back with something even wittier.
Flashes of a fight had broken beneath the darkening skies. With the crowd reluctant to engage and the players shuffling through their repertoire late in the first set, the atmosphere was operatic as the set reached a tiebreak – and this time t was Vinci who fluffed her lines, scratching an impatient forehand into the net. Pennetta stayed steady, and with exactly an hour played moved within a set of the title.
Perhaps it is the doubles player in her. Vinci's face betrayed concern but never anxiety, never desperation that her moment, her chance, may be passing her by. Maybe she needs someone to fight for; maybe, fighting someone she would rather defend, she could not fight back. For four games she was in the reckoning, and in all four games she lost. From 4-0 she rallied to snatch a break back, but when Pennetta held once more, the game was all but up.
The first drops fell in the last game. "When starts rain, I was 5-2 down and 0-30, so I say, two more points," Vinci admitted with the smile she has worn for more than a day straight. She was right: Pennetta broke to love, tossed her racket to the sky and embraced her childhood friend. They shared words, they sat together waiting for the trophy ceremony, and amid the jokes Flavi shared a secret with Robi.
She was retiring.
The news stunned the Arthur Ashe Stadium crowd, softened by Vinci's vamping as the runner-up. As the ceremony began to move towards the obligatory pot shot, Pennetta asked to say one last thing: "Before I started this tournament one month ago, I decided that this is the way I would say goodbye to tennis. This is my last and I couldn't think of finishing in a better way."
As Pennetta stood smiling with tears in her eyes for the photographers, the tennis world scrambled. Last match ever, or last in New York? When did she know? Why now? Who knew? Flavia stalled her press engagements – she wanted to celebrate with fiance Fabio Fognini, who had flown in specially for the match, and had to fly out minutes after its conclusion.
Pennetta will play out the season, but her 49th major, and first major victory, will be her last. "Ah, why?" she tried to explain. "Because sometimes it's getting hard for me to compete. This is the important point: when you are in the court, when you have to play 24 weeks in the year, you have to fight every week. And I don't feel to have this power anymore sometimes.
"So this is the perfect moment, I think. Was a really hard decision to make, but I'm really happy that I did it. I'm really happy and proud of myself."
As the rain fell over Flushing, the messages from fellow pros began flooding in. "Flavi with the best mic drop of all time!" announced Laura Robson. "You will be missed beyond words bella," said Sloane Stephens. From Caroline Wozniacki: "Couldn't happen to a nicer person!" And from Serena Williams: "Congrats I'm so happy you won, you deserved it. I am also happy for the rest of your life's journey. I will miss your smile."
The huckster was gone by the time the press room filed back towards Mets-Willets. On the platform, a kid Charles Schultz could have drawn, no more that eight or nine, stood waiting for a train towards Manhattan with his sister and dad. His white t-shirt was more of a robe – "well, when I say all sizes available, mister…" – and had caught a puddle or two on the journey back.
He can keep it forever. Italy wins.