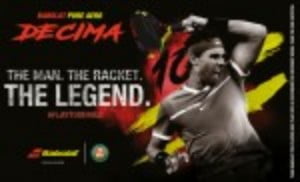 Pure Aero Decima
Originally published on 30/03/18 00:00
The distinctive racket, wrapped in the colours of the Spanish flag, celebrates Nadal's 10 Roland Garros victories. Babolat first presented Nadal with the special Pure Aero racket last year to celebrate his historic victory over Stan Wawrinka and now the manufacturer has made it available to everyone.
Weighing 300g, the Pure Aero Decima offers players the optimal way to realise unparalleled spin and power. It would suit intermediate and advanced players. The Pure Aero offers plenty of punch from the baseline and the spin it generates is useful from anywhere on the court. It offers stability as well as power.
The racket costs £210.
Pure Aero
Head size: 100 sq inches
Length: 27 inches
Unstrung weight: 300g
Strung weight: 320g
Beam width: 23mm/26mm/23mm
There is also a Pure Aero Lite Decima (£180) and a Pure Aero Junior 26-inch Decima (£105).