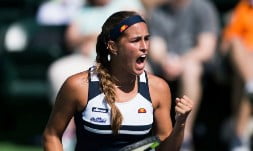 Puig loyal to her roots
Originally published on 11/01/17 00:00
The 23-year-old won the biggest title of her career at the Rio Olympics, beating Angelique Kerber in the final to win a first ever individual gold medal for Puerto Rico.
Although she moved to Miami as a child, Puig, who is an ellesse ambassador, remains loyal to her roots.
"The support of Puerto Rico to me means everything; my parents made sure while I was growing up that Puerto Rico and its heritage was very well taught to me and my brother," Puig said.
"I'm really glad that they were able to celebrate with me in the biggest accomplishment of my career. Not only was it a huge step for me it was a huge step for the island."
Reflecting on her career-best season, the world No.32 paid tribute to her family for their support throughout her career.
"My family's support has always been very valuable to me; I look to them in my darkest moments but also I love sharing the success with all because at the end of the day they saw me from when I was born to how I am now and that journey of success," she said.
"As far as my career goes, the person who has had the most influence has been my mom, she has always encouraged me to go pursue my dreams ever since I was a little girl."