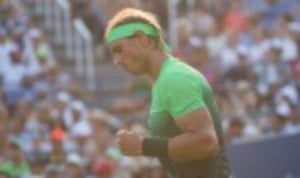 Progress – not numbers – the key for Nadal
Originally published on 12/10/15
Nadal, who will finish the season without a Grand Slam title in his trophy cabinet for the first time since 2004, reached the China Open final, where he was beaten in straight sets by top seed Novak Djokovic, who won a sixth title in seven years at the Beijing Olympic Green Tennis Center.
The Serb extended his winning streak in Beijing to 29 straight wins with a 6-2 6-2 victory in 91 minutes. Nadal still narrowly leads their head-to-head by 23 wins from 45 meetings but Djokovic has won seven of their last eight encounters.
Nadal's defeat to Djokovic on Sunday was his eighth against top 10 opposition this year; he has just two top 10 wins in 2015 – against David Ferrer and Tomas Berdych, on the clay in Monte Carlo and Madrid respectively.
"When I was No.2 and Roger [Federer] was No. 1, it was not my obsession to catch Roger," Nadal said. "My obsession was to improve my game and do it my way. For me, it's the same thing today.
"My motivation is to keep going, and I have been doing that already. I know if I am playing well again, then I can fight. If I can fight, I can compete well many times in a row against the best players. So I think I'm going to be good competitor again if I recover my level."
Nadal, who has spent 141 weeks at the top of the world rankings, most recently in June 2014, is currently ranked No.8. But he insists he is not concerned by his ranking and he is more concerned with other numbers – such as his 67 career titles and 14 Grand Slam titles.
"That's my number today," he said of his ranking. "I don't know if you consider that one of the best players of the world or not. In tennis, it's different than in other sports, where you don't have a ranking. If I am No.8 or No.7, that's the number that I am in the world today.
"Do I consider myself one of the best players of the world? I am enough humble to say that this year has not been the ideal year for me. But at the same time, I don't want to lie to anybody. It's obvious that I consider myself one of the best players in the world after the career that I've had."