Description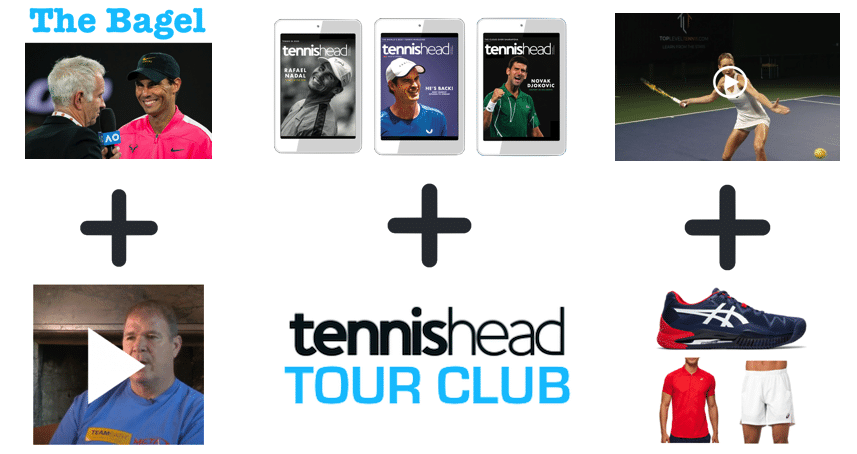 What you receive EVERY YEAR as a member of the Tennishead TOUR CLUB:
4 issues of Tennishead MAGAZINE (Digital version)
12 months of the best online tennis coaching from Top Level Tennis
Designed to help you play better tennis, these professionally produced coaching instruction videos are of the highest quality and feature legendary coaches such as Brad Gilbert, former coach to Andre Agassi and Andy Murray, alongside some of the greatest names to have played the game like Boris Becker and former World No.4 Dominika Cibulkova

Over 150 hours of top quality, professional produced instructional videos covering technique, tactics, fitness, warm ups and much more

Training plan documents, training articles and knowledge tests are also included
'Conquer your Fear and Doubts' exclusive online tennis training seminar
Developed by Mindset College, this 30 minute video has been produced exclusively for the Tennishead CLUB members. You can't buy this knowledge anywhere else!  

The course will coach you through your journey to tennis success and help you enjoy competing and the whole process of excellence

You also receive 3 private mentoring sessions with Dave Sammel, the best selling author of 'Locker Room Power' and founder of Mindset College
24 issues of The Bagel
Our latest launch is a fortnightly digital digest of everything you need to know about everything that matters in tennis

Try before you buy – Read this

 free issue of The Bagel
1 Tennishead ASICS GIFT BOX every year
We know it sounds to good to be true but it's not! This gift box includes a pair of ASICS GEL RESOLUTION 8 tennis shoes PLUS a full ASICS tennis outfit of shorts and shirt.

Choose the size and style for you

We try and deliver the box within 14 days but please be patient if it takes a little longer
The latest issue of Tennishead magazine (print version) delivered to your door
Tennishead ESSENTIALS
Free access to tennishead.net, email newsletters, competitions and special offers
Access to tennishead magazine's archive (12 years worth of magazine back issues in a digital format)
The real value of all these TOUR CLUB items if purchased separately is $775 / €710 / £625. Tennishead is offering an incredible price to join right now, but hurry as we have a limited number of the ASICS gift boxes to give away and we don't want you to miss out!