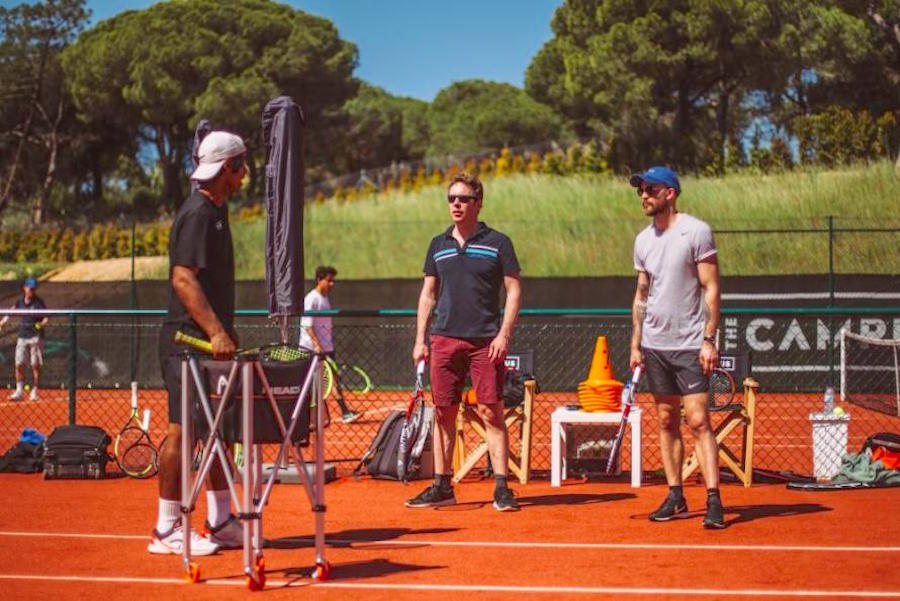 Portugese Academy Head Coach explains how to make a successful clay court transition
Around this time of year the professionals are busy converting their game from one suited to the hard courts of the 'Sunshine Swing' in America to the clay courts of Europe, but how do they manage it so effortlessly every year? We spoke to Zé Pereira Lopes, Tennis Director and Head Tennis Professional at The Campus in Portugal, to get his advice
No other sport is played on such contrasting surfaces as tennis. The difference between hard courts, grass courts and clay courts is so profound that even the professionals rarely master the art of playing their best tennis on all different court types. Just look at the record of the greatest player of all time, Roger Federer. He's won 20 Grand Slam singles titles but only one of those has been on the clay of Roland Garros. The simple fact is that his natural game is more suited to faster courts such as grass than it is to the slower, higher bouncing conditions you find on the red clay in Europe.
If it's so difficult for the greatest players in the game how on earth does an amateur manage it? We decided to speak to an expert…
The Campus is Europe's newest five-star multi-sport and wellness hub at Quinta do Lago in southern Portugal. The tennis facility is made up of two artificial clay and four acrylic tennis courts, all built to current International Tennis Federation (ITF) tournament standards.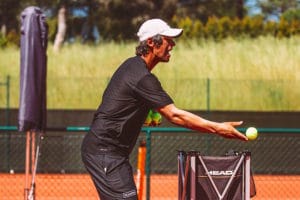 Zé Pereira Lopes heads up the tennis coaching team and is an expert on how to play your best tennis on all types of surface.
"Making the transition from hard courts to clay courts can be a challenge. Here are my simple tips:
1. You must get a high percentage of first serves in. Second serves are much easier to take advantage of on this slower surface. Use more of a kick serve or a slice to help your percentage.
2. Always hit behind your opponent in a ground stroke rally. In other words, don't hit to the open court unless you can hit a winner. Also hit higher over the net with topspin for consistency.
3. Once you have control of a point and can hit a winning volley, make sure you move forward through the shot. On clay, the ball doesn't penetrate like it does on a hard court, so it's important to keep you body weight going forward to add power to the shot.
4. Patience and Endurance: A slow surface means longer rallies in which you must wait for the best chance to make an offensive shot.
5. Perseverance: It is more feasible to turn a game around when overall fitness is a factor in the outcome.
6. Intelligence: Playing longer rallies gives you a better chance to develop your playing strategy."
The Campus tennis provides individual and group coaching sessions in a fun weekly tennis programme designed to improve your game, technique and enable you to get the best advice from the experienced team of qualified tennis coaches. The racquets facilities provide five-star service with complementary refrigerated towels and iced water on-court for guests.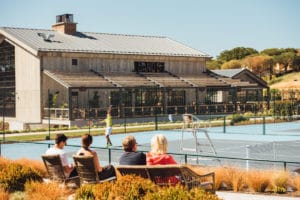 With over 300 days of sunshine every year, The Campus is the perfect destination for winter training for performance players and sports rehab for athletes recovering from injury. The Campus new 10 million Euro High Performance Academy has been built to international governing body tournament specifications, enabling the venue the opportunity to host major international sports events and tournaments through the sporting calendar year.
Zé Pereira Lopes, says:
"The Campus is a fantastic addition to Quinta do Lago. It brings the estate up-to-date with other top European tennis and sports academies, enabling us to offer a comprehensive tennis development programme to our residents and guests, and also to performance standard players using The Campus as their European training base.
The Campus provides weekly tennis coaching for all our residents and guests, whatever standard you are. We're here to support you and make sure you have fun with your family and friends. We invite all guests to 'Bring Your Game' for 2019! Our team will stretch you and test your game, and push your limits to help you achieve your goals!"
It's unrivalled location and year-round temperate Mediterranean climate make for a quintessential setting and perfect for all sports and leisure activities. The Campus offers the luxury for all to enjoy time with family and friends; creating real moments and real life, and a strong sense of community. Quinta do Lago prides itself on offering the local community of residents, guests and holiday makers alike ta chance to train, exercise and socialise. Whether you are looking for a social game of tennis, a complete beginner, or looking to become a full-time ATP or WTA tour player, the coaching team at The Campus will help you reach your full playing potential, achieve your goals and ensure you have fun and stay fit and healthy.
For more information please contact T: +351 289 381 220 | E: [email protected]
Look ahead to 2019 with our guide to every tournament on the ATP Tour, the WTA Tour and the ITF Tour
If you can't visit the tournaments you love then do the next best thing and read our guide on how to watch all the ATP Tour matches on television in 2019
To read more amazing articles like this you can explore Tennishead magazine here or you can subscribe for free to our email newsletter here
This article was brought to you in association with Quinta do Lago resort