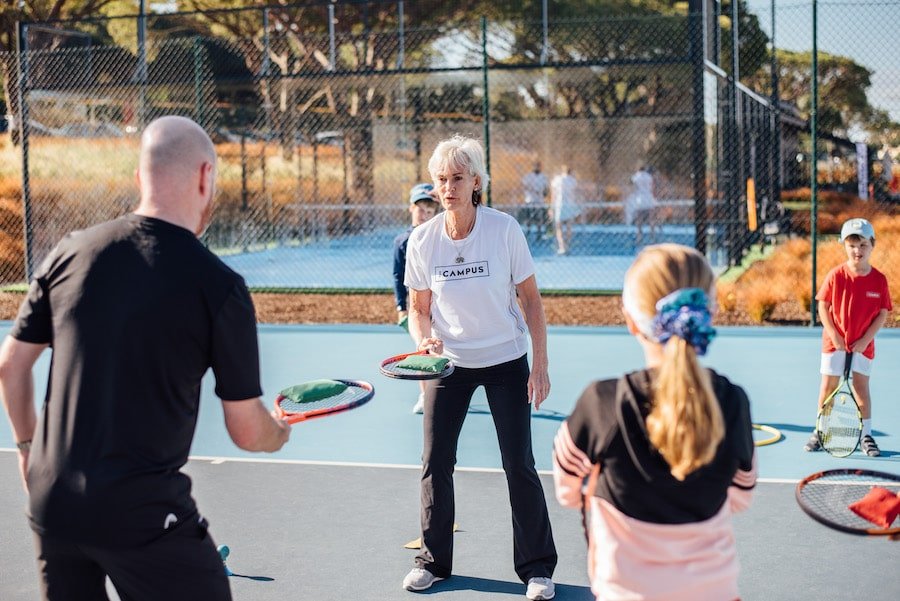 Portugese Academy Head Coach explains how to get your game ready for the grass court season
As the clay court swing reaches it's climax thoughts are already turning to the opening of the grass court season. Tennis's most traditional surface may look beautiful but preparing yourself for grass can be a challenge. We spoke to Zé Pereira Lopes, Tennis Director and Head Tennis Professional at The Campus in Portugal, to get his advice
Many tennis fans only watch Wimbledon each year and assume that all tennis is played on grass courts. In fact it's the least played on surface for most of the year with just a short spell during June and July when most grass court tennis is played. Even if your club's grass courts are open for longer it's still unlikely that you've played on the green turf regularly which is why you need to think hard and prepare.
The fast, low bouncing ball you will receive on a grass court demands a very different style of play and a whole range of different shots & tactics. To help you understand what it takes to play well on grass we decided to speak to an expert…
The Campus is Europe's newest five-star multi-sport and wellness hub at Quinta do Lago in southern Portugal. The tennis facility is made up of two artificial clay and four acrylic tennis courts, all built to current International Tennis Federation (ITF) tournament standards. We approached Zé to find out his tips to help you become a more effective grass court player.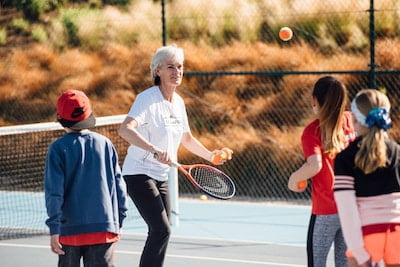 Tip 1 – Serve and Volley
The most common rally length in tennis is 1 shot! If you can hit a decent serve then the return will probably be weaker. Moving forward and hitting a volley immediately after your serve will take further time away from your opponent which will hopefully allow you to finish points quicker. This tactic can be used often on a grass court but don't get stuck using it all the time as you want to keep your opponent guessing.
Tip 2 – Sliced Serve into the Body
Slice works well on a grass court because the ball keeps low. The ball skids over grass and continues moving in the direction it was hit in very quickly. Aiming a serve with slice into the body of your opponent will work well. The returner will have to deal with a ball that curves into them and jams their arms up, which will make it tricky to return the serve effectively. If completed successfully you should be left which an easier second shot and a chance to win the point quickly.
Tip 3 – Chip and Charge
The chip and charge is often used by the returner to take advantage of a weaker second serve. The returner is trying to get on top of the point and using the shortest ball they would get in the point, the second serve, to look to dictate. It's a tactic that many top pro's are now using to gain a quick advantage on the speedier grass courts as it puts pressure on the server to come up with a great passing shot or lob. If they don't come up with it the player is there to volley into the space and take over the point or even win it outright straight away. Use this sparingly as it is risky as you are forcing the point to be finished quickly, but if done right then you should come out on top more often than not.
Tip 4– Return position
On a grass court if you're facing a decent server then you can find that the ball moves past you and away from you very quickly. You can counteract this by standing closer to the baseline to return the serve. This will enable you to reduce the size of the angles that the server can aim for. As a returner you will have already accepted that you will lose a lot of points on serve, however, if you can get a racket on a few with an aggressive shot that makes the server move, you may be able to sneak that a crucial break of serve.
Tip 5 – Take it on the Rise
Grass court tennis is an aggressive form of tennis that works best when you are the first to attack. Whether it be on the serve, return or from a groundstroke, the earlier you can get on top of the point and dictate the better chance you will have. If your natural instinct is to wait for the ball to drop you will find yourself too far back in the court and your opponent will see this and gain the net position. You have to overcome your naturally defensive instincts and think about hitting the ball before it reaches the top of the bounce. This is called taking the ball 'on the rise' and allows you to quickly dominate a grass court rally. 
The Campus tennis provides individual and group coaching sessions in a fun weekly tennis programme designed to improve your game, technique and enable you to get the best advice from the experienced team of qualified tennis coaches. The racquets facilities provide five-star service with complementary refrigerated towels and iced water on-court for guests.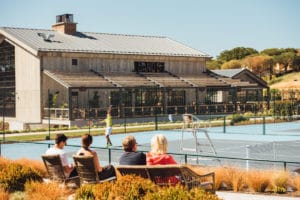 With over 300 days of sunshine every year, The Campus is the perfect destination for winter training for performance players and sports rehab for athletes recovering from injury. The Campus new 10 million Euro High Performance Academy has been built to international governing body tournament specifications, enabling the venue the opportunity to host major international sports events and tournaments through the sporting calendar year.
Zé Pereira Lopes, says:
"The Campus is a fantastic addition to Quinta do Lago. It brings the estate up-to-date with other top European tennis and sports academies, enabling us to offer a comprehensive tennis development programme to our residents and guests, and also to performance standard players using The Campus as their European training base.
The Campus provides weekly tennis coaching for all our residents and guests, whatever standard you are. We're here to support you and make sure you have fun with your family and friends. We invite all guests to 'Bring Your Game' for 2019! Our team will stretch you and test your game, and push your limits to help you achieve your goals!"
It's unrivalled location and year-round temperate Mediterranean climate make for a quintessential setting and perfect for all sports and leisure activities. The Campus offers the luxury for all to enjoy time with family and friends; creating real moments and real life, and a strong sense of community. Quinta do Lago prides itself on offering the local community of residents, guests and holiday makers alike ta chance to train, exercise and socialise. Whether you are looking for a social game of tennis, a complete beginner, or looking to become a full-time ATP or WTA tour player, the coaching team at The Campus will help you reach your full playing potential, achieve your goals and ensure you have fun and stay fit and healthy.
For more information please contact T: +351 289 381 220 | E: [email protected]
Look ahead to 2019 with our guide to every tournament on the ATP Tour, the WTA Tour and the ITF Tour
If you can't visit the tournaments you love then do the next best thing and read our guide on how to watch all the ATP Tour matches on television in 2019
To read more amazing articles like this you can explore Tennishead magazine here or you can subscribe for free to our email newsletter here
This article was brought to you in association with Quinta do Lago resort