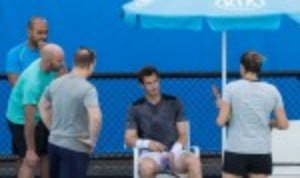 Pic of the Day: Andy Murray
Originally published on 24/01/16 00:00
While Novak Djokovic was being pushed to five sets by Gilles Simon on Rod Laver Arena, Murray was being put through his paces on the training court after his third-round win over Joao Sousa on Saturday.
Murray's father-in-law Nigel Sears, Ana Ivanovic's coach, is expected to be released from hospital and cleared to fly home to the UK after being hospitalised on Saturday while Murray was on court against Sousa.
"I just wanted to express my sincerest thanks to the incredible people who came to my aid, as well as the brilliant staff both at the Australian Open and the Epworth Hospital. I feel truly grateful to everyone involved for the manner in which this has been handled."