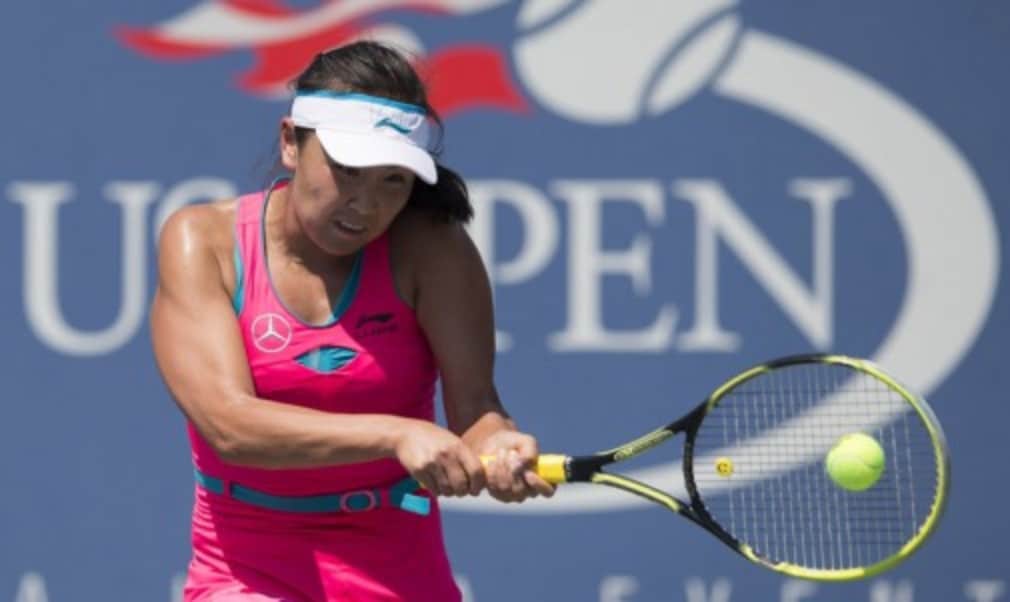 Peng and Wozniacki march on to semi-finals
Originally published on 03/09/14
Peng books semi-final showdown with Wozniacki
China's Peng Shuai is shaping up to be the surprise feel-good story of the US Open. The 28-year-old, who had never reached the quarter-finals of a Grand Slam, is now through to the semi-finals to face Caroline Wozniacki after beating Swiss 17-year-old Belinda Bencic 6-2 6-1.
Peng, who plays with double-fisted stroke from both wings, admitted that she had nearly quit tennis twice – once in 2006 as she struggled for motivation amid injuries, and even earlier, at the age of 12, when she underwent major heart surgery.
"A career is tough sometimes," said Peng, China's first world No.1 for her exploits on the doubles tour. "I've thought about giving up, stopping playing, because I didn't know if I can make it, but my coach and parents told me to never give up."
The world No.39 is now one match away from becoming China's first US Open finalist, following in the footsteps of two-time Grand Slam champion Li Na.
To get there, however, she must beat in-form former finalist Wozniacki, who was ruthless during her 6-0 6-1 drubbing of Sara Errani.
The Danish No.10 seed hit 26 winners and just four unforced errors while routing the Italian in one hour, five minutes. The 2009 finalist has not reached the semi-finals of a major since 2011.
"It means so much to me," Wozniacki said on court. "It's been a pretty up-and-down year for me, and to be here in the semifinals of the US Open once again is just an incredible feeling. Definitely, hard work pays off."
Federer breezes past Bautista Agut
Early breaks in each set and 52 net approaches helped Roger Federer cruise into the quarter-finals of the US Open for the 10th time in his career with a 6-4 6-3 6-2 victory over Spain's Roberto Bautista Agut.
The five-time champion will face Gael Monfils in the last eight after the Frenchman produced a fine performance – pock-marked with one angry outburst that he quickly recovered from – to beat No.7 seed Grigor Dimitrov 7-5 7-6(6) 7-5.
Federer needed just one hour, 56 minutes to wrap up his night session match and reach the 43rd Grand Slam quarter-final of his career, a run briefly halted by early exits at Wimbledon and the US Open in 2013.
"Because of the issues I had last year, I had to be unbelievably careful what I did," Federer said. "We had to cut back on a few things I usually would do, but were scared to do. That was not what I wanted to do," he said about his fitness work.
"Sometimes if that's what it is and it means don't run on the treadmill or don't do jumps or whatever it is, well, there's other ways you can train that. I'm happy that basically today I can do whatever and I don't have any more setbacks."
Marin Cilic will face Tomas Berdych for the other semi-final berth in the bottom half of the men's draw. Berdych made light work of Austrian 20-year-old Dominic Thiem with a 6-1 6-2 6-4 victory, while Croatian Cilic claimed the first win of his career against France's Gilles Simon, prevailing 5-7 7-6(3) 6-4 3-6 6-3.
Performance of the day
Given the buzz around Grigor Dimitrov this summer (and way back beyond that), Gael Monfils' resolute performance is all the more impressive. Too long dismissed as a talented underachiever, the No.20 seed – without a coach in a year and a half – is enjoying his tennis and striking the balance between his showmanship and serious side perfectly at Flushing Meadows this year.
Quote of the day
"I think I can speak on behalf of so many players: We love watching him play. It's nice seeing him do well again. He's going to rise in the rankings now, and maybe that's exactly the stepping stones he needs to make it back in the top 10."
Roger Federer pays tribute to Gael Monfils, his quarter-final opponent, who he beat in three sets in Cincinnati in the build-up to the US Open
Stat of the day
37 – Number of Grand Slams it took Peng Shuai to reach a semi-final – and she's done so without dropping a set.