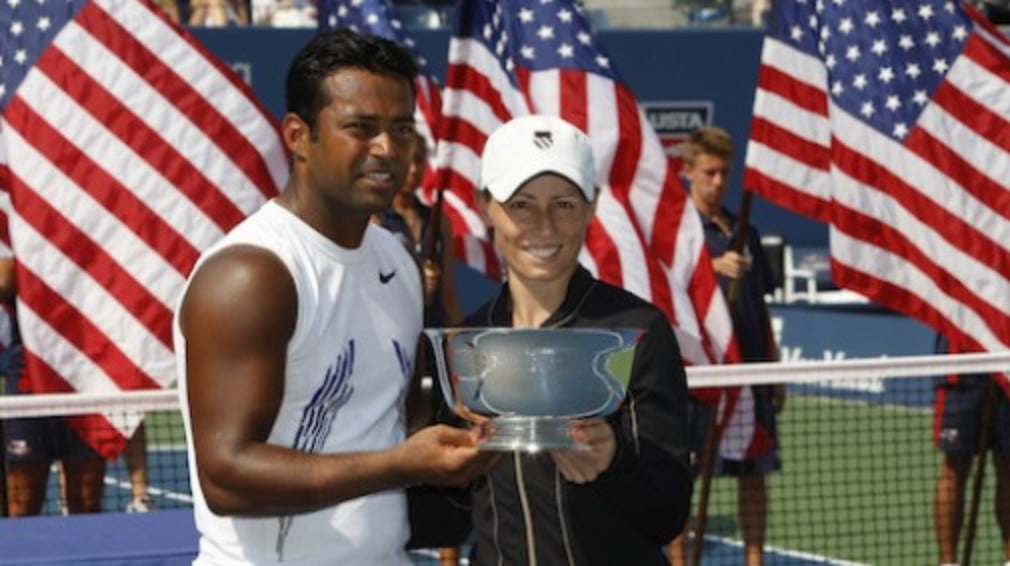 Paes completes mixed career Grand Slam
Originally published on 26/02/10 11:11
Leander Paes completed a career mixed doubles Grand Slam, partnering Cara Black to beat Jamie Murray and Liezel Huber 7-6(6) 6-4 in the US Open final.
Victory for the first-time Slam partnership follows mixed titles for Paes at the 1999 French Open and Wimbledon with Lisa Raymond and the 2003 Wimbledon and Australian Open with Martina Navratilova.
"It was in the back of my mind that I hadn't won this one," Paes said. "I woke up this morning with a purpose. I woke up really fired up."
Paes, who now needs the Australian Open men's doubles title for a complete doubles career Slam, had twice lost in previous US Open mixed finals, including last year with Meghann Shaughnessy 6-4 7-6(6) to Max Mirnyi and Victoria Azarenka.
"The key part is selecting a good partner," Paes joked. "I let Cara do all the work and just stood back and enjoyed it."
Both Black and Paes have a chance for more title success this week at Flushing Meadows. Black and Huber are in the semi-finals of the womens doubles, while Paes and Lukas Dlouhy face Mike and Bob Bryan in the mens doubles final.
For both Black and Huber the match was all the stranger, with the long-time partners across the net from one another.
"It was tough for me to play against Liezel, but Leander was so good with me," Black said. "He calmed me a lot and said he had my back at all times.
"All thanks to Leander. He pulled me through."
Jamie Murray was bidding for his second mixed doubles Slam after last year's Wimbledon mixed doubles success with Jelena Jankovic, but also had a score to settle with Paes, who knocked him out in the semis last year.
"I was looking for a bit of revenge but it didn't happen," Murray said though it could have been a different story had Murray and Huber taken their chances in the first set.
Paes and Black won six of the last seven points to take it, saving set points from their opponents with a Black scoop volley winner and when Murray netted a forehand volley.
"She won the match for us," Paes said, recognizing the shot as the turning point in the match.
Black fired a service winner to bring up set point and the Paes pounced on a backhand volley smash to seal the set.
"It was amazing to pull that set out," Black said. "It gave us a great lift."
Paes and Black broke Murray in the fifth game of the second set, and never looked back.