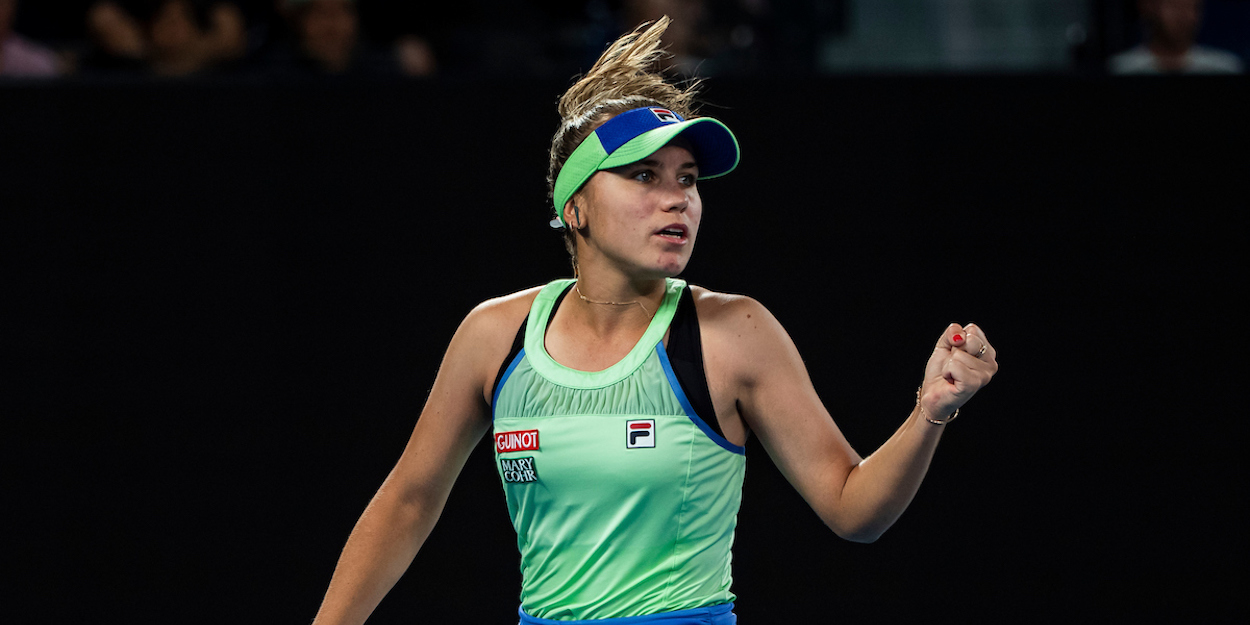 "Of course now I'm getting the attention, which I like" Sofia Kenin shares career similarities with Maria Sharapova
Of all her many qualities, mental toughness the greatest asset of Sofia Kenin. Tennishead says the sport's latest first-time Grand Slam champion was aiming for the top from an early age
The word "doubt" is not one you are likely to hear from Sofia Kenin. "Fight", "feisty" and "fierce" are among her favourites and mental toughness is the key recurring theme. It's partly the Russian in her, says the Moscow-born, Florida-raised 21-year-old, one of the 11 different winners from the past 13 Grand Slam tournaments and the latest of eight first-timers.
Kenin recalls watching 17-year-old Maria Sharapova's break-out Wimbledon performance and shares some of the Russian's ferocious drive, single-minded ambition and famous competitive steel. Sharapova, whose early life story had many parallels with Kenin's, went on to earn another four Grand Slam titles, so what of the new Australian Open champion's prospects?
Is she another Jelena Ostapenko, who by the start of this year had won just two International-level WTA titles since the planets miraculously aligned at Roland Garros in 2017? Kenin's game appears to be more solid and consistent, with greater variety than the hit-hard-or-hit-harder Latvian's. Nor are there many obvious similarities with Naomi Osaka, a shy and quiet soul who has never seemed comfortable with the attention her two Grand Slam titles have brought. Kenin, in contrast, is demonstrative and extroverted, yearns for the big stage and adores the spotlight.
She can also perform on any surface. Sofia Kenin won more hard-court matches (38) than any other player on the WTA tour last year, while her first significant result was on clay, when she beat Serena Williams at the French Open, and she won a grass–court title at the Mallorca Open. "I know grass is my surface,'' she said after going on to win a round at Wimbledon.  Kenin loves hitting drop shots, enjoys taking the ball early and likes the low, skidding bounce, despite not boasting the biggest serve or the most polished volleys. As she demonstrated at the Australian Open in her victory over Garbine Muguruza in their three-set final, she has a knack of finding a way.
Kenin's father/coach Alexander has been the constant in her career. Theirs is the classic story of immigrants-made-good. The Kenins arrived with just $300 when they moved permanently to the US with new-born Sofia – or Sonya, as she is also known. Alexander apparently endured a difficult initial stint in New York driving cabs at night while learning computer skills and English by day.
Sofia did not experience those struggles, but is well aware of them – and they have not been the only ones. Alexander said her knowledge of the sacrifices made by her family had given her some "toughness"; certainly, on high rotation in the Sofia Kenin story has been thanks from a grateful daughter to the parents who provided the chance to live the American dream.
Alexander gave Sofia a couple of his oversized rackets when she was three and the pair hit along the long driveway of the family home. By five she had her own website. A WTA video shows a six-year-old Kenin being given a tour of the 2005 Miami Open by Kim Clijsters. "It is great to see the future of tennis,'' said Clijsters, who could meet the former prodigy on her comeback tour – and, to be frank, may not be relishing the prospect.
At seven Sofia Kenin was filmed declaring she wanted to be a champion and world No 1 and describing how she would return her hero Andy Roddick's serve. Answer: prepare early and use a short backswing. Tanned, fair and blue-eyed, she was already a mini-celebrity in the tennis hothouse of south Florida.
Kenin was the US national champion in every age group from the 12-and-unders to the 18s and at one stage was the No 2 junior in the world. Yet she was never a hype magnet. Madison Keys and Sloane Stephens were among the more heralded players who came before her, while Coco Gauff is the current poster girl for those who have followed.
"I know people haven't really paid attention much to me in the past,'' said Kenin, a racket-thrower who marches around the court with purpose and unmistakeable intent. "I had to establish myself – and I have. Of course now I'm getting the attention, which I like. I'm not going to lie.''
What had been a steady progression accelerated last year, starting with her maiden WTA title at the Hobart International in January. Hello, top 50. "After that,'' Kenin says, "things just really took off.'' A more public announcement came in the form of her third-round victory over Williams at the French Open, which was the last time she was unseeded at a Grand Slam tournament. During the US hard-court swing she beat Ashleigh Barty in Toronto and Osaka in Cincinnati. Having started the year at No 56 in the world, she finished it at No 14, having won three titles and the WTA's Most Improved Player Award.
Kenin nevertheless admits that she began 2020 with realistic goals no grander than competing at the Tokyo Olympics and the year-end WTA Finals. Still, in quiet moments back home in Florida, the relentless competitor once dubbed "the mosquito" by a former coach for her ability to irritate opponents never stopped imagining what it would be like to win a major. Now she "thanks God for my visions".
At just 5ft 7in tall Kenin is small for a modern tennis player, but insists she is "fine" with it. You suspect that, whatever the number, she would make it work. "Size doesn't really matter," she says. "Just matters how tough you are."
There's that theme again. Kenin describes her toughness as both a quality she has always had and something she has worked to develop. Her serve has improved and a forehand slice is part of her broad repertoire, but her biggest asset remains that combination of extraordinary will and unshakeable faith. "Match play has really helped me,'' she says. "All the confidence that I'm getting is because of that. I see that things are happening for me. Everything is just falling into place.''
Until the Australian Open, however, not many observers thought she was ready. Not yet. The state of disbelief extended to her fellow Floridian, Chris Evert, who was in Melbourne commentating for ESPN. "I've watched her since she's been five years old and I know how hard she's worked for this,'' the 18-time Grand Slam champion said. "Two years ago no one gave her a chance. She was still a counter-puncher and players were overpowering her right and left – and all of a sudden last year she got a game. She got an aggressive baseline game, redirecting the ball, redirecting her serve, placing her serve, getting into great shape.''
Kenin can be an emotional character prone to bouts of negativity and self-flagellation (her doubles partner, Bethanie Mattek-Sands, revealed that she had been crying before each of her Australian Open matches), but her mental fortitude on court has not been in question.
"That's why I think we're going to see her for another 10, 15 years,'' Evert said. "Not many players have it as intensely as she has. You can't teach it. Maybe coming from [Russia], maybe that is a part of it. You're hungry, you don't have a lot of material [possessions] when you come over. But I know this means a lot to her and her family. Her dad's been with her, by her side, the whole time. It's just a great story.''
At the Australian Open Sofia Kenin excelled in the clutch moments, notably at 2-2, 0-40 in the deciding set of the final, when the 14th seed said she knew she needed to play "the five best shots of my life" and promptly did. "That game is going to be with me for ever,'' she said.
Jim Courier pointed out that Kenin had largely flown under the radar until Melbourne but said that in future she would be "one of the big names and stories in the sport". Kenin herself acknowledges that everything will be different now. "Not many people believed in me, people overlooked me, and I finally did it, I proved them all wrong,'' she said, trophy in hand, the day after her triumph in Melbourne. You suspect she never doubted that she would.