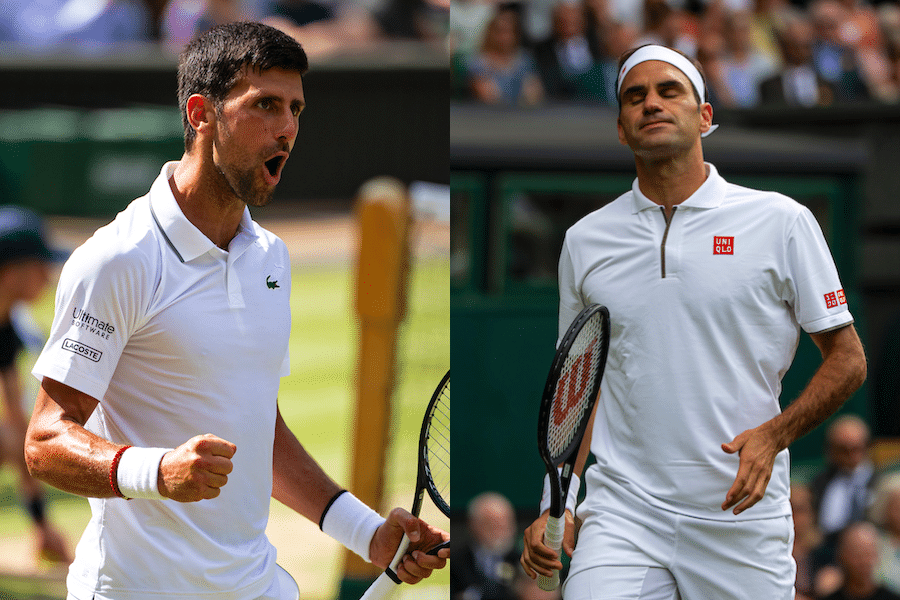 Novak Djokovic vs Roger Federer: Preview of the Wimbledon 2019 Gentlemen's Singles final
Novak Djokovic and Roger Federer will meet on Centre Court tomorrow to decide the winner of the Wimbledon 2019 Gentlemen's singles trophy.
In their 48th professional meeting, Djokovic narrowly leads his Swiss opponent 25-22. They have met three times at Wimbledon already with the Serb leading the eight time champion 2-1. Federer got the better of him in the 2012 semi final across four sets, before Djokovic won back to back titles in 2014 and 2015 beating the 37 year old in both finals.
Bidding to extend his own record of being the oldest man to win a Wimbledon title in the Open Era, Federer has only beaten Djokovic once in a Grand Slam final. This came at the 2007 US Open, Djokovic's first ever Slam final. The paring have now moved to sole ownership of the most Grand Slam matches played against each other. They are meeting for a 16th time in a Slam, pulling one ahead of Djokovic and Nadal's 15. They will also move to joint fourth in the most Grand Slam finals contested list with five.
Novak Djokovic is bidding to win back to back Wimbledon titles for the second time. He has won the title four times already, in 2011, 2014, 2015 and 2018. The world number one has won three of the last four Grand Slams, missing out on the calendar Slam after Nadal won Roland Garros this year. In fact his last loss at a Slam that wasn't the French was a year and a half ago in the fourth round of the Australian to Hyeon Chung.
En route to the final Djokovic has looked in stellar form having only lost two sets. He was taken to four sets in the third round against Polish young gun Hubert Hurkacz, and in his semi final to Roberto Bautista Agut. His straight sets victories were Philipp Kohlschreiber, Denis Kudla, Ugo Humbert and David Goffin.
Bidding to become the second player in history to win nine Wimbledon titles, Roger Federer would join Martina Navratilova and become the first male to do this. By reaching his twelfth Wimbledon final, the world number three has equalled Rafael Nadal's record of most finals at a single Grand Slam on twelve. Nadal has reached the French Open final 12 times.
An impressive Federer has dropped three sets during his progression at this year's Championships. He lost his first set of the tournament to Lloyd George Harris before coming back to beat the world number 86 in four. He also came from a set down to beat Nishikori in his quarter final, and dropped the second set in his semi final victory over Nadal. His straight sets victories were Jay Clarke, Lucas Pouille and Matteo Berrettini.
Whoever the winner is, the number of Grand Slam titles to the 'Big Three' will rise to 54. This amounts to 81% of the Slams since 2003, when Federer won his first.
Novak Djokovic
Age: 33
ATP ranking: 1
Career Wimbledon record: 71-10 (87.7%)
Career Grand Slam record: 276-42 (86.8%)
Career grass court record: 94-18 (83.9%)
2019 record: 34-6 (85%)
Roger Federer
Age: 37
ATP ranking: 3
Career Wimbledon record: 101-12 (89.4%)
Career Grand Slam record: 353-56 (86.3%)
Career grass court record: 187-26 (87.8%)
2019 record: 38-4 (90.5%)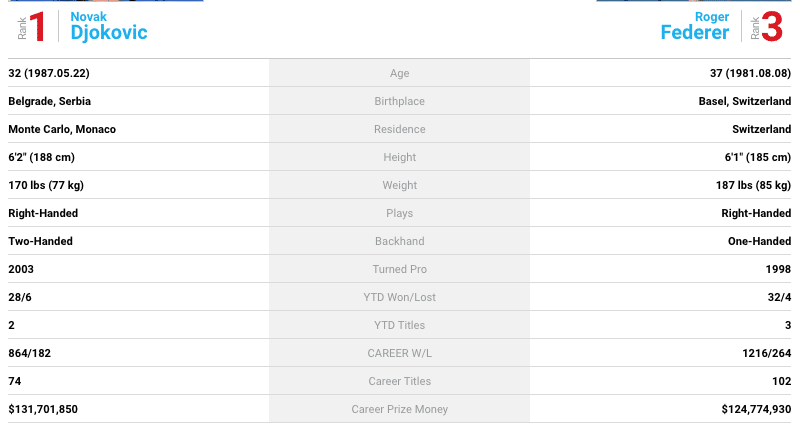 Enjoy Wimbledon even more with our exclusive, 164 page, 'Guide to Wimbledon 2019'
To find out how to get tickets for Wimbledon this year read our 9 point guide here
For all the latest Wimbledon news before, during and after the tournament make sure you bookmark our 'Wimbledon News' section here
If you can't visit the tournament then do the next best thing and read our guide on how to watch Wimbledon on television
To read more amazing articles like this you can explore Tennishead magazine here or you can subscribe for free to our email newsletter