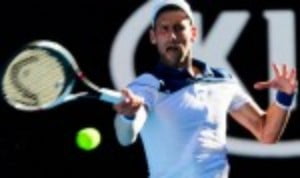 Novak Djokovic unsure of next move
Originally published on 22/01/18 00:00
On Monday evening, Hyeon Chung ended the Serbian's hopes of winning an unprecedented seventh Australian Open crown – but an unexpected defeat is the least of his concerns.
Djokovic was again troubled by the elbow problem that forced him to the sidelines for six months. Throughout his last sixteen clash with the Korean, he was spotted flexing his right forearm and wincing in pain.
The former world No.1 had hoped rest and recuperation would help his injury issue, however on this occasion, time has not proved to be a great healer.
"It kind of started hurting [elbow] more at the end of the first set," admitted Djokovic. "I had to deal with it until the end of the match.
"I was hoping I could get through it. As I was mentioning before, as a professional athlete, you have to deal with pain at a certain level, a certain degree. You kind of get used that.
"It's frustrating, of course, when you have that much time and you don't heal properly, but it is what it is. There is some kind of a reason behind all of this. I'm just trying my best obviously because I love this sport. I enjoy training. I enjoy getting myself better, hoping that I can get better, perform and compete.
"Today was one of those days where, unfortunately, it was too much to deal with."
Djokovic admits he is unsure what to do next regarding his elbow, but will take time before making his next move.
"I really don't know. Now, I don't know," added the Serbian, when asked if would require more time away from the court.
"I have to reassess everything with my team, medical team, coaches and everybody, scan it, see what the situation is like. Last couple weeks I played a lot of tennis. Let's see what's happening inside."
Djokovic is not scheduled to play in February, but is on the entry list for Indian Wells – the first Masters event of the year – in March.