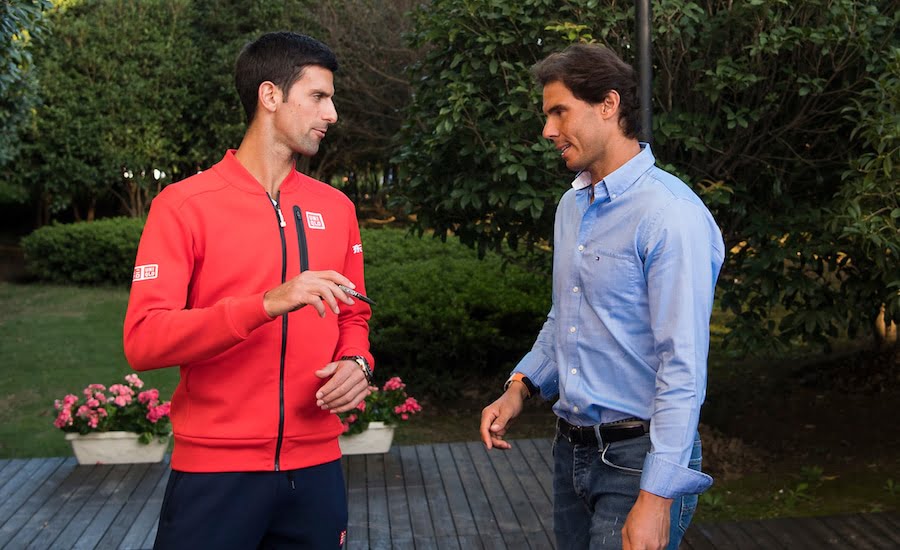 Novak Djokovic 'to speak' to Rafael Nadal and Roger Federer about Davis Cup future
Novak Djokovic says he will seek a meeting with Rafael Nadal and Roger Federer before establishing the Players' Council position on the ATP Cup and Davis Cup.
The creation of the ATP Cup and the new format of the Davis Cup means two very similar competitions are now on the tennis calendar, and Djokovic has said before that he does not believe they can co-exist.
He, though, says he will wait until after the ATP Cup before trying to assess the situation, and says that the input of Nadal and Federer will be crucial.
"I did not speak with Rafa and Roger about this because the decision was made already some time ago about, you know, ITF and Kosmos deciding that they're going to change the format," Djokovic told reporters atthe Davis Cup.
"ATP was developing their own team cup that is happening in January. So it was kind of already very clear what the situation is.
"But I think, you know, in Australia we will see how the ATP Cup will turn out to be. I think it's going to be success anyway because there's a lot of top players going to be there because it is prior to Australian Open.
"I think it's time anyway for, first of all, the heads of ATP and ITF to talk about this.
"I am going to speak with Roger and Rafa and ask their opinions, of course. We are also part of the council, the three of us. But we don't make decisions.
RELATED: Rafael Nadal joins Novak Djokovic in calling for ATP merger with Davis Cup
"People I think have the wrong idea that we three make all the calls in tennis, which is not true.
"Of course, our opinions are valued, but the way the structure is set up, it's the boards and, of course, different entities that make decisions and the leaders of those entities."
The ATP Cup takws place in Janury, just 40 days after the Davis Cup finished.
Look ahead to the rest of the tennis year with our guides to every tournament on the ATP Tour and WTA Tour. Can't visit the tournaments you love? Read our guide on how to watch all the ATP Tour matches on TV. For more news, explore Tennishead magazine here or subscribe to our free email newsletter here.