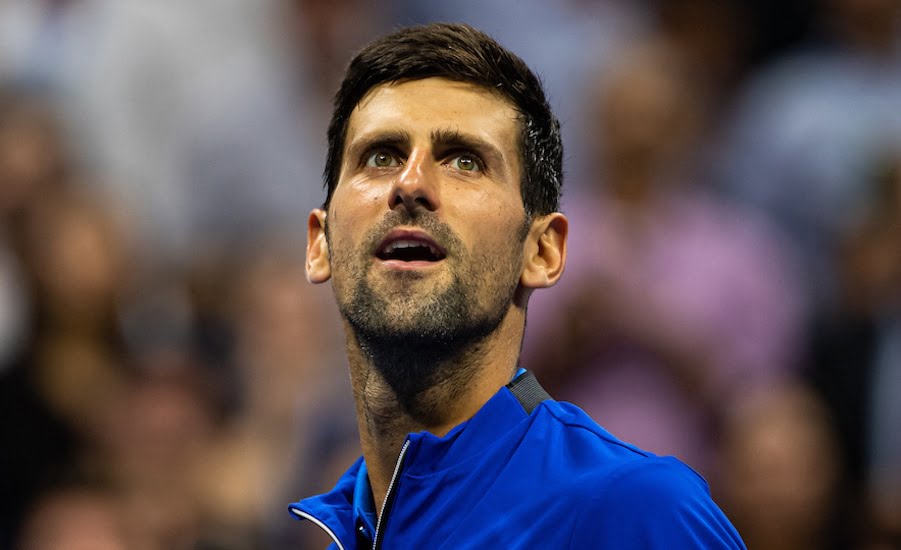 Novak Djokovic has history in his sights, "I would love to have a shot at as many Grand Slam titles as possible"
Novak Djokovic has his eyes on two of Roger Federer's records – his 20 Grand Slam titles and his 310 weeks at the top of the world rankings. 
Great champions can be reluctant to spell out their career goals. Given the stress involved in competing at the highest level week in and week out, why add to the pressure by revealing your personal ambitions? For years Novak Djokovic paid the price for admitting that his biggest target each season was the French Open, which he needed to complete his set of Grand Slam titles. However, burdened by his own expectations, for a while he kept falling short at Roland-Garros.
In the wake of his fifth Wimbledon triumph this summer, Djokovic therefore insisted that his main motivation was simply "to be out on the court and enjoy what I do". In the same breath, nevertheless, the 32-year-old Serb conceded that securing his place in the record books was also in his mind after his 16th Grand Slam title left him just four short of Roger Federer's all-time record.
"Of course, I would love to have a shot at as many Grand Slam titles as possible," Djokovic admitted when asked which landmark he would most like to achieve. "Next to that is the historic No 1, which is not so far away."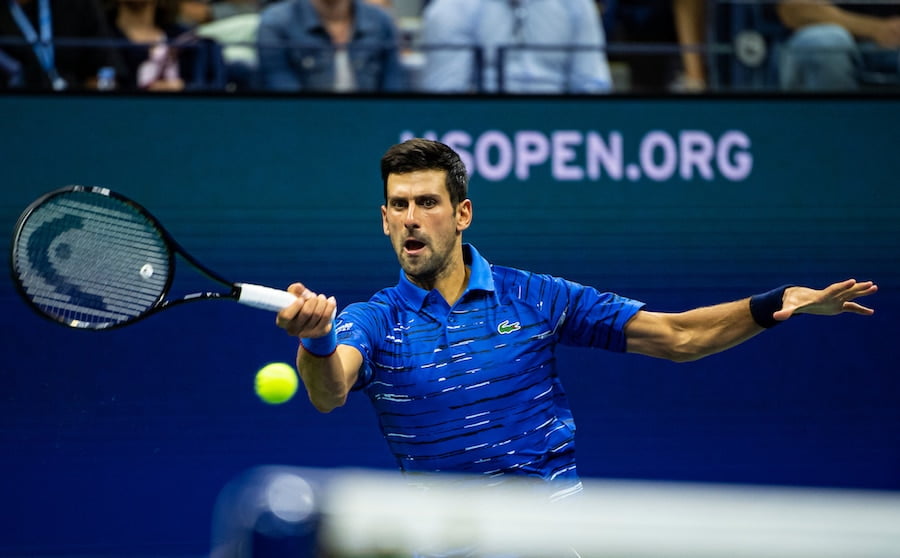 Only four men have spent longer at the top of the men's singles world rankings than Novak Djokovic: Federer (310 weeks), Pete Sampras (286 weeks), Ivan Lendl (270 weeks) and Jimmy Connors (268 weeks). If Djokovic stays at No 1, he would pass Sampras next January and Federer next July.
Roy Emerson's record of 12 Grand Slam singles titles lasted for more than 30 years until Sampras passed it at the turn of the century, the American winning his 14th and last title at the 2002 US Open. Since then Federer (20 titles), Rafael Nadal (19) and Djokovic (16) have all overtaken his total.
The "Big Three" have won 55 of the 66 Grand Slam tournaments contested since the French Open of 2003. Andy Murray and Stan Wawrinka have each won three Grand Slam titles during that time, with Andy Roddick (US Open 2003), Gaston Gaudio (French Open 2004), Marat Safin (Australian Open 2005), Juan Martin del Potro (US Open 2009) and Marin Cilic (US Open 2014) the only other gatecrashers on the party.
Can Djokovic overhaul both Federer and Nadal? Given his form over the last 15 months there has to be a strong possibility that he will do so. The Serb was heading into the US Open having won four of the last five Grand Slam tournaments, with this year's French Open the only one where he missed out over that period.
Compare that recent record with those of his two great rivals. Federer won his first 16 Grand Slam titles in a seven-year period between 2003 and 2010, but it has taken him more than nine years to win another four. Nadal, meanwhile, has won only two Grand Slam titles away from Roland Garros (the 2017 and 2019 US Opens) in the last five years.
Novak Djokovic believes that the Big Three have spurred each other on to greater heights. "We're making each other grow and evolve," he said. "These two guys are probably one of the biggest reasons I still compete at this level. The fact that they made history in this sport motivates me, inspires me to try to do what they have done, what they've achieved, and even more.
"Whether I'm going to be able to do it or not, I don't know. I'm not really looking at age as a restriction of any kind for me at least. It just depends how long I'm going to play, whether I'm going to have a chance to make historic No 1 or Slams.
"It depends not only on myself. It depends on circumstances in life. I'm not just a tennis player, I'm a father and a husband. You have to balance things out. Obviously you need to have the right circumstances, the right support for things to play out in the right way."
Novak Djokovic believes that the willingness to put in the hard work has been one of the biggest reasons why the Big Three have remained at the top for so long.
"It takes hours of training, preparation, recovery," he said. "It's a lifestyle really. Dedication truly pays off. I guess each one of us top three guys is different, but I think we share that in common, that we just love the game and we are very dedicated to it. We have high aims all the time. I don't think any one of us plays for fun or to just be part of the tour. We play there to be the best in the world. I think competitiveness between us has escalated over the years, has brought us to that level where we are still competing."
Federer agrees. "We've pushed each other to greater heights – to improve maybe Rafa's grass, Novak's, whatever, hard courts, I don't know what, my clay," he said. "I think we definitely became better because of one another."
Nadal may yet be the player Djokovic would have to overtake to top the all-time list of Grand Slam champions. After his injury-plagued season in 2018, when he completed only seven tournaments and had to retire during two Grand Slam events because of physical issues, the 33-year-old Spaniard was already up to nine completed tournaments for the 2019 season by the end of Wimbledon.
The 12-times French Open champion describes the prospect of matching Federer's 20 Grand Slam titles as a motivation rather than an obsession. "If you ask me whether I would like it, of course," he said. "If that's a goal in my career, no. It's not what makes me get up every morning or go and train and play. It's not the way in which I view the sport, and it's not the way in which I consider my sports career."
To read every issue ever published of the world's best tennis magazine, tennishead, visit our 'Magazine Archive' and you can buy a copy of the latest issue here.To win incredible tennis prizes for free, enter our latest 'Competitions'. For all the breaking tennis news and exclusive player interviews, visit our 'News' section. For the latest racket, ball, shoe and clothing buyers guides plus video play tests, visit our 'Gear' section