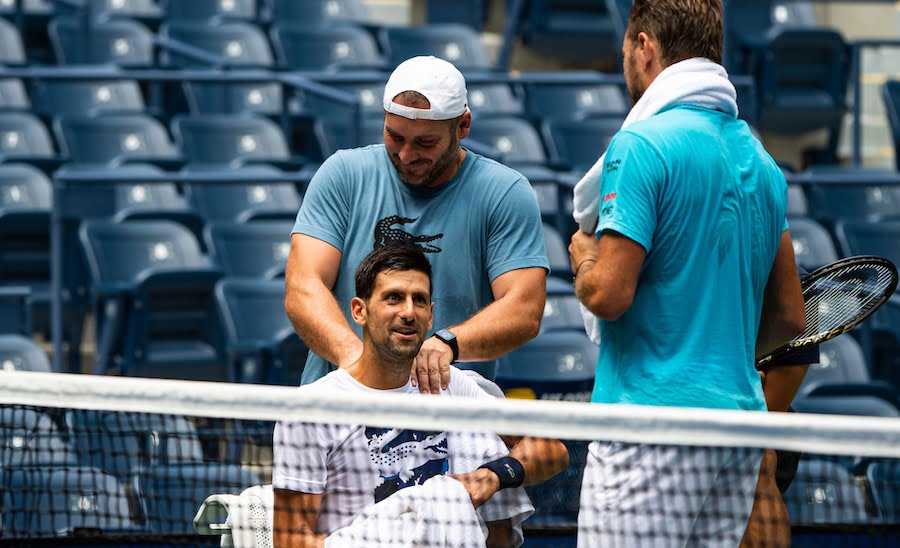 Novak Djokovic & Andy Murray have set the example about what (not) to say when you are injured
If you've had a physical problem, keep schtum: how modern players have followed the examples of Andy Murray and Novak Djokovic. tennishead takes a humorous look at the cat and mouse game played by injured players when talking to the media
It's a funny thing about blokes – the worse the situation is, the quieter they become.
Himself is upstairs doing a bit of DIY. There is a crash followed by a howl. Before you have time to shout "Are you all right?", he is downstairs in need of tea, sympathy and much attention. Yes, he has hit his thumb with the hammer.
But if you hear a crash followed by silence, it is time to worry. "Is everything OK?" you ask, more in hope than expectation. "Yes, all fine," comes the reply as gallons of water cascade down the stairwell and all the lights go out. Men are not particularly talkative in a crisis.
Now enjoy tennishead, the World's best tennis magazine, in a new digital format. Download in seconds to read the latest 164 page issue
Take tennis players: they can bore for their respective nations about string tensions and grips or the value of gluten-free diets and calorie intake, but when it comes to the really important stuff they clam up.
In the interests of sportsmanship, most players will not blame an injury for a defeat. Many will simply omit to mention that they had a problem and, if pushed on the subject, they take evasive action.
Kyle Edmund was struggling with a hip injury as he lost to Marin Cilic in the Australian Open 2018 semi-finals but he did not want to talk about it. Only after much prodding and several interviews did he admit to the BBC that, yes, the hip was a bit tender. But he did not want that to detract from the fact that he had reached his first Grand Slam semi-final and that he now felt as if he could take on all comers on any stage.
That is all well and good. Edmund is a very decent soul who had just achieved the run of his life in Melbourne. Why focus on the negatives when there were so many positives to carry with him on the long flight back to Blighty?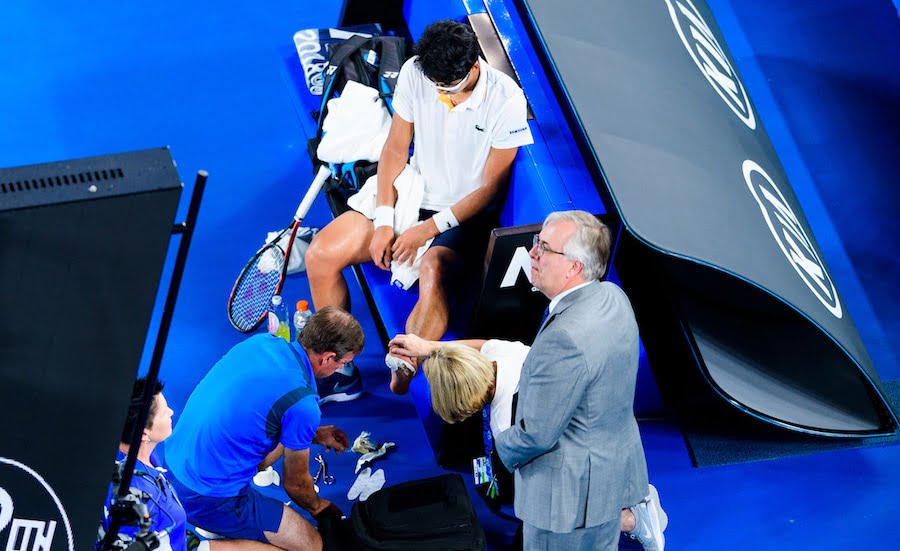 It was the same with Hyeon Chung at the same tournament. Sure enough, he had blisters on both feet and could barely move after nearly two sets against Roger Federer in his semi-final, but there were no "poor me" excuses. He was in pain, Federer had two perfectly good feet (and they carried him to the title) and that was all there was to it. He would learn to take better care of his underpinnings in future.
But it was those who left without saying a thing that caused the greatest concern.
Novak Djokovic had been nursing an elbow problem since Wimbledon 2017. The injury had dogged him for two years and he hoped against hope that nature – and a lot of rehab – would take its course and he would be able to play again. But after four competitive matches and one exhibition in Australia, he was back to square one.
What was the problem? He would not say. What was the treatment? He would not go into it. How was it now? Not good. At least he admitted that much.
By the beginning of February 2018 Novak Djokovic had finally resorted to surgery although all he would say is that he had undergone a "small medical intervention". Yet still there was no real information coming from the Novak Djokovic camp. The tour waits to see when and where Djokovic will begin his comeback.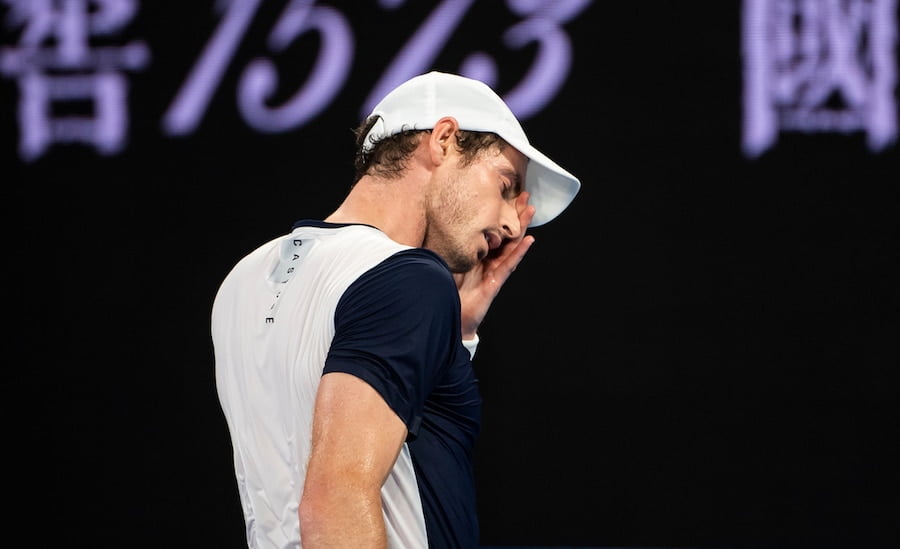 Andy Murray was in much the same boat come January 2018. He, too, had not played since Wimbledon 2017 and had tried the rest and recovery route to treat his troublesome hip. But after an abortive attempt to return in Brisbane 2018, he, too, resorted to the surgeon's knife. Since then he's undergone more transformative hip surgery which seems to have done the trick.
Then again, we still do not know quite what it was he had done when he had surgery on his back in 2013. Whatever it was it was clearly serious, but Murray was keeping schtum.
Now, compare this Garbo-esqe silence from both men with their on-court behaviour. Murray mis-steps, loses the point and then grabs his thigh and grimaces as if his leg is being removed with a blunt breadknife. The man is clearly hurting. And then he spots a half-chance, sets off like Usain Bolt and creates a winner out of thin air. The man is cured.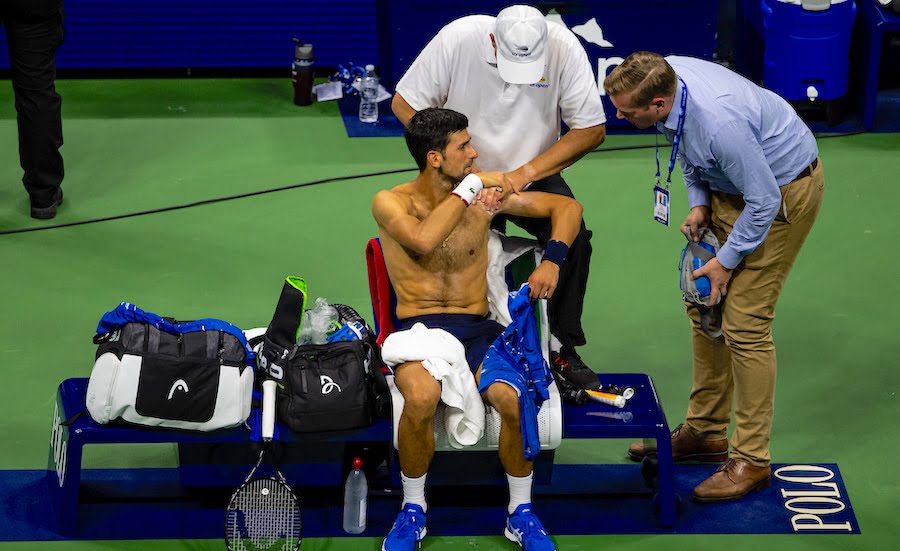 Novak Djokovic is a little cannier. He adopts the "dead spider" routine. The spider curls up in a little ball and appears for all the world to be dead. The fly, thinking he is safe, goes about his business without a care. And then the dead spider pounces and the fly becomes dinner. Djokovic is a genius at it: out for the count one minute, thrashing the opposition to within an inch of their life the next.
When the injury gets serious, however, you won't hear a cheep out of either of them.
Even Rafael Nadal is not given to major medical updates. His hip problems in Melbourne 2018 turned out to be less serious than first thought – "a grade 1 injury of his Iliopsoas on his right leg" was the official diagnosis – and the doctors thought he should be good as new in three weeks.
But it is Nadal's fragile knees that are the greatest worry – and no one has ever said what the precise nature of that problem is. It took the Spaniard years to admit that he has Platelet-Rich Plasma therapy (PRP) when his knees play up. It involves taking some of Nadal's blood, running it through a centrifuge, extracting the platelets and then injecting them back into the affected area to aid the healing process. Sometimes it works well and quickly; sometimes it doesn't. But what it is working on – or not – we will never know.
The lesson is simple: when tennis players talk about their injuries, there is probably not a lot wrong with them. When they go quiet, start worrying. And it's probably not a good idea to ask them to fix that shelving in the back bedroom.
Look ahead to the rest of 2019 with our guides to every tournament on the ATP Tour and the WTA Tour. If you can't visit the tournaments you love then do the next best thing and read our guide on how to watch all the ATP Tour matches on television in 2019. To read more amazing articles like this you can explore Tennishead digital magazine here or you can subscribe for free to our email newsletter here