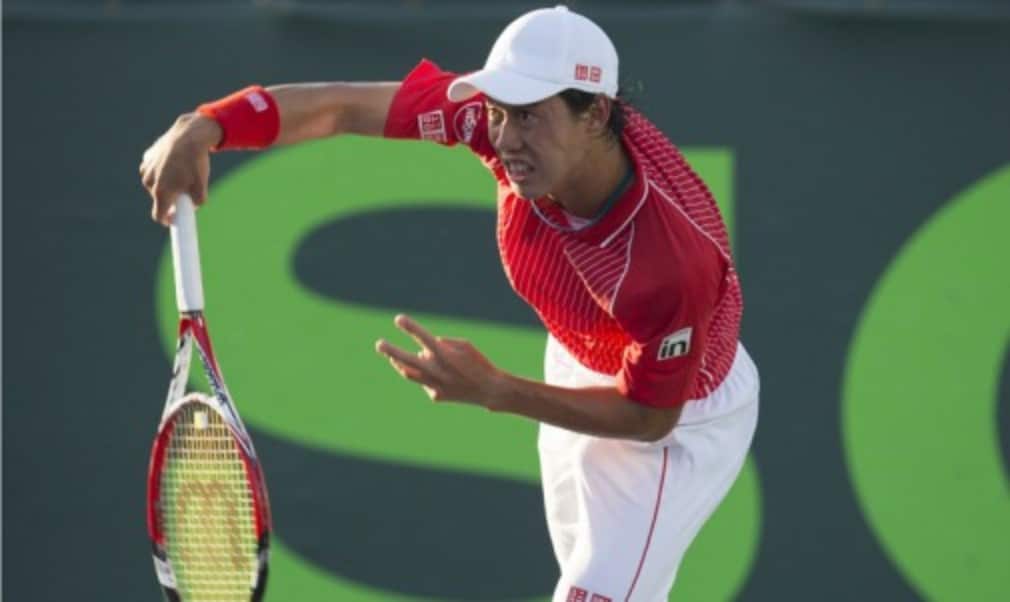 Nishikori sure his best is yet to come
Originally published on 30/07/14
After his surprise success on clay and a career-best grass court season, the Japanese world No.11 is keen to keep going, making amends for last year's sub-par hard court swing and moving ever closer to the likes of Federer, Nadal and Djokovic, in the process.
"This year, a little bit, there's a change," Nishikori said ahead of his first match at the Citi Open in Washington, where he will face Sam Querrey in the second round. "Stan [Wawrinka] did an amazing job in Australia and he's still doing amazing. [Milos] Raonic and [Grigor] Dimitrov – those two guys made semis at Wimbledon, that was great to see. I hope I can sneak in there sometime in the future."
Arguably, he already has. In May, Nishikori made history as the first Japanese player to rank among the ATP's top 10. Two titles in 2014 have lifted his career trophy haul to five, and he has wins over Raonic and Dimitrov, two against David Ferrer and Roger Federer this season. The partnership with 1989 French Open champion Michael Chang, which began back in December 2013, is bearing fruit – but there is still work to be done.
"The first couple of months was pretty tough," Nishikori admitted. "Usually the coach says you need to make changes. For me, I worked with Michael last year in December and we changed a couple of things. My tennis is improving now – it took a couple of months to know how to get better, how to play, so you need a couple of months to get used to how the coach thinks and you think.
"I hope I can make another big step," he added. "The clay court season was a little bit of a surprise for me, to do that well – first final at a Masters, and usually only Spanish players win Barcelona and I got the title there. I didn't do well last year this couple of months, so this is a very important few months for me."
There's more than momentum at stake. That fallow spell in 2013 – Nishikori won just three matches between Wimbledon and his firs-round exit at the US Open – means there are points to be won over the next few weeks, and ground to be made on the top five. To get there, he accepts, he has to prove he belongs in their company.
"There is still a difference between the top five guys and the top 20," Nishikori concedes. "Those guys are very consistent, they don't miss easy balls and they don't give you easy points to win a game."
They also avoid niggling injuries, something Nishikori has struggled with in 2014. The 24-year-old has been forced to retire three times so far this season – most painfully in his first Masters 1000 final, having taken the first set against Rafael Nadal in Madrid – and handed Novak Djokovic a walkover in the semi-finals at Indian Wells.
In a sense, Nishikori has been a victim of his own success. Going deep into tournaments limits the amount of focused fitness work a player can do off-court; the very work that keeps them in top shape by the time they reach the sharp end. He may be a seven-season tour veteran, but he's also a 24-year-old, still waiting to reach his prime.
After a post-Wimbledon fitness block, and a week with Chang in California, Nishikori believes progress has been made. The key to this hard court season, he says, will be focusing on the forehand and moving forward, getting himself to the net when possible.
Crucially, the belief that he can feature deep in the second week of a Grand Slam is now there.
"I don't feel any fear any more. I've beaten them [the 'big four'] a couple of times – not Rafa and Andy, but I beat Roger this year in Miami, and I have more confidence now to play the top-10 guys.
"My goal is not to be top 10 – you try to go further. Hopefully I can do well at the big tournaments, the Grand Slams; the US Open is coming up, so if I can get to the quarter-finals, semi-finals, that would be great."